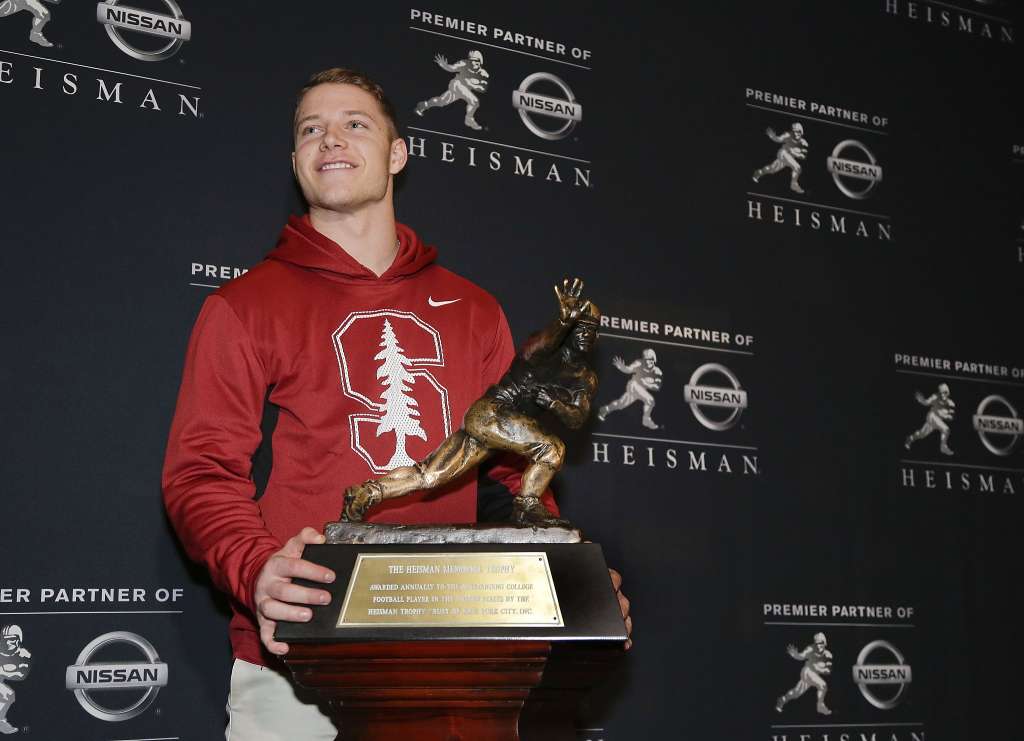 Four times in the history of the Heisman Trophy a player finished second one year and then won the award the next. Could Stanford's Christian McCaffrey join that group in 2016? He's the +450 Heisman sportsbooks favorite currently on college football picks.
History Of Heisman Runners-Up
One could make an argument that McCaffrey deserved the Heisman Trophy last year as he set the NCAA single-season record for all-purpose yards with 3,864, breaking the previous record set by former Heisman Trophy winner Barry Sanders of Oklahoma State in 1988. Sanders' son, Barry Jr., was McCaffrey's teammate at Stanford last year but transferred to OSU this season.
McCaffrey, who was the only player in the FBS to lead his team in rushing and receiving yardage in 2015, did have a nice consolation prize in being named the Associated Press Player of the Year, the first winner of that in Stanford history. Every other AP Player of the Year had won the Heisman this decade.
But McCaffrey finished second in the Heisman with 1,539 votes, behind Alabama running back Derrick Henry, who had 1,832. Henry had 378 first-place votes to McCaffrey's 290. Hard to argue Henry didn't deserve the award as he led the nation in rushing and carried Alabama to a national title (Heisman is a regular-season award).
One Stanford player, quarterback Jim Plunkett in 1970, has won the Heisman. McCaffrey joined John Elway (1982), Toby Gerhart (2009) and Andrew Luck (2010 and 2011) as Stanford players to finish second. Prior to this season, only 15 runners up in Heisman history returned to play at least one more season of college football. The four who won after finishing runner-up the previous year were Georgia running back Herschel Walker in 1981, USC running back O.J. Simpson in 1967, Army running back Glenn Davis in 1945 and Michigan quarterback Tom Harmon in 1939.
Fournette Falling On Odds, Jackson Rising
Depending on which sportsbook you checked, either LSU running back Leonard Fournette or Clemson quarterback Deshaun Watson was the Heisman Trophy betting favorite on college football picks when the season opened.
Fournette was the early-season favorite last year too before LSU went into the tank with a three-game losing streak. Fournette finished sixth in the voting. He has dropped down to +1500 on college football  picks now. Fournette rushed for 138  yards on 23 carries in LSU's season-opening upset loss at Wisconsin, which immediately put a huge damper on his Heisman hopes. And then last week against Jacksonville State, Fournette sat out with an ankle injury. He is expected to play this week in the Tigers' SEC opener against Mississippi State.
Watson led Clemson the only perfect regular season in the nation last year and the College Football Playoff national championship game, where he was fantastic in a close loss to Alabama. Watson finished third in the 2015 Heisman voting. He is now the +550 second-favorite on college football picks. Clemson is 2-0 but hasn't been all that impressive in wins over Auburn and Troy. Watson hasn't turned it on yet, completing just 52.9 percent of his passes for 540 yards, four touchdowns and three interceptions and has rushed for only 76 yards (1,105 in 2015). Watson likely will be pulled early this week as Clemson should destroy South Carolina State.
Why is McCaffrey the +450 favorite on college football picks? The Cardinal have played one game, a 26-13 win over Kansas State, and McCaffrey rushed 22 times for 126 yards and two touchdowns while catching seven passes for 40 yards. He had 210 all-purpose  yards overall. Stanford doesn't  have a week off the rest of the regular season and McCaffrey has big games upcoming against USC (this week), UCLA, Washington and Notre Dame to increase his Heisman lead at sportsbooks.
Ohio State quarterback J.T. Barrett and Louisville's Lamar Jackson round out the favorites on college football picks at +650. No player has been more impressive thus far than Jackson, who has been responsible for 13 touchdowns and has already tied an ACC record for total TDs in a game (eight) and set the conference record for total offense in a game (610 yards). Jackson could be the favorite next week if he has a big game for No. 10 Louisville against No. 2 Florida State on Saturday in the marquee matchup of Week 3.