The Nintendo E3 press conference and Wii U represent another roll of the dice, another gamble. The same story as five years ago. Only this time the surprise has turned into a groan: "Oh no, not again." And, like Kinect, a lot of it has to do with the Wii and the way it played out. Because Nintendo, once again, is risking short-changing its fans.
The Wii had lots of promise, things like light saber battles and WiiConnect 24, but it never went anywhere. Our Wiis were going to be full of gaming love every morning. From Nintendo. From friends. From strangers. What did we get? A handful of system updates and reminders to check the Mario Kart channel every gall darn day. Nintendo did their one proof of concept, Mario Kart. Then they quit.
Even FPS control was never perfected, although the pointing technology was actually pretty fantastic. But Nintendo never could quite get the whole control system down, or at least third parties could not. Metroid Prime 3 seemed alright, but again it was a proof of concept and went no further. They didn't share, either. Peripherals like the Wii Balance Board were one and done at best. All these other games you were dreaming of using the balance board with? One and done. Some peripherals were DOA, as in the case of WiiSpeak. I forget what game that was packaged with now, but Nintendo never supported it.
Let's not even mention the infamous friend codes. Or the fact you could only back up saves one by one to an SD card. Or the slow way of getting photos on the system for the Photo channel. Or the fact the Photo Channel never got improved. Hell, Nintendo could have sold an upgrade for a few dollars even; my kid would have appreciated that. Why did the News Channel need Wii Connect 24 turned on in order to function? It doesn't take that long to download some text and a couple of photos. And why only one news source? Great interface. Nintendo just never took it further.
I bought into the potential of the Wii. I loved WiiSports. I put up with the early motion control efforts and shovelware. And waited. And waited. Until one day I sobered up. The Kool-Aid wore off and reality set in. The Wii Remote technology had its limits. It wasn't a miracle drug. There was no diving behind the couch, no tossing over virtual tables with any crispness, and no light saber battles. There was just waggle instead of pressing a button. What we saw in WiiSports and WiiPlay was all we got. The red flag, in hindsight, was that within a year Nintendo's next big Wii game included a Balance Board as the controller.
So I have to ask: Will we really hold up our Wii U tablet controller like it's a camera, point at it at the TV and marvel at the fact that the picture on the tablet becomes the same as the TV? And that we'll all then giggle like school girls? Are we really going to put our tablet controllers on the ground so we can see the golf ball in its lie? Maybe Nintendo will let us line our Wii Remotes with sparkly diamonds too. The more bling the better.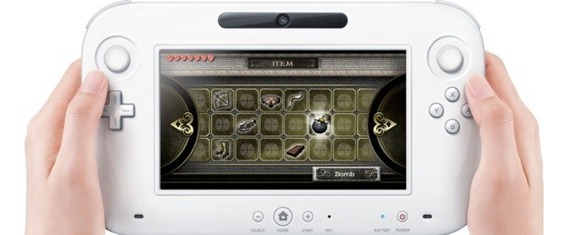 Is streaming to the controller more than a proof of concept? Please tell us that once Super Mario Bros. Mii comes that it won't be another one and done. Or please tell us there's not a catch to it. Maybe they'll make it work with Wii Fit and it will actually be useful, rather than "oh, that's cool, I can check my weight on the balance board without the TV on. Glad I paid $300 for my Wii U."
Are we really going to get third-party support?  I would love to believe, but it seems like the Wii U is being setup to have fleeting third-party support at best. Nintendo isn't making the console more powerful than the Xbox 360 or PS3 to any relevant degree, so what happens in a few years when those consoles go next-gen? Third-party support dries up. And then Nintendo does little things like substituting analog circle pads for analog sticks, or having no click sticks. And one controller on the system. This isn't the way to really go after third-party support, it just gives consumers a reason to not get the Wii U ports, which means fewer sales, which means crappier ports down the road. Rinse and repeat.
The final groan is the lack of a killer app shown at E3. There wasn't anything, just a couple of gimmicky party game scenarios and New Super Mario Bros. with Miis. Stuff that seems like it could be done on the Wii. So why not just pack in a tablet controller and receiver with Super Mario Bros. Mii — for the current Wii?
Maybe it was the mixing of the sit-on-your-ass tablet controller vs. the get-up-and-go Wii Remote controller. Make up your mind, Nintendo. Move, don't move. That was my reaction to the Wii U. I'm much less excited for it than I was the Wii. But in this day and age of reselling on Ebay and craigslist, where's the financial risk here? I can pass it on to some other "sucker" if I don't like it and be out very little money.  Maybe even make a buck or two. I like quite a few of Nintendo's first-party franchises. I have two kids; we'll probably play some of those party game demos they showed off, and I could be the big winner if I can really kick the kid off the living room HDTV to go play on the tablet controller so I can watch football. If it's $300, that's only $50 more than a Wii.
So my sourness has turned into "what do I have to lose?" mode. The Wii U won't be my only console, just a first-party machine that sees two or three Nintendo-published games per year. I'll stay away from the Kool-Aid this time. I'll live with that. Anything more is a bonus.