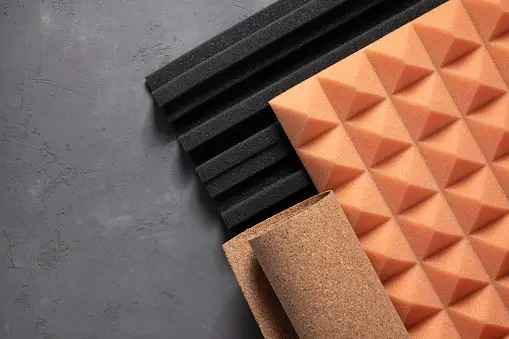 Controlling sound within a recording studio or home theater is essential for achieving optimal audio quality. Sound absorption and reverberation control are key elements of producing a clear, precise recording space.
Acoustic panels are an effective way to provide acoustic treatments in these settings, helping to reduce outside noise and improve the clarity of live performances and recordings.
But selecting the right acoustic panel can be overwhelming – there's so many factors to consider! Factors such as material selection, size consideration and acoustic properties of the space are crucial to consider when selecting acoustic panel that is best for your needs!
Understand the Acoustic Properties of the Room you are Planning For 
Selecting an acoustic panel that best suits your needs requires a thorough understanding of the acoustic properties of the room you plan on outfitting.
Simply put, not all panels are created equal, nor do they possess the same properties. Factors such as the room's size, shape, and materials, all play a role in determining what type of acoustic panel is needed.
For example, a room with high ceilings and hard surfaces may require a panel with more absorption properties to prevent unwanted reverb and echo.
On the other hand, a smaller, more compact room may benefit from a panel that diffuses sound waves evenly throughout the space.
By carefully analyzing the characteristics of your space, you'll be able to choose an acoustic panel that best fits your needs and enhances your auditory experience.
Understand the Different Types of Acoustic Panels Available, Including Foam, Fiberglass, and Vinyl
Foam panels, for example, are a great choice for those on a budget, as they provide a decent level of sound absorption without breaking the bank.
Fiberglass panels, on the other hand, are more effective at controlling mid to high frequency sound waves, making them ideal for recording studios or home theaters.
Meanwhile, vinyl panels are a popular option for those seeking an aesthetically pleasing solution, as they come in a range of colors and designs to match any decor.
Ultimately, the right acoustic panel for your space will depend on the type of noise you're looking to control and your personal style preferences. By understanding the pros and cons of each type of panel, you'll be well on your way to making a decision that meets your needs.
Consider your Budget when Selecting an Acoustic Panel – Cheaper Options May not Provide as Much Sound Absorption 
When selecting an acoustic panel, it's essential to consider your budget carefully. Often, cheaper options may not provide as much sound absorption as more expensive ones.
It's essential to understand that the sound absorption of a panel depends on factors such as the material, thickness, and installation technique.
Therefore, it's crucial to do some research, compare prices, and check for reviews before making a purchase. Remember, investing in high-quality acoustic panels may yield more long-term benefits and better sound quality in the room.
Understand How to Properly Install an Acoustic Panel for Optimal Absorption and Noise Reduction
To achieve optimal sound absorption and noise reduction, there are a few key considerations to keep in mind.
First and foremost, make sure the panel is installed flush against the wall or ceiling using appropriate hardware. This will ensure the panel is securely fastened in place and won't fall off over time.
Additionally, consider the size and shape of the space you're trying to improve acoustics in, as this will influence the number of panels needed and their placement.
By taking the time to properly install and strategically place acoustic panels, you can create a more pleasant and noise-controlled environment.
Learn About the Various Finishes Available for Acoustic Panels, From Plain to Decorative
Acoustic panels come in a variety of finishes ranging from plain to decorative, giving you the flexibility to match your decor or make a statement with a unique design.
Plain finishes, such as fabric or painted surfaces, are great for a subtle look that blends seamlessly into your space.
On the other hand, decorative finishes include printed designs, textured surfaces, and even custom shapes that can add an artistic touch to any room while also enhancing the acoustics.
It's important to carefully consider your options and find the right finish to match your design vision and integrate the panels seamlessly into your environment.
Explore Ways to Maintain an Acoustic Panel for Maximum Efficiency Over Time
When selecting an acoustic panel, it is not just about the initial purchase – it is important to also consider how to maintain it for maximum efficiency over time. Regular cleaning and upkeep can drastically prolong the lifespan of your acoustic panel.
Dust and dirt can accumulate on the surface, affecting its sound absorption capabilities. You can use a soft brush or vacuum to clean the surface and ensure that the holes and perforations are free of any debris.
Additionally, you should avoid exposing the panel to direct sunlight or moisture, as these elements can cause warping and damage.
By taking these key considerations into account and implementing a maintenance routine, you can ensure your acoustic panel remains effective for years to come.