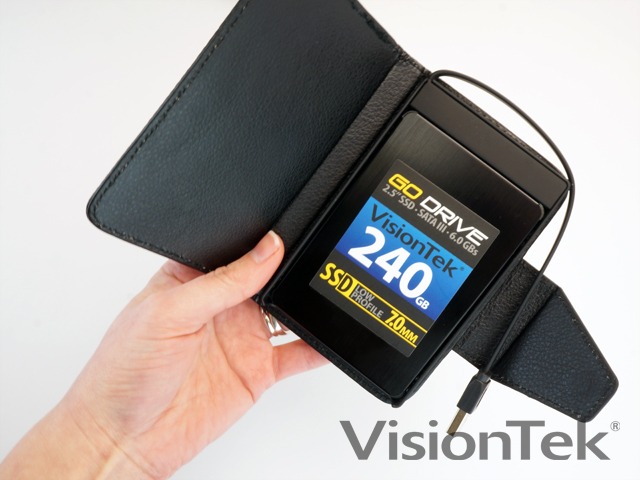 Flash drives and portable external hard drives have made our lives so easier they are ubiquitous nowadays. Even though a huge number of people use such devices, some of us still have that solid state drive or internal 2.5 inch hard drives laying around the house or office. The VisionTek Wallet Drive is an inexpensive and quick fix to access the data in such drives without having to put it into a PC or laptop.
The Wallet Drive sports a very sleek and stylish design for an accessory that deals with routine storage and backup of data. It carries a pocket notebook-like design featuring a high-quality fine-grain leather finish. Designed to provide more convenience, this wallet-sized enclosure has a magnetic flap that conceals a screw-less tray that allows for easy removal and replacement of drives. It also comes with a 7 inch cable attached, and an internal SATA port to which the drives are plugged.
Enclosures for external hard drives, in general, are associated with a complex setup process. However, the VisionTek Wallet Drive has completely changed that notion by offering a convenient way to put those spare drives to use. This little enclosure from VisionTek is bus-powered, which means it doesn't need any bulky adapter to power it up – connect it to your PC or laptop and forget it.
Take your old drive out from the pile of hardware spares you have in your room, and slide it in. It clicks into place thus indicating that your drive is secure and locked into the tray so tight it won't fall off when turned over.
If you are looking to replace the internal drive in your PC or laptop with a larger of faster drive, but still want to keep the original drive (and the data in it) handy, you can't go wrong with the VisionTek Wallet Drive.