The word "forza" is Italian for "force," an accurate description of Microsoft's first-party racing franchise. Developed originally as the counterpoint to Sony's Gran Turismo series, Forza has evolved significantly over the years, going from a super-simulator that ate casual gamers for breakfast into Forza Horizon, a game that masterfully blends simulation-like elements with arcade-infused accessibility. I always appreciated what Forza did, even in those instances where I frankly wasn't very good at it. With Forza Horizon
, I can both appreciate and enjoy the gameplay while exploring an open world that begs to be explored for hours on end.
As much as Forza has changed over the years, the series has maintained a focus not just on driving, but on driving with style. The Kudos points that debuted years ago are alive and well in Forza Horizon, accumulating over the course of your in-game career to open up new challenges, new competition and new opportunities to push yourself to the daisy-chained-tricks limit. Where the first Forza games were unforgiving with their courses and competition, Forza Horizon allows you to adjust the AI difficulty, the driving-line assistant, ABS, TCS and multiple other options before each race. This freedom naturally accommodates gamers of different skill levels, but it also increases the reward via a credit multiplier for making the race more difficult, thus forcing you to push yourself to improve if you want to earn the most kudos, credits and cars.
As in previous installments, upgrades are available by spending credits, and depending upon the extent to which you upgrade any car in your garage, it can potentially bump it up a class. Different upgrades have a noticeable impact on handling, cornering, acceleration, braking and the like, which will appeal to gearheads and simulator fans, but they're explained in a simple enough way that even after-market novices can understand the effects and create a balanced car. Just pay attention to the class/level ramifications of various upgrades, because if you don't, you could find yourself driving an expensive but craptastic B-level car rather than a costly but kick-ass C-level superstar.
Different classes are opened up by progressing through the Horizon Festival, a road-race "campaign" of sorts that takes place over a massive expanse of Colorado. As you complete certain races, earn a certain number of Kudos (e.g. grow in popularity) and defeat certain Rivals, you earn different colored wristbands that unlock new cars and challenges. The pace at which you earn wristbands is perfect: not so fast that you're totally overmatched when you advance, but not so slow that you feel completely dominant. And, since the game takes place in an open world (and seems infinitely larger than Need for Speed: Most Wanted), you're welcome to divert from the campaign and explore the Colorado countryside at any time, basically making the Forza Horizon experience your own.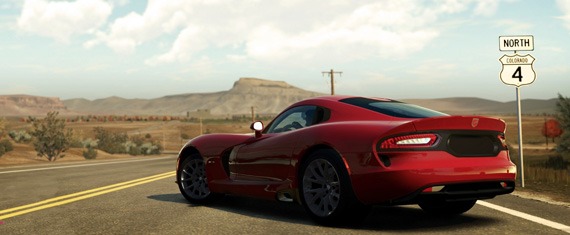 Part of making Forza "your own" has for years been creating a custom paint job, and I'm pleased to report that feature is alive and kicking in Forza Horizon
. The Paintshop is one of six available stops in the Horizon Festival, and while there you can create as many multi-layer paint jobs with or without decals as you wish. You can also buy and sell cars in the Autoshow, get upgrades from Dak's Garage, buy DLC from the Marketplace, access Rival races in Race Central, and create or join a Car Club where you can share cars with fellow club members and/or compete against them.
The multiplayer competitions you can engage in aren't quite as customizable as those in NFS: Most Wanted, even when it comes to the Co-Op Challenges, and I actually prefer Most Wanted's creativity when it comes to multiplayer. But, whether you're into straight-up racing or like to relax with diversions of "Cat & Mouse" and "Tag," Forza Horizon offers a good mix of multiplayer action, and there's still plenty of fun to be had.
Navigating the world is a breeze via the in-game map, and the Xbox Kinect voice commands are much more intuitive than those offered in Most Wanted. In fact, I tended to use the D-pad in Most Wanted for that very reason, whereas I found the Kinect navigation much easier and actually preferable in Forza Horizon. Navigation is a large consideration, too, because the world of Forza Horizon is simply massive, and you'll want to know how to get around and program your in-game GPS. The official Festival competition is fun, but I frankly spent about 30 percent of my playtime exploring Colorado towns, hills, valleys and plains. Normally this would seem odd, but in Forza Horizon you can pull up alongside any car and challenge it to a race, with the course dynamically determined based on your location, direction and class. None of these races is an official part of the Festival, but being able to control when and where you race, even mid-county, makes the game seem all the more open and individualized.
That's quite a feat for Forza Horizon, especially considering the franchise's hallmark is one of customization. For all the accessibility issues the original game had, Forza Horizon truly does offer something for everyone, down to the individual race options before each competition. The only thing I didn't get to test was its SmartGlass experience, but if I had a Surface RT tablet I would've loved to check out its mapping functions. Everything else is outstanding, making Forza Horizon the best racing game of 2012, if not one of the best games of the year in general. If you're in the market for a racing game this year, head for the Horizon and don't look back.
Buy Forza Horizon from Amazon using this link: Forza Horizon at Amazon
.
Score: 9.5
Platform reviewed: Xbox 360 (exclusive)
– Jonas Allen