Racing games pre-date first-person shooters by years, with Pole Position appearing decades before Wolfenstein and Doom ever even entered into the franchise picture. Yet here we are, surrounded by FPS action, with racing titles appearing only sporadically to remind us of our collective need for speed. The challenge with the latest round of racing games is to create a fresh experience within a genre that's frankly seen it all. With Need for Speed: Most Wanted, that challenge is even greater, as Criterion Games had to breathe new life into a title that originally debuted with the Xbox 360. Generally speaking, Criterion's game shares only a name with its predecessor; its open world presents many new opportunities. Yet some elements remain, with the bad or annoying ones overshadowing the good. The result is a rebooted game that, while entertaining, doesn't stack up against its competition.
Criterion went into Need for Speed: Most Wanted with one simple concept: freedom. They began by creating an open world, populating the city of Fairhaven with races, challenges, jumps and pink-slip competitions that you can discover and play at your leisure — presuming you've built up enough Speed Points (XP that you earn by completing tasks and evading the cops). With a newly open world in hand, Criterion then took car selection to the next level by allowing players to jack any vehicle they see parked on the side of the road.
Whereas other games require you to use credits to buy new and upgraded cars, Need for Speed: Most Wanted lets you drive whatever you find, and then have that specific car's upgrades follow it for the rest of the game. This ability to find it and drive it immediately has been long overdue, and it's awesome to jump from class to class at a moment's notice. Each car has its own set of five races, too, so if you want to try all the different races NFS: Most Wanted has to offer, you'll have to jack every car.
Jumping from class to class shows how differently certain cars handle, but it's generally more of an issue of speed and braking differences than it is suspension and handling. The franchise is called "Need for Speed," after all, not Need for Simulation, so although you'll win various tire, chassis and other upgrades during the course of the game, they don't feel nearly as impactful as the customization options in Forza Horizon. But, if you're after speed and velocity, Need for Speed: Most Wanted can't be beat.
With that said, the sheer sense of speed can be a problem at times. Fairhaven is a completely open world, with challenges technically available in any order, but the vehicles move so fast in Most Wanted that the city seems remarkably small after playing for just a few hours. There are certainly opportunities to explore certain structures' vertical space, and the city's architecture provides multiple chances to mix pedal-to-the-metal freeway races with tight-cornered technical outings. On the whole, though, it feels like you can circumnavigate Fairhaven pretty quickly, even getting tired of visiting the same basic areas time and again. The freedom is there to explore, but when you're moving this fast, the exploration happens very quickly, and you cover the entirety of the open world faster than you might like.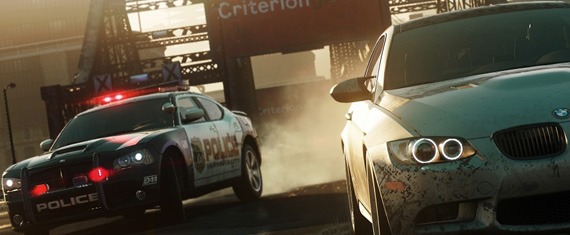 One of the shortcomings of the original NFS: Most Wanted was the bland color palette, which I noted in my review of that Xbox 360 launch title. The game's incessant brown tones didn't provide much visual diversity, but even worse, they rendered many obstacles nearly invisible and causes crashes that often felt cheap. I'm pleased to report that the palette and environment have both been completely overhauled in the 2012 version. Criterion Games has definitely created a city that seems vibrant and alive. At times, though, it seems a bit too alive, with traffic inexplicably getting in the way at the most inopportune times, and seemingly small barriers and objects causing catastrophic wrecks. Couple that with the ridiculously high rates of speed in NFS: Most Wanted, and you'll still encounter your fair share of "cheap" crashes, even if you do see the culprits this time around.
When you take the game online, the experience improves notably. Need for Speed: Most Wanted is essentially a social racing game, with billboards that show your friends' best times and longest jumps, and playlists that you can create and then embark upon with friends. The playlists (called SpeedLists) are probably the best aspect of Most Wanted, to be frank, because they allow you to make the game your own by customizing which events, routes and locations you want to race — and in which order.
Some of the coolest parts of the SpeedLists are the cooperative challenges such as team races and the combined-effect challenges, such as "who can jump the most cumulative feet before time runs out?" It's certainly not LittleBigPlanet in terms of level creation, but the variety of challenges and variables keeps things fresh.
If there's one disappointing part about online play, it's that the races and competitions often degenerate into a next-gen bumper car mess. Objectives be damned, at least in public games; people just want to t-bone one another. This sort of thing often happens in social games, but it still surprised me to find a lack of focus when the objective for each race or challenge was so obvious. I guess that's why it's always best to play with friends, right?
At least the focus of Criterion Games comes through loud and clear when playing NFS: Most Wanted. The developer sought to bring freedom to the racing genre, both with the overall structure and the ability to drive almost any car immediately, and they nailed that goal from the opening moments. Yet for all the hard work that was clearly put into realizing an open world, enough issues (re)surface that they undo much of the studio's hard work. Cars don't really handle differently, they just drive faster. The world is open, but it feels small due to the speed with which you move through it. Environmental elements are more colorful and vibrant, but they still cause "cheap" crashes and at times seem too busy. Heck, even the freedom to create and customize SpeedLists is undone by people driving around online like crash-happy idiots. The latter isn't Criterion's fault, of course, but when a game has direct competition releasing at about the same time, as NFS: Most Wanted did, it has to be completely dialed-in to win. And this game, unfortunately, isn't, even if it is an improvement over the original game of the same name.
Score: 7.8
Platform reviewed: Xbox 360
– Jonas Allen