The flight down to LA for E3 2011 gave me two hours to process what's in store for me, my peers and the rest of the gaming community this week. My most interesting revelation was how many reasons the industry itself gives non-gamers to think of our community as immature, "off" or just plain weird. And in light of all the credibility-boosting changes E3 has gone through during the years, the thought hit me like a ton of bricks.
E3 has had several homes during its trade show life, including a stint in Las Vegas where the only thing sinful about it was attendees' blood alcohol content. In recent years, E3 has found a semi-permanent home in Los Angeles, although even that was interrupted one year by an ill-fated detour to Santa Monica. The goal of the Santa Monica move was to rein-in the show after growing to 60,000 rabid attendees the year prior. Following that mega show, several publishers grumbled about the circus of it all, requesting not so subtly that something be changed. Of course, the publishers themselves were largely to blame for said circus; I vividly recall one EA booth tour where I had to wear closed-circuit headphones just to hear the EA rep standing three feet away from me.
Ironically, the Santa Monica show proved too small and too spread out, so E3 went back to the LA Convention Center the following year, slightly larger but still a far cry from the 60K madness. The show that year performed well, but there were still some kinks to iron out. Meanwhile, Nintendo launched its Wii that fall and essentially shotput the industry into the mainstream stratosphere, essentially forcing the industry to do two things: figure out its own trade show structure, and give the non- and newly-gaming world reason to believe we weren't all a bunch of mouth-breathing teenage boys.
No offense, kids.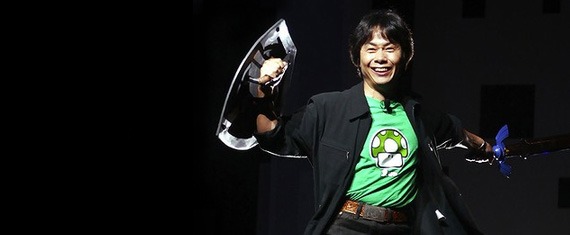 The Electronic Software Association, which organizes E3, has limited the scope of E3 2011, with only about 2,000 media passes granted worldwide, including about 1,300 U.S. press (DailyGame included). No longer is every Gamestop employee allowed to attend; only buyers and senior executives can go. No longer is every blog with 54 readers allowed in, only established sites that have regularly reported on the industry and built a decent following. In short, the ESA has tried to reinforce E3's value as an information-rich annual trade show, not a three-day excuse to get drunk (although there will be some of that, too). I think the ESA will largely succeed — as long as nobody talks too much about the craziness that goes on behind the scenes.
Several examples illustrate where publishers have failed to grow up with the annual show, but none is greater than the booth activities of Nival, which is making its return to U.S. publishing. Nival, like other publishers at E3, will have games on display, media kits and PR booth tours. But lost in many inboxes last week was a note from the company about one of their "sideshow" activities: a big-ass bouncy castle filled with booth babes that E3 attendees can go bounce with. Seriously.
Remember that line from the Dead or Alive 3 commercial of "she kicks high"? Can you imagine the one-liners that will come out of Nival's booth about bouncing objects? I can, and Wii-owning parents everywhere are going to cringe.
Then there's THQ's Saint's Row The Third car wash, which takes place this week across the street from the LA Convention Center. On the surface this wouldn't raise an eyebrow, but what's the over-under on the number of car washers wearing bikinis? Or, on the head-scratching front, what's the chance that anyone even gets their car washed, considering that more than half of the cars at the LA Convention Center will be rentals?
Nintendo this week will finally divulge information about its next system, and if the rumors are true — a touchscreen controller, full 1080p video and a faster processor than the Xbox 360 and PS3 — all those gamers who entered the industry with a family-friendly Wii are going to be paying plenty of attention to E3 news this year. Sony's going to take the wraps off its NGP system, which it hopes will revitalize its handheld gaming stable, while surely addressing its recent security breaches. Microsoft will inevitably talk about the evolution of Xbox Kinect in addition to Gears of War 3, maybe even announce its own mobile device, and with the Xbox 360 is riding a sales high, millions more people than ever before will be listening to what the company has to say.
In other words, E3 2011 will have, perhaps more than any year prior, the full attention of people who wouldn't otherwise consider themselves hardcore gamers or E3 devotees. The LA Convention Center and everyone inside it will be front and center, giving publishers the opportunity to improve and/or change whatever negative perceptions or misconceptions may be out there. This week is the industry's chance to shine, yet here we are looking at a few bizarre activities that could blow up any goodwill that other publishers' announcements may create.
Am I the only one who finds it odd that these publisher-produced activities may undermine the very efforts of publishers themselves to impress anyone who thinks Facebook is the pinnacle of gaming? I'm all for changing perceptions, but if E3 2011 doesn't make strides in that regard, the industry may not have anyone other than itself to blame. Bouncy castles filled with booth babes? No wonder some people still think we're nothing but a bunch of teenage boys. Here's hoping the news out of E3 this year is compelling enough to outshine the rest of the craziness that some people in the industry just can't seem to let go.