Microsoft's Xbox One reveal press conference a few weeks ago hinted at some new games in the Halo series, and as we sit here waiting for the Xbox E3 2013 media briefing to kick off, we're pleased to report that a new Halo game for Xbox One may make a very public appearance in a little less than an hour. How can we tell? Frank O'Conner from 343 Industries was standing right in front of us talking to some rather high-level individuals with the PR staff.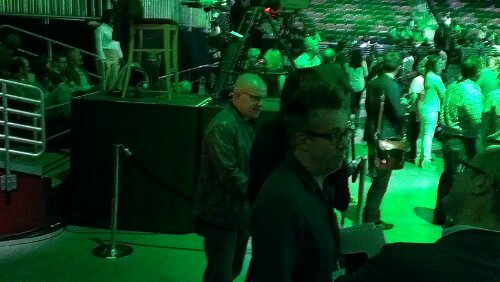 As you can see in the image above, Frank O'Connor — known as "Frankie" to millions of Bungie faithful — is large and in charge at the Xbox E3 2013 media briefing. Shortly after we took this photo, Frank disappeared quickly from the show floor, presumably to work on his demo script and/or to help someone run through theirs.
A new Halo game, if not several, is largely expected for the Xbox One, but the timing and official debut of one or more Halo games has been an unknown. Steven Spielberg previously discussed his role in a forthcoming Halo TV series, but we didn't see anything about a new Xbox One Halo game itself. That may all change later this morning.
If and when we learn more about a new Halo game for Xbox One, we'll bring you the news directly from the show. In the meantime, review the photo above of 343 Industries' Frank O'Connor and see if you can spot any clues (or read any lips). Looks to me like he's just laughing all the way to the bank.