Tablets have taken America and Western Europe by storm, a blaze that Apple began with the first iPad, Google fueled with its Android OS and Amazon whipped-up into a virtual forest fire of handheld computing goodness with the Android-based Kindle Fire last holiday. Amid the tablet fever, a company called Leader International released a new 10-inch tablet called the Impression 10, an Android-based system that seems to have all the inputs, outputs and affordability to make you stand up and take note. There's just one little problem: it doesn't leverage its Android nature.
The Impression 10 is a tablet for the working man (or woman), with a durable frame, heavy body, relatively fast startup time and the inclusion of a protective case in the retail box. Within its 9.64″ height and 7.55″ body lie a ton of inputs and outputs, at least for would-be tablet owners who are most familiar with the relatively port-free iPad. There are two USB ports, support for USB 2.0 mini port, a 3.5mm headphone jack, HDMI output and a Micro SD/MMC card slot that supports up to a 16GB card. At a depth of 0.47″, the Impression 10 also includes a front-facing 2MP camera, built-in microphone and a 9.7″ capacitive IPS touch screen. In short, it seems to have everything you'd need for a get-it-done system or an entry into the tablet craze. It's also got some impressive tech specs, with a Samsung A8 S5PC110 processor running at 1GHz, 512MB of DDR memory, 4GB of on-board storage and 80211 b/g/n WiFi built in. On paper, the Impression 10 is a nice, beefy system that justifies its price.
Yet a few things keep the Impression 10 tablet from really taking off, anchored by a lack of Android Marketplace support. Tablets have become an undeniable companion device, with owners using them to surf the Web while watching TV, to Shazam commercials or to interact with their social networks while in front of the boob tube. They're also game adapters for your lap, putting all those Angry Birds and Fruit Ninjas of the world into your hands wherever you go and on a larger screen than any smartphone can offer. But those games are all apps, as are all the productivity and diversionary tools that tablet owners are so obsessed with, and getting them on an Impression 10 is much more of a hassle than it ever should be.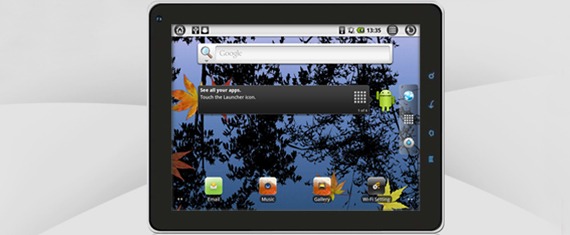 To be fair, that doesn't mean the Impression 10 doesn't support apps at all. The tablet comes loaded with Kobo Reader for eBooks, which is actually an intuitive and easy-to-read eReader, and there are separate video and audio players included in the Android 2.3 OS (aka "Gingerbread"). But, while the Impression 10 tablet runs Android, for some reason it isn't licensed to have the Android Market. So, whereas most smartphone users have grown accustomed to opening the Android Market and simply downloading all the free or paid apps their micro-transacting memory cards can support, that's not an option with the Impression 10.
Included in the box are instructions for downloading the Amazon App Store, but doing so requires going to the Amazon homepage, which inexplicably caused the tablet's web browser to crash every single time I accessed it. And I tried at least one dozen times, more than half of which took place after a system restart and with no other programs running in the background. That's not exactly a feather in the Impression 10's "ease of use" cap. It also begs the question: if you're looking for an Android-based tablet and don't mind using the Amazon App Store to get all your apps, wouldn't you just buy the Kindle Fire, which actually costs less?
My other issues with the Impression 10 tablet are far more mundane, like the screen showing lots of fingerprints and on-screen typing not seeming to be responsive/accurate. And while the tablet does keep its charge a long time when WiFi isn't enabled, it absolutely chews through the battery when WiFi is on and you're using one or two apps simultaneously (listening to music while browsing the web, for example).
As a result, my rhetorical question above about choosing the Impression 10 vs. the Kindle Fire is also a legitimate one. Pound for technical pound the Impression 10 wins, but in terms of ease of use and finesse — the two aspects that have really made tablets take off — the Impression 10 falls short.
Score: 7 — I had high hopes for this tablet when it first arrived, and I purposefully held my review until the supposed firmware update this past month. But the firmware didn't change, and subsequently neither did the system's performance or my merely-average impression of it (no pun intended).