I don't officially know whether Ted Price, founder and president of Insomniac Games, is a member of the NRA. I've never actually asked him, nor have I inquired with anyone else at Insomniac. But for as much as Insomniac has focused on guns, I wouldn't be surprised if there's a relationship there. Whether you're talking about Ratchet and Clank or Resistance, Insomniac's gameplay lives and dies by guns and their various modes of fire. But if you think you've seen the epitome of gun-focused gameplay from Insomniac, think again. Insomniac's just-announced co-op shooter, Fuse, changes everything you thought you knew about weapons' role in a co-op shooter, down to the game's very name.
While the world outside Insomniac is just now hearing about Fuse, the title actually debuted years ago with Electronic Arts. At the time, the game was called Overstrike, but as development progressed, Insomniac realized that weapons weren't just a great feature of the game, but the very things behind its existence and story. A massive retooling began, ditching most of Overstrike's campy vibe and doubling-down on its co-op gameplay. The game's and characters' backstory also fleshed out, ultimately inspiring a name change that centered on the very thing that powers its weapons and in-game relationships: an otherworldly element called "Fuse."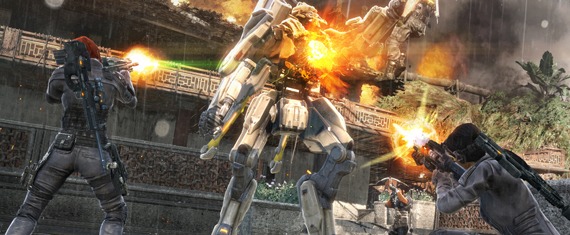 Fuse is an alien substance that was recovered from an alien crash in the 1940s. Since that time, Fuse has been kept by the government, experimented on and (of course) weaponized. When Fuse combines with Earthly substances, lethal things happen, which naturally inspires people outside the government to want to get their hands on it.
Wouldn't you know, but a paramilitary organization named "Raven" manages to break into Hyperion, the super-secret base where Fuse was being stored, and walks off with enough weapons to kick-start Armageddon. That's where you come in. As part of a four-person group, it's up to you to track the stolen Fuse across various exotic locations around the globe and prevent the end of the world as we know it. Since you're doing the government a favor, you also get Fuse-powered weapons, which makes you not only a total badass, but also a massive target for anyone who wants to get their hands on it.
Notice, though, that I didn't say you're a four-person squad or team. Although Insomniac isn't yet sharing details about each character's backstory, Ted Price did tell us that "there is a lot of story in this game. Each of these heroes has a very deep backstory, and we'll see how their personalities, conflicts and quirks play out during the course of the game." During that narrative, the characters will eventually "fuse" to form a cohesive unit, thus showing the double entendre of the game's new name.
The characters themselves fill stereotypical roles for a squad-based game (tank, medic, sniper, etc.), but they do so in unique ways. Dalton, for instance, is the tank of the group, the bruiser. He uses a standard gun but can activate Fuse to create a "Magsield" that provides cover. Using the alt-fire mode (Insomniac does love its alternate modes of fire), Dalton can drop copies of the shield as deployable cover for the team. Naya Deveroux, on the other hand, uses the Warp Rifle to create anti-matter singularities that create black holes and rip enemies apart, but by alt-firing the Warp Rifle she can "disincorporate" or go invisible, thus making her the group's stealth specialist.
Jacob Kimble is the third member, whose weapon (the Arc Shot) combines Fuse and liquid mercury. The lethal combination acts like a sniper-rifle bolt gun and is totally sweet. Izzy Sinclair, meanwhile, uses the Shattergun (Fuse plus black melanite) to crystalize enemies and lift them off the ground, immobilizing them for friends to destroy or just to bide you some time. Izzy's alt-fire, though, allows her to fire healing beacons out into her field of view, which makes her the group's medic.
With four completely different operatives, you have to practice what Ted Price calls "lethal teamwork" to make your way through each level and, ultimately, through the game. There is no run-and-gun-only path to success; working together and using the skills of each character is the only way to win. If you've got four humans playing the game, this will be pretty easy — as long as you don't have four people arguing over the same character. Even if you do, though, you can swap players between each level, thus giving everyone a chance to play as each character. If you're playing the game solo, you can immediately "hot swap" to another character with a simple button press. You can also rely on the AI, which Insomniac says is "smart enough to not kill you but not so smart that it'll steal your kills," but the preference is obviously to have players living out each role at the appropriate time.
So, how does this play out in actual gameplay situations? Glad you asked. In one gameplay situation we played through, Dalton raised his Magshield to protect himself and his squad, while Jacob sniped right through it to take out enemies. In another instance, Izzy crystallized a whole host of enemies, which Dalton then proceeded to "force push" with his shield's Fuse energy.
In addition to getting the warm fuzzies of working together, the players also get points for playing and working together. These XP points are then spent to upgrade skills, weapons and attributes much like you'd see in an RPG. So, in the scenarios outlined above, Dalton was providing shelter while Jacob dealt out the pain, giving Dalton some XP because Jacob's bullets were going through the shield, while also giving Jacob XP for making the actual kill. In the second example, with Izzy and Dalton, Izzy gets points for immobilizing the enemies, while Dalton gets points for doing away with them. This "joint XP" concept certainly encourages people to work together, but just as important, keeps the gameplay interesting for people even if they aren't playing as their "favorite" character, because they'll earn XP no matter what, as long as they play cooperatively.
This laser-like focus on cooperative play is a breath of fresh air in our PvP-driven world. I personally don't give two shakes about competitive multiplayer. I'm a narrative and co-op junkie, so for me, Fuse is exactly the game I've been looking for in this generation. I left Insomniac Games' HQ knowing that one afternoon wasn't nearly enough to quench my thirst, and it pains me to wait until March 2013 to play more on Xbox 360 and PS3. But, I'd rather Insomniac took their time and get it right than rush something out and ultimately disappoint. The studio's not done that before in its history, and I'd hate to see their first step outside of Sony's first-party shadow be more of a stumble.
But from what I got to play at Insomniac Games, Fuse is poised to do anything but stumble out of the gate. Insomniac is clearly staying true to its roots by focusing so much on weapon mechanics. We've seen the great things they've done with weapons in Ratchet and Clank and Resistance, and Fuse ramps up the gunplay to even more-strategic levels. Gaining XP by shooting through a teammate's shield, firing healing beacons across a map to an injured comrade, immobilizing a group of enemies so your teammates can eliminate them a tad more safely — all of these things are only possible because of the weapons experts at Insomniac. The fact that those mechanics reinforce cooperative play at every step, that they're anchored by a complex narrative, and that they fuel RPG-like upgrades? Seriously, sign me up today. My fuse is lit.
View our screenshot gallery:
[nggallery id=62]
– Jonas Allen