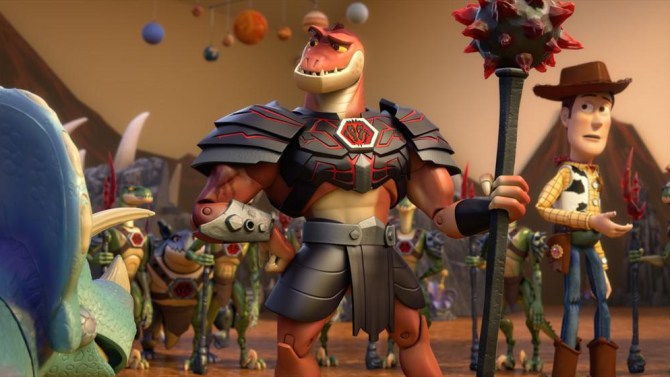 If you miss Woody, Buzz Lightyear, and the rest of the gang from Toy Story, then don't forget to checkout the latest action from Pixar. A new Christmas special was just released on November 3 featuring funny, yet cute action from your beloved toys! Don't forget to get yourself a copy of Toy Story That Time Forgot on Blu-Ray today.
Great Short Film
If you enjoyed the previous Toy Story short film, Toy Story of Terror, then you and your kids will definitely enjoy the latest installment from Pixar! It is 22-minute, jam-packed film featuring action and a great deal of suspense with a touch of humor!
If you are an avid fan, then complete your collection by adding this to your set! Get the Blu-ray version for great picture quality.
Awesome Story
If you liked Pixar's Halloween special, then you will definitely enjoy Toy Story That Time Forgot.
Join Woody and the gang as they go out with Molly on a play date with her cousin Mason. When they reach Mason's house, the gang are tossed aside as Molly runs to play video games with Mason.
Woody, Buzz, Trixie, and Rex encounter a new set of Dinosaur toys. However, the Dinosaur toys, led by The Cleric and Reptillus Maximus takes things a bit too seriously and don't realize that they are just toys!
The new toys capture Woody and Buzz and threaten to kill them. To top it all off, Trixie and Rex grow closer to the new toys! Are Woody and Buzz finished as we know them? Will they survive this ordeal or will Trixie betray them?
Join your favorite characters for some fun-filled action in this all-out awesome show to find out! You will also get to meet some new characters too!
Great Extras
When you get Toy Story That Time Forgot, you not only get to watch the story, you also get to see some extra features!
The bonus feature is packed with deleted scenes, behind the scenes action, and an amusing karaoke scene.
If you want additional background on this latest addition to the Toy Story franchise, the bonus material is a big plus!
Great Show
Don't forget to get your copy of Toy Story That Time Forgot on Blu-Ray today! Join Woody, Buzz Lightyear, Trixie, and Rex in their latest antics on Blu-ray quality video. Add this latest film to your Toy Story collection. As Buzz likes to say, to infinity and beyond!