The current console generation has come full circle, it seems. Nintendo came out of the gate swinging, selling millions of Wiis to families everywhere while Sony and Microsoft battled it out for the older gamer with the PS3 and Xbox 360, respectively. Now Nintendo's aiming high (in age) with the Wii U, while Sony and Microsoft go for the younger crowd. The latest evidence comes courtesy of Kinect Sesame Street TV, the first of two "two-way TV experiences" for Xbox 360 (the other is Kinect Nat Geo TV). The target demographic for this title is clear, and in some respects, Kinect Sesame Street TV
may be the future of public broadcasting. Yet there are a few kinks to iron out before that future is realized, including evaluating just how appropriate Sesame Street is for this sort of two-way TV experience.
Sesame Street is an instructional program, so giving toddlers the chance to interact with that instruction via the Kinect's motion-sensing and voice-commanding functions makes total sense. Kinect Sesame Street TV includes two discs of content, each with four full episodes that collectively provide hours of edutainment. One disc focuses on "Growing Up," using a mix of original content and clips from the actual 42nd season of Sesame Street to teach kids lessons about sizes, discontinuing the use of a pacifier, dealing with siblings and the like. The second disc focuses on "Science," once again using Kinect-original and archive content to teach toddlers various basic lessons. Also included is a Season Pass to download new content, and access to thousands of classic TV clips.
There are just two things wrong with the format, neither of which is anyone's fault, per se. First, Sesame Street has been successful by following a certain formula, one that's largely reliant upon "fake" interaction with its audience. For instance, characters have delayed pauses as they wait for a response that may or may not come from the kids on the sofa. Or, they may appear to throw or catch things to/from viewers to indicate a level of interaction that isn't really there.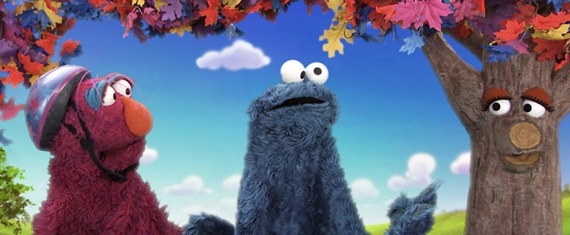 On one hand, this makes Sesame Street a perfect candidate for this sort of game, because the interaction is already built in. The only problem: toddlers aren't used to the interactions be real, so what could've been a special instructional tool is rendered completely useless. I watched a toddler stare blankly at the screen while everything just played out on its own. To the game's credit, that sort of passive activity doesn't interrupt the flow of each episode. But that's not exactly the point, is it? Kinect Sesame Street TV is designed to be a two-way experience, and practically speaking, it's no different than the one-way experience Sesame Street is traditionally known for.
The second issue that keeps Kinect Sesame Street TV from really taking off is that the toddlers are frankly too young to use Kinect. Not only are they unlikely to stand in the proper place, but their language isn't always there to interact with the Kinect verbally, and they don't understand how their real-world movements can affect any sort of change on the TV screen. The concept of gesture-based controls is just too advanced for toddlers — heck, even some older kids — which neuters the game's effectiveness as an educational medium. They may as well watch the passive TV shows, in that case.
But, let's go back to my initial comment: this could be the future of public broadcasting. As it stands currently, Sesame Street's history of "fake interaction" is too strong and too long-standing to really be effective with this two-way TV experience. But, if this type of product begins to take off, and if Sesame Street's producers rely less on fake interactions on the TV and more on real interactions via the Kinect, that "confusion" may ebb to a certain degree and make the edutainment game more impactful. It'll be hard to overcome the age obstacles, of course, but overcoming the other challenge may be a matter of working through the evolution of TV as we know it.
Yes, that's a bit esoteric, but Kinect Sesame Street TV is itself a bit on the "proof of concept" side. The game misses the mark in several ways, but with the right programming and more analysis into whether toddlers are really the most appropriate target for this sort of product, we could be witnessing the birth of a whole new educational medium. It's just not there yet. Now, Kinect Nat Geo TV? That one's a heck of a lot closer.
Check Amazon.com's pricing for Kinect Sesame Street TV by clicking this link: Kinect Sesame Street TV
.
Score: 6
Platform Reviewed: Xbox 360 (Kinect exclusive)
– Jonas Allen