There are a few parallels between Kinect Star Wars and Episode I: The Phantom Menace, which opens today in 3D. The most obvious is the connection to Episode I content and characters, which so far have driven all of the Kinect Star Wars game demos. The most surprising parallel, though, relates specifically to the 3D release of The Phantom Menace: a poor first impression. The 3D film's first 10 to 15 minutes are frankly a visual disappointment. Sitting through the opening scenes of the Episode I 3D midnight showing, I couldn't get over how embarrassingly dated, green-screened and fuzzy the video transfer was. Eventually the visual quality improved and I left the theater pleased — which is exactly where the weird parallel surfaced with Kinect Star Wars.
My first hands-on time with Kinect Star Wars came at E3 2011, upstairs in LucasArts' private demo room amid a handful of original Star Wars artwork, costumes and models. LucasArts was showing a few scenes from Coruscant in which we could control Obi-Wan's various Force moves, including Force Push and Force Dash. We also got to wield a lightsaber, and while the Jedi-like nuances were novel, the demo was basic to the point that I walked away seriously concerned that the whole game would be boring. But much like the video quality of Episode I improves after those opening scenes, I've recently played through a previously unseen pod-racing sequence in Kinect Star Wars — in 3D, no less — and can safely say that the Force is strong with this upcoming Xbox 360 game.
As I waited in line for the midnight showing of Episode I: The Phantom Menace 3D, I wondered how the E3 2011 Coruscant demo could've single-handedly dashed my hopes for the rest of the game. More to the point, I wondered why that was chosen to be the game's first public demo. Yes, everyone likes Force Pushing droids around, but the camera was scripted a la Time Crisis, and the whole experience inspired very little sense of immersion. Conversely, the Pod Racing scene I recently played has "immersion" written all over it, and playing it in 3D increased that sense of place tenfold.
Our race took place on the Tatooine race track, the very same arena where Anakin races against Sebulba. Controlling the pod racer via the Xbox Kinect was incredibly intuitive, and my inner Star Wars geek imagined it must've been just like controlling a pod racer. You know, if pod racers were actually real. I gently outstretched each hand, much like holding the reins of a horse. To turn left, you pull your left arm backward; to turn right, you pull your right arm back. To activate the boost meter, which gradually fills as you pass foes and perform well on the track, you push both arms forward in a semi-violent shoving motion, much like Anakin in the film. The whole mechanic feels gratifying, as if you're literally "pushing" the boost button and steering a pod racer.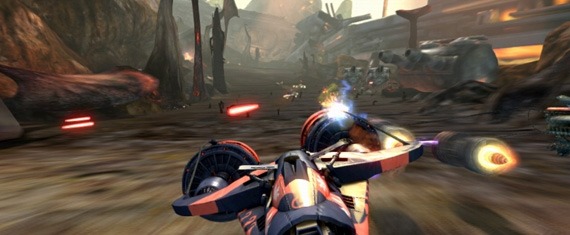 For the first half lap it's very easy to over-steer the pod racer, because any vehicle moving that fast and with that little superstructure is pretty squirrelly. I'd liken it to a teen driving a car for the first time: they've seen mom and dad move the steering wheel, so when Junior first grabs the wheel he/she tends to overcompensate and jerk the car around the lane. After a few blocks, they realize that small motions are all that's necessary, and the ride gets much smoother. Such is the case when controlling the pod racers in Kinect Star Wars.
Skirting between opposing pod racers is a blast, and when you add narrow canyons and boulder-like obstacles to the mix, you'll want to make sure you've learned to stop over-steering your vehicle or you'll bang into things left and right. At about the track's halfway mark, the game follows the movie's scene to a "T," plunging you into a stalactite-filled cavern with its own unique obstacles to steer around. Vertical movements are controlled by the game, so you don't need to worry about moving your arms up and down to direct your vehicle up or down hills; it's purely a left/right thing. At these speeds, though, left/right movement is plenty to keep you on your toes. That, and the Tusken Raiders shooting at your pod racer.
Moving at those speeds while dodging that many obstacles generates some outstanding 3D effects, and in fact I've never seen a video game deliver this level of 3D immersion. Uncharted 3: Drake's Deception is cinematic perfection and has outstanding 3D, but moreso for its ability to set a very real sense of place than its ability to have things appear as though they're literally jumping off the screen. Playing Kinect Star Wars in 3D, it really felt as if the pod racer were jutting out from the 3D TV, darting between rocks and around vehicles that were equally dimensional. Oh, and for the record: everything looked amazing graphically, even at high speeds.
There's bound to be renewed interest in The Phantom Menace's pod racing scene now that Episode I has released in 3D, but there will likely be just as many people skeptical about Kinect Star Wars delivering the goods, in light of its "opening scenes" at E3 2011. Not to worry. Let me set the record straight now that the game's had an additional eight months of development time: there's a lot more to Kinect Star Wars than Coruscant. In fact, as underwhelmed as I was by that first demo, the pod racing level I recently played is was impressive to the point that it restored my hope in the game, as did the game's overall 3D execution.
Kinect Star Wars is slated to release April 3. Last summer I would've said you could let that day come and go without action, as the game seemed like nothing more than a marginal marketing tie-in. Now that I've played more of it — and had a great time doing so — you can count me as one of its padawans. Am I just riding the midnight movie high from Episode I in 3D? Perhaps. But consider that this hands-on preview is based on my time with the game three weeks ago — and that I'm still this encouraged by it — and I doubt that to be the case. This isn't the bad tie-in you've been looking for; Kinect Star Wars is shaping up to be a worthy entry in the Star Wars pantheon.