Normally, small add-on bits of software like this new table from Zen Studios won't get much of a blurb from me – but after spending so much of my time with Pinball FX2 and the fabulous Marvel tables previously, I'd me mistaken not to mention the new addition for the engine. Yes, Mars has been out for the Zen Pinball on PSN for quite some time now, but it was obviously something that Zen Studios was proud enough of to port over to the, in my opinion, superior engine they created with Pinball FX 2.
As with other titles in Pinball FX 2, Mars can be purchased a la carte, and a demo will be made available which will give you a good sample of what the table has in store for you. I found the table layout to be quite open, and the assortment of ramps, drop targets and orbits to be laid out in a very easy to maneuver way. There are no hidden ramps or ramps that require a flipper to be held down in order to hit a target, like in the Pasha table. The table does seem very top heavy though, with a lot of activity all along the upper limits of the playfield – including some slightly distracting hologram markers which indicate special mode selectors. With a few modes that are sure to trick you a couple times early on, including an anti-gravity mode where the balls don't quite roll on the playfield – the variety here is definitely a nice change from the rampfest that I found the Iron Man table to be.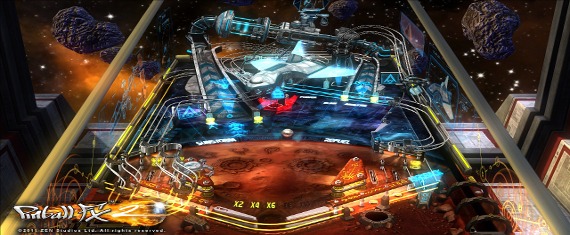 One thing I really liked on this table that rewards players who can keep a game going for a while is a time activated special mode. If you can last the 8-10 minutes while the countdown is uhhh – counting down then you get to play a short mode which is a good way to rack up a couple million points. Points are dished out at a near consistent rate with other tables – I didn't notice that things got out of hand, except for the top couple players on the (early) leaderboards who tend to dominate all of the tables.
Coming in at 240 points, it's a tad more expensive than the rest of the Pinball FX 2 tables for some reason or another but don't let that $0.50 scare you off as if you're a fan of what Zen has done to revitalize video pinball then you'll be happy with the new table to help fill in your grid. Think you can beat me? I'm currently sitting with 83+ million, and #14 on the leaderboards – post some smack talk here if/when you beat my score!
Score – 8 \ 10
Platform reviewed: Xbox 360
HOLD THE PHONE! Want to win a copy of the Mars table before others can even buy it? All you need to do is leave a comment here with your favorite Pinball FX 2 table! Make sure to use a valid email address, or else you won't be able to get the code!
Also, be sure to click that lovely Tweet button to spread the news.  Don't forget to follow us both on Twitter and on Facebook to keep ontop of all the news and contests.  We have two tables to give away, and the drawing will commence at 12pm on 4/19/2011. Good luck to all!