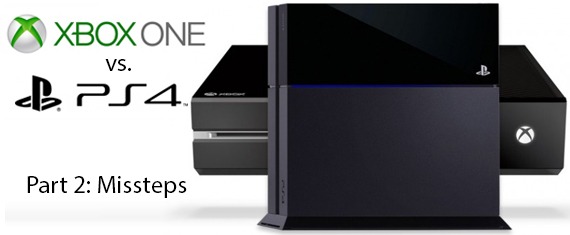 Leading up to and through E3, the flame wars fanned to epic heights about the benefits, drawbacks and question marks surrounding the PS4 and Xbox One. With either Microsoft or Sony seemingly destined to win the next generation, we've prepared a three-part series digging into the issues surrounding their forthcoming launches. Our first article focused on the historical context for the looming console war, pointing out that history isn't on Microsoft's side. This second article looks at what's actually transpired as we inch closer to the Xbox One and PS4 launch date. The rhetorical question we pose, which can't really be answered until the consoles are at least one year old, is whether Microsoft has learned its lesson in light of that history — or whether it's doomed to repeat history and fail out of the gate.
The Xbox 360 has become the North American leader in console sales, a success that's nice on the surface but has put Microsoft in the unenviable position of entering the next generation on top. History has shown that the market leader often stumbles on its way into the next generation, either by getting too confident in its vision for the future or stubbornly insisting on certain principles. As Microsoft and Sony prepare to launch the Xbox One and PS4 (Battlefield 4 PS4 launch-day bundle
, anyone?), history seems to be repeating itself. Coming into the current generation, market-leader Sony promoted the PS3's ancillary benefits and uses while Microsoft focused on online gaming and exclusive franchises. That strategy worked for underdog Microsoft, not for leader Sony. Fast-forward to 2013 and the launch of two new consoles, and that storied script is playing out yet again.
Microsoft revealed the Xbox One with an event focused almost exclusively on its power as an entertainment device rather than a game console. The company has made strides with a variety of Xbox 360 Dashboard updates to promote sports, entertainment and music, but Microsoft chose for people's very first impression of the Xbox One to be as an entertainment device. In fact, the company's boilerplate language for the next-gen console describes it as "the all-in-one games and entertainment system from Microsoft." Sony, meanwhile, unveiled the PlayStation 4 with two hours of primarily games-only discussion. They didn't even show the PS4 hardware, for crying out loud.
The actions of both companies followed a historically predictable track at E3. Underdog Sony used its press conference almost exclusively to discuss games, and its booth was brimming with software (although only one-third of it was for PS4). Microsoft, meanwhile, wisely used its press conference to discuss Xbox One games, but it often did so while espousing the next-generation Kinect, its voice-command features and the virtues of cloud computing. Things degenerated further for the market leader once the doors to E3 opened on Tuesday afternoon.

It started with a discussion by Xbox One engineers about how the servers to which the console connects can map entire galaxies and feed them back to the user within seconds. In Microsoft's actual booth, stage demos of the new Kinect highlighted its ability to sense individual wrinkles in people's clothing, and dynamic particle and geometry renderings showcased how quickly the Xbox One system can process and present data. The behind-closed-doors Forza Motorsport 5 demo talked about paint layers and how to model imperfections — things that could only be done with the more-powerful hardware — rather than gameplay enhancements. And even now, days after E3, company representatives continue to talk about the importance of digital distribution and licensing a game rather than buying it, forcing awkward technology discussions at a time when gamers just want to talk about games.
Time and again, history has shown that the market leader going into a subsequent generation focuses too much on technology for technology's sake, allowing the one-time runner-up to vault into first place after the new consoles' launch. Microsoft was on the receiving end of this underdog bump with the Xbox 360, so claiming ignorance of the pattern is not an option. It's surprising to see this pattern repeating itself with the Xbox One (which still has Xbox One Day One bundles
available)and PS4, because you'd think the manufacturers would've learned from decades of predecessors' mistakes. On the other hand, the pressure on a market leader to think differently may simply be too much to bear, and talking about advanced hardware is the "easy out" when talking about a next-gen experience. The irony of this logic, as you'll see in our third and final article in this series, is that the hardware obsession may soon become moot, causing a unique challenge not for the PS4/Xbox One console war, but for the systems that follow in their footsteps.
– Jonas Allen