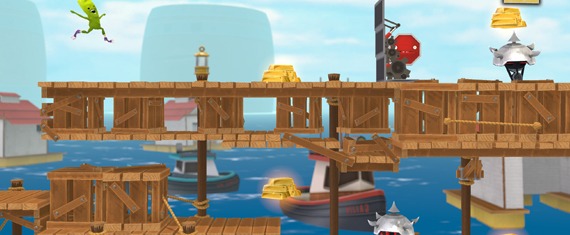 The oddly-titled Runner 2: Future Legend of Rhythm Alien is a great example of a casual, side-scrolling game that keeps players engaged while still keeping things simple. Imagine a combination of side scrolling, forced running and rhythmic Whack-A-Mole, and you have an idea not only of the general gameplay, but of the reasons for this game's surprisingly high fun factor.
The game starts with a fake commercial akin to the ones seen in Jellyvision's You Don't Know Jack, and continues with a cut scene that reminds you of the kind of cartoon you watched as a kid when crude humor didn't make much sense to you. Visually, the opening scene has a flat cut-out-paper style that I find visually interesting, which the following cut scenes carry on successfully.
The gameplay is simplistic in an addictive way — just run through the level, jump at the right time and collect gold. Yet while the basic gameplay doesn't change much, it does get noticeably more difficult, forcing you to really pay attention to your character, Commander Video. The environments of each level make it a little difficult to pay attention to the task at hand, but in a good way, like in LittleBigPlanet. Basically, it has little quirks that one would completely miss if you're focusing too hard on Commander Video.
Along with the environments, Runner 2: Future Legend of Rhythm Alien takes what Kirby and LittleBigPlanet have done right by using welcoming color schemes and a pleasant soundtrack that's in perfect rhythm with the gameplay. In essence, your jumps and gold collecting fit perfectly into the soundtrack. While these qualities sound a little girly for a video game, I assure you the game is quite gender neutral. If I were to pick one word to describe the overall experience, it would be "whimsical."
The simple-but-addictive nature of the game would seem to make it translate really well to mobile devices. Luckily for those of us who are on the go, there is some buzz that an iOS version is scheduled to be released this summer. Also, those familiar with Super Meat Boy should know that he makes an appearance in Future Legend of Rhythm Alien.
To sum it all up, although I won't say you have to buy this game, you wouldn't regret it if you did.
Score: 8.5
Platform reviewed: Xbox 360
— Amber Taylor