Most people would think a game predicated on using guns and a pair of shoulder-mounted bloodthirsty demon arms would be little more than a gore fest. That would only be telling half the story with The Darkness II, because The Darkness II is the bloodiest, most brutal and hard-edged love story you may ever play. Yes, love story.
Based on a series of graphic novels, The Darkness II doesn't immediately seem rife with romance potential, but it's appropriate that we're publishing our review of the game on Valentine's Day. 2K Games' latest outing balances sadism with sensitivity, an unabashedly violent game ironically anchored by its hero's undying affection for his dead girlfriend. The gameplay stays as fresh as the brains splashed across the environments' floor, with a narrative that's well-executed and pleasantly surprising. I was a fan of the first game, but the sequel ramps it up in every conceivable way, from RPG-like skill trees and voice acting to enemy AI.
The story behind The Darkness II builds upon that of the original: Jackie Estacado has come to terms with his new demon-arm appendages, leveraging their power to become a successful mob boss. This new social status has made Jackie a target for all manner of enemies, including a group called The Brotherhood that's developed a mysterious interest in the Darkness itself. As Jackie battles gangsters in the streets, he simultaneously wrestles with the loss of Jenny, his girlfriend who was killed during the first game. Driven by love, regret and a hunger for revenge, Jackie wants nothing more than to kill anything – anything – that stands between him and Jenny. In a purely spiritual sense, of course. Or is it?
That rhetorical question speaks to the game's pacing, which has evolved leaps and bounds from the original in both narrative and gameplay. The first game focused on Jackie's handling of The Darkness, while this sequel has an even stronger narrative that moves masterfully between gory action scenes and purposefully confusing non-battle sequences. There are also at least a half-dozen love scenes that deepen Jackie as a character and underscore his complexity. Meanwhile, the gameplay stays fresh by moving deftly from enemy-filled rooms to hallways in which Jackie must avoid the light, and with enemies whose use of light grenades and flanking maneuvers puts the "intelligent" back in "artificial intelligence."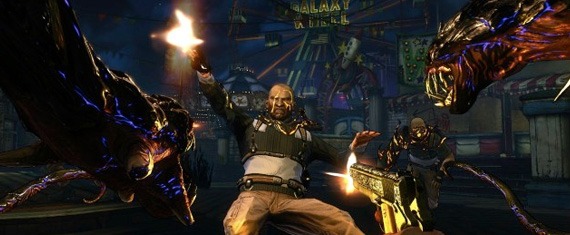 One of the big marketing lines prior to the game's release was the concept of "quad wielding," with Jackie able to dual-wield weapons while using his demon arms. Theoretically, this would be necessary action with all those intelligent enemies roaming around. In reality, quad wielding is a bit gimmicky. You definitely wield all four weapons at the same time, no question there, and firing both guns at once is a hoot. But you can't actually use both demon arms at the same time, because the right arm slashes while the left arm grabs, so using both is mutually exclusive. Having all four options at your immediate disposal does help accelerate the pace of battle, much like juggling an enemy in a fighting game, but using all four at once? Not so much.
With that said, combat is still a blast, particularly as you unlock some of the higher abilities in the game's skill trees. With each enemy you kill, you earn Essence that you can spend at checkpoint-like stations. More powerful enemies give you more Essence, which is a good thing later in the game because each skill varies in the amount of Essence required to unlock and upgrade it. The skill trees vary somewhat in function: some affect gunplay, some have an impact on Darkness powers, and some relate to additional bonus powers like a Swarm of bees. If you ever change your mind about which skill tree to go down, you can reset everything to test out other trials, although it does incur a minimal Essence penalty.
Once you beat the game, after about eight hours, you can choose to play through the game again via "New Game+" mode, which lets you play any level in any order with all your endgame skills and unlocked items intact. I've always appreciated that feature, and this is no exception, as it really adds to the game's length.
Also adding to the length is a compilation of levels called Vendetta mode. These missions feature various plot-related acquaintances who have somehow mastered some element of the Darkness. These parallel stories relate to the main Campaign, which helps round out the game world to a certain degree. More important, though, is that you can play Vendetta missions via online or local multiplayer.
The original The Darkness was a great experience; The Darkness II improves on the formula in every way. Even the art style, which is stylistically cel-shaded a la Crackdown and XIII, is a capable homage to the game's graphic novel roots and makes it stand out in an overcrowded FPS genre. The game may initially earn renown for its gore and vulgarity, but it'll keep people playing because of its love story and narrative pacing. Fans of plot and gore, eat your collective heart out. After all, if you don't, Jackie Estacado's demon arms will.
Score: 8.7 — Although quad wielding is a bit gimmicky, it makes for a fast-paced shooter with more blood than any game this side of The Phlebotomist. The narrative is an incredible surprise, and there are enough mind-bending twists to keep you going through the end.
Platform reviewed: Xbox 360