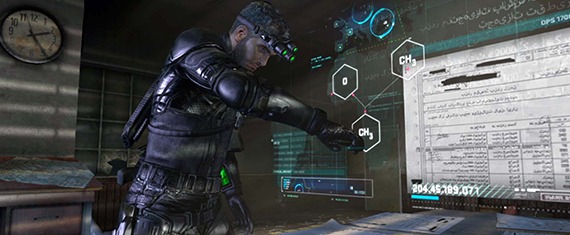 We're pretty excited for the Aug. 20 release of Tom Clancy's Splinter Cell Blacklist, so Ubisoft's new Splinter Cell Blacklist 101 Trailer hasn't exactly succeeded in calming us down at all. The new video, which Ubisoft released today, sees tech ops specialist Charlie Cole providing a thorough debriefing of Sam Fisher's most challenging mission.
In Tom Clancy's Splinter Cell Blacklist
, players once again take on the role of lethal operative Sam Fisher. Sam's mission this time is to hunt down the masterminds behind The Blacklist, a series of escalating attacks on U.S. interests. Faced with his biggest mission yet, Sam and his Fourth Echelon team must figure out how to stop these global assaults before the countdown reaches zero.
One of the reasons we're so looking forward to the game, and why the new Splinter Cell Blacklist 101 trailer has us so stoked, is that Sam's next outing brings back core elements of the franchise. Namely, stealth. It also incorporates new design elements to result in what Ubisoft says is "the biggest Splinter Cell game to date." In addition, the game's single-player, co-op and multiplayer modes are all tied to a universal economy system that supports a wide variety of play styles.
Tom Clancy's Splinter Cell Blacklist ships in North America on August 20. You can pre-order it from Amazon using this link: Splinter Cell Blacklist at Amazon
. Now, on to the Splinter Cell Blacklist 101 trailer: