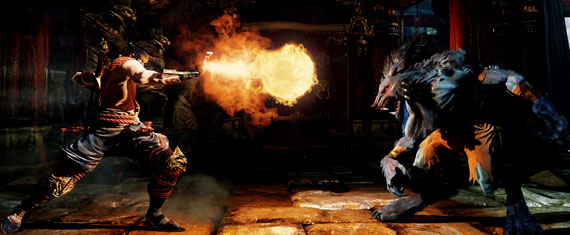 As we reported yesterday, several Xbox One games will be playable at PAX, including Killer Instinct. Today, Microsoft showed some of the combos of the recently announced new Killer Instinct Thunder character, sending along the video below to boot.
The new Killer Instinct trailer shows some of the powerful combo moves Thunder has at his disposal. Officially introduced at Gamescom, the classic tomahawk-wielding warrior shines in the minute-long video showcasing his action-packed Awesome, Extreme and Master Combos against Jago. Note that in the screenshot above, Jago is shown fighting Sabrewulf, not the Killer Instinct Thunder character.
Thunder is a hard-hitting grappling character with powerful strikes, aggressive special moves and a devastating command grab. But you can tell that from the video, can't you?
Speaking of the video, be sure to watch until the end of the trailer for a tease of an upcoming reveal.
Available this November exclusively for Xbox One, Killer Instinct includes an updated combat system, new characters and a brand new storyline (remember, this is an old series being re-imagined for Microsoft's next-gen console).


Killer Instinct will launch with a free trial that gives you one free character. Additional characters will be available for purchase, starting at $4.99. There are also a couple of character packages:
Combo Breaker Pack. Save 50% instantly by purchasing the Combo Breaker Pack (the first eight characters, six at launch and then early access to the other two new characters before their official release) for $19.99.
Ultra Edition. The $39.99 Ultra Edition includes the first eight characters, accessories packs and costumes, plus the original Killer Instinct arcade game.
But enough of the jabber. You're here to see some of the Killer Instinct Thunder character. So let's do that, shall we?