Microsoft's Xbox One goes on sale tonight at midnight. Within a few days we'll know how the demand for the latest next-gen console compares to that for the PlayStation 4, of which Sony sold 1 million in 24 hours. As you prepare to pick up your Xbox One late tonight or tomorrow, you may be surprised to learn exactly how the pre-order payoff process works. It's frankly a little like a console cock tease.
Microsoft called earlier this week to let me know if I came into my local Microsoft Store to pay off the Xbox One pre-order by 8pm Thursday, I would get a $10 gift card. Free money is always nice, so I did it and picked up an additional controller and play-and-charge kit at the same time. But here's the thing: paying off my Xbox One pre-order meant the Microsoft Store employee had to bring out the console itself, scan it, and then take it away until Friday.
Are you serious? As if it's not bad enough that I can buy a controller and games that'll sit there languishing on my shelf until Friday, now I can see and touch the actual Xbox One that will be mine at midnight tonight? That's the epitome of brutal, especially for an early adopter of new technology.
Microsoft gave gamers plenty of time to get in their Xbox One pre-orders, whether it be from e-tailers, specialty retail or from Microsoft directly. In fact, the local Microsoft Store where I'll be heading at midnight tonight had "about 200" pre-orders for the Xbox One, whereas one employee's husband, who manages a nearby GameStop, had just 50 Xbox One pre-orders. To their credit, Microsoft giveth a plenty when it came to opportunities to order the next-gen console. But that also made their need to taketh away the Xbox One all the more difficult to bear.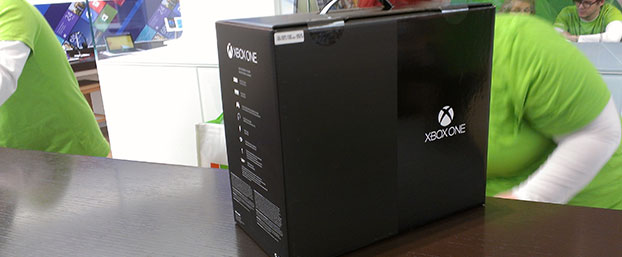 On the one hand it was nice to know I've got a specific Xbox One assigned to me. Now that it's paid off, it will have my receipt attached to the box, and I can stroll in at any point to pick it up and be on my way. No more stressing about whether they've over-sold, and no more worrying about how early I need to get there to compete with others who may (or may not) have pre-ordered their system. Heck, I may even skip the launch party from 10pm-12am in the store.
On the other hand, I've been looking forward to playing the Xbox One in the comfort of my own home for many months now, so to have it sit there in front of me and be yanked away seemed unnecessarily wicked. It's kind of like when you're a kid and the last three days before your birthday seem to take three weeks. It's one thing to see the countdown timer now that we're in the home stretch. It's a completely other thing to cross the finish line only to be told that was really a pit stop.
Granted, this process of paying-off those Xbox One pre-orders is completely optional. If you don't want to endure the tease of seeing your system and having it ripped from your hands for another 15 hours, you can just mosey into your local Microsoft Store at midnight and call it good. I'm not sure how the process works at GameStop and other retailers this time around, but with previous console launches you've never seen the box itself when zeroing-out your balance before launch. The process seems to be unique to Microsoft. So, if your plan is to pay off your Xbox One pre-order by 8pm tonight, be prepared for a bit of a tease. After midnight tonight, that temporary pain will likely be all but forgotten.