Today, eSports is regarded as a widespread form of competition. It unites thousands of viewers and players all over the globe. Since eSports continues to gain popularity, the employment of artificial intelligence (AI) in this industry begins to be more common. Artificial intelligence is altering the way individuals play, watch, and study games. Let's sort out how artificial intelligence is influencing the future of eSports and its probable effect on this industry.
How to Utilize AI in eSports
Artificial intelligence is a strong instrument that may be employed to analyze data, optimize strategies, and model the gaming process. Speaking about eSports, artificial intelligence may be utilized to analyze player performance, forecast results, and elaborate new strategies in this industry. Artificial intelligence may likewise be employed to improve game design and develop new games that are more exciting and complicated.
AI Contributes to Analyzing Player Performance
One of the major advantages of artificial intelligence in eSports is the possibility to carry out an analysis of player performance. Artificial intelligence may track the movements of certain players, their decisions, and results, granting data about their strong and weak points.
This information may be employed to create personalized training programs and strategies for separate players and teams. By conducting an analysis of player data, artificial intelligence may likewise forecast the results of matches and assist players in carrying out more informed decisions during the gaming process.
Improved Game Design
Artificial intelligence may be utilized to optimize the game design and develop new more enthralling and difficult games. Artificial intelligence may imitate gaming scenarios, conduct analysis of player feedback, and optimize gaming mechanics to elaborate more breathtaking experiences. This may result in creating new more complicated and rewarding games for players. Moreover, these games will be able to better transmit the spirit of competition.
Development of New Strategies
Elaboration of new strategies is another area where artificial intelligence is influencing eSports. Artificial intelligence may carry out analysis of gameplay data and reveal patterns and trends that may be inconspicuous to human players. By conducting an analysis of this data, artificial intelligence may elaborate new more effective and efficient strategies, granting players a competitive advantage.
AI Makes eSports Becomes More Available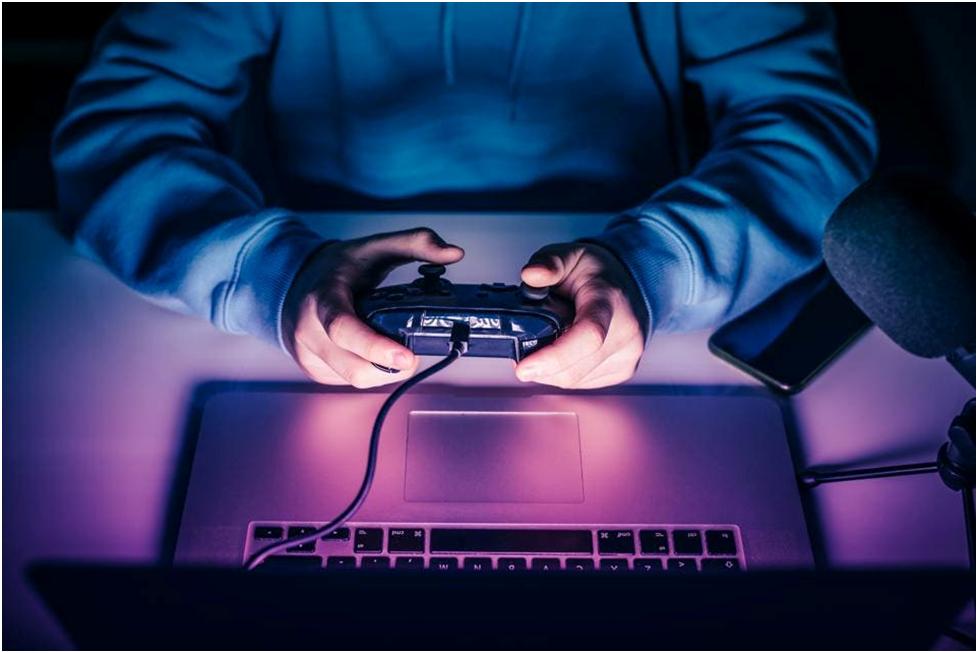 Artificial intelligence is likewise altering the way individuals watch eSports. Analytics instruments based on artificial intelligence may grant information about the gaming process in real time, permitting viewers to track the performance of separate players and comprehend the utilized strategies. This may make eSports more available to a broader audience since viewers may comprehend better the nuances of the gaming process and evaluate the skills needed for competition at the highest levels.
Potential Downsides of AI in eSports
The advantages of artificial intelligence in eSports are endless. Nevertheless, one should pay attention to certain disadvantages that artificial intelligence has on eSports. One of the issues is that the employment of artificial intelligence may make the competition less human and authentic. According to the opinions of separate individuals, the utilization of artificial intelligence may make the competition more like a simulation rather than a real check of abilities and skills.
Another problem is that the employment of artificial intelligence may result in an increasing skill gap between amateur and expert players. As artificial intelligence becomes more widespread in eSports, expert players who possess access to top AI instruments and training programs may own an unjust advantage over amateur players who don't have these resources.
Summing-Up
Undoubtedly, eSports is gaining popularity pretty fast. Aside from viewing or taking part in eSports competitions, users may likewise place bets on their favorite players and teams. For instance, esports-betting-bro is regarded as the best site for eSports betting that is worth your consideration. Here online betting becomes simpler and more convenient.
Together with eSports development, artificial intelligence use in this industry started to be more prevalent. Artificial intelligence possesses the potential to revolutionize the eSports industry, granting new ideas and strategies that may assist players in competing at the highest levels. Still, one should keep potential downsides in mind that artificial intelligence may have in eSports.
Despite everything, the eSports industry continues to develop. That's why it is significant to consider the role of artificial intelligence in eSports thoroughly and to ensure that it is employed responsibly and ethically.