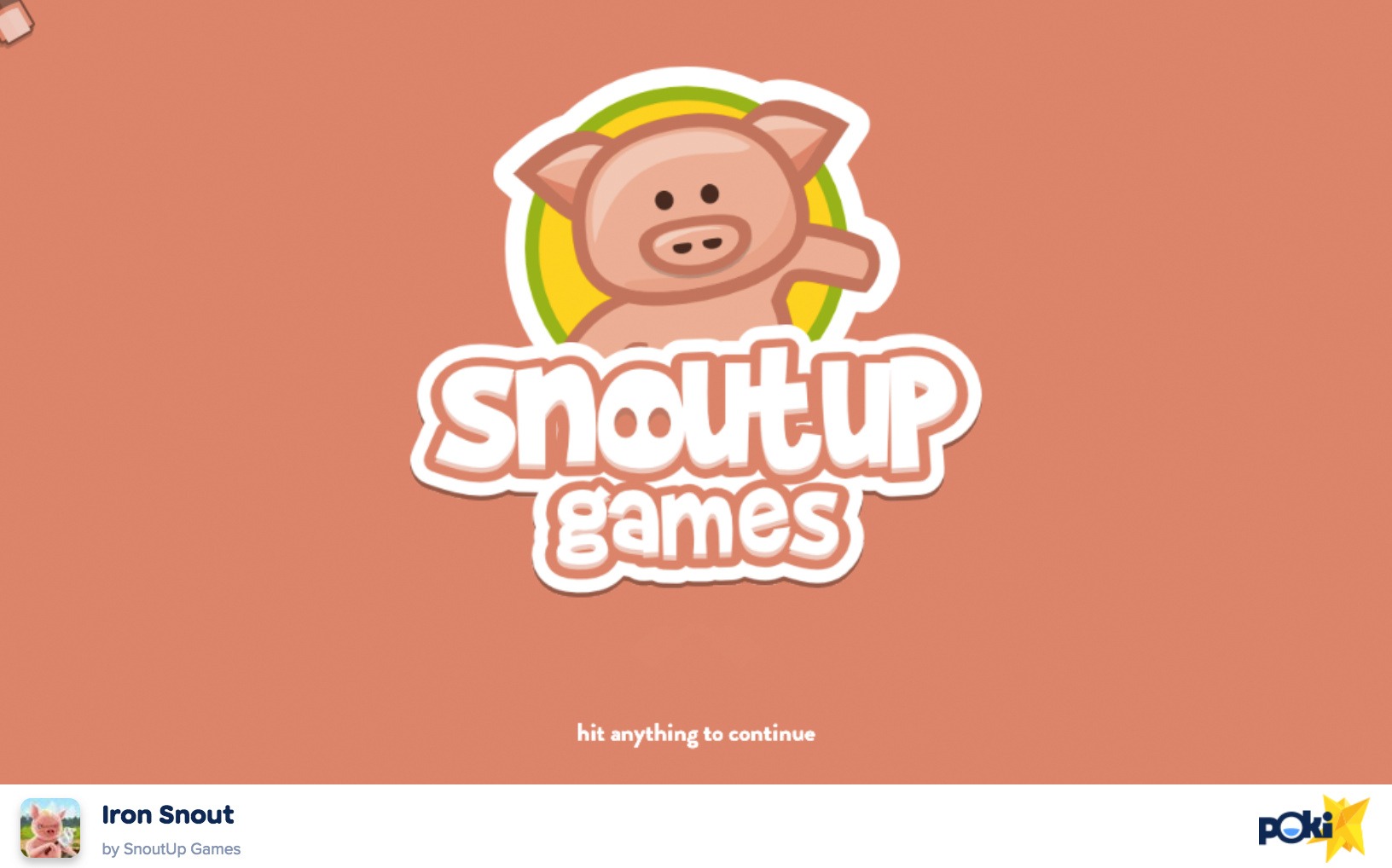 In today's overcrowded AAA gaming world, minimalism can sometimes be seen as an undesirable trait for a game to have. Many of the biggest titles on offer these days are huge maximalist affairs, all sandbox roaming, race challenges and overloaded combat. The indie sector is much more versed in providing smaller, more manageable experiences, but even indie games can occasionally be overstuffed crafting-and-survival affairs with too much ambition on display.
We reckon there's something to be said for a game that does one thing, but does it so well that it manages to rival the biggest and most grandiose games on the market. Those might be big words, but there are a huge amount of Flash and indie developers creating games with stripped-back aesthetics and an emphasis on core mechanics over flashy, unnecessary excess and spectacle.
One of these developers is Lithuanian outfit SnoutUp, whose games tend to be impressively playable affairs with a single idea that's explored in as many ways as possible. Their latest title is Iron Snout, a sort of beat-'em-up inspired by Streets of Rage on the one hand and One Finger Death Punch on the other. Like other SnoutUp titles, Iron Snout emphasizes its core mechanics and asks players to become familiar with those, honing their skills and becoming increasingly proficient at the central combat process. Iron Snout is available on Poki right now, and we recommend you go play it before you read this review if you can.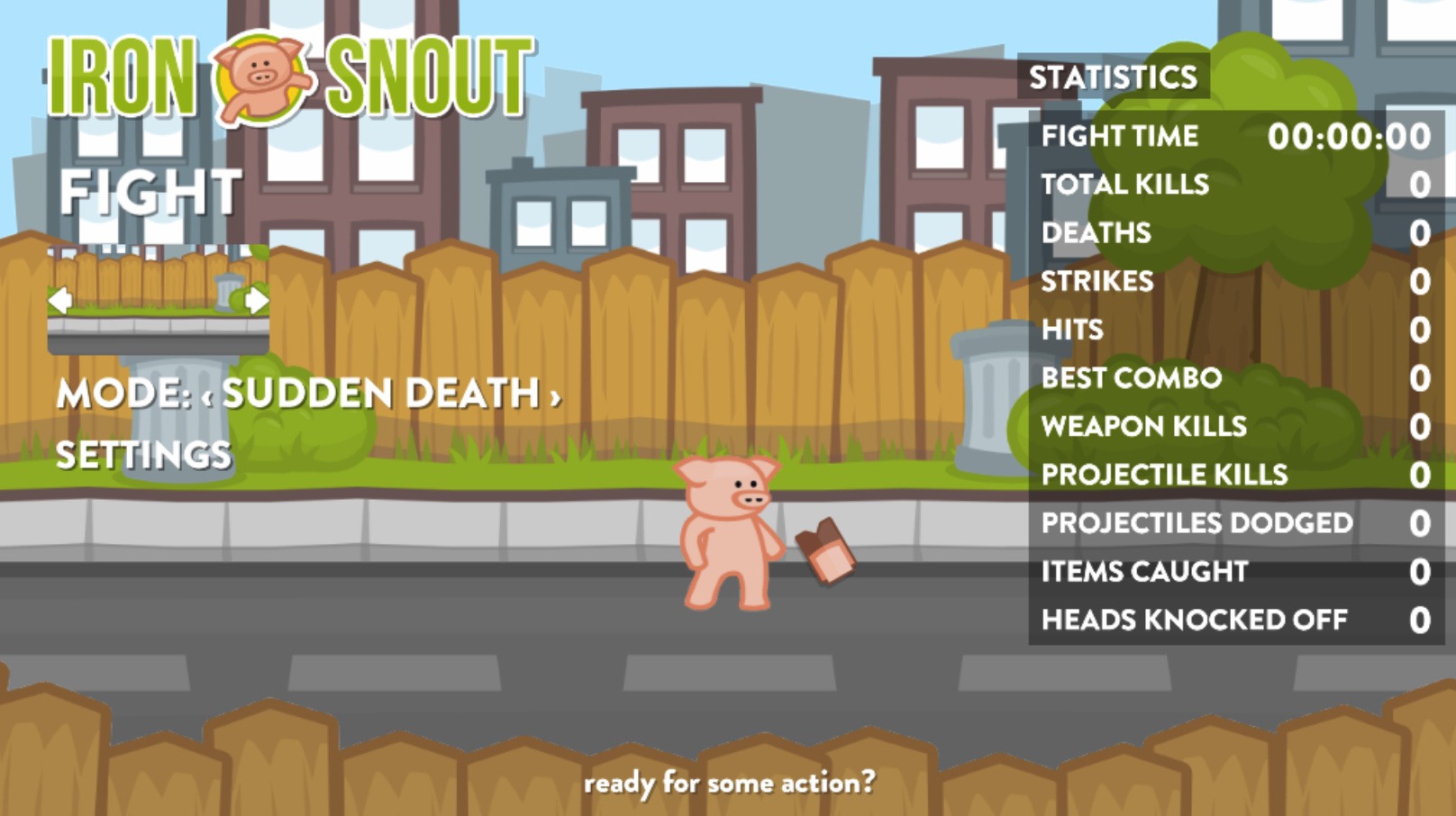 In story terms, Iron Snout won't trouble the great literary classics of our age. There isn't much of a narrative background to the game; pigs and wolves don't like each other very much, so you must dispatch hordes of ravenous wolves as they descend on your "helpless" pig hero. Of course, the pig isn't helpless: he's armed with a wide range of karate and kung-fu moves learned from countless action movies over the years, and he's ready to test them on his canine opponents.
What this translates to in gameplay terms is an odd hybrid of beat-'em-ups, one-on-one fighters, rhythm action games and (to some extent) typing tutors. Iron Snout sees players battling increasingly packed and dangerous waves of wolves, each of which has a different move set to learn and overcome. There's your basic wolf, which approaches the player fairly slowly and sets about battling them with paws and claws; there's your Red Riding Hood wolf, which is a bit quicker and sporting a weapon; and there's your rocket-riding wolf, who, err, presumably comes from some sort of futuristic fairytale.
That's just naming a few of this game's impressively varied and interesting enemy designs. They're all wolves, broadly speaking, but the way in which they're gradually introduced and implemented into the core gameplay loop is compelling and challenging. Iron Snout boasts some very cool organic design; enemies can be chained together for combos, some enemies will help you defeat others, and enemies will often appear on screen in a way that suggests a natural chain of combos to defeat them but this is never explicitly stated. Iron Snout leaves a lot of its cooler moments up to the player to discover, and that's definitely in its favor.
True to form for SnoutUp, the game has a vivid cartoony visual style, all thick black lines and primary colors. Again, Iron Snout benefits hugely from this; its slapstick violence is silly in nature, so it makes sense for the aesthetic to complement this. Sound design is pretty nice, with punches and kicks landing accompanied by pleasing "thwack" and "thwock" sound effects (yes, those are technical terms). There are two levels to choose from in Iron Snout, each of which carries its own set of enemies and hazards to avoid. Broadly speaking, the type of hazard you're dealing with is the same across both stages, but the surface differences are nice nonetheless.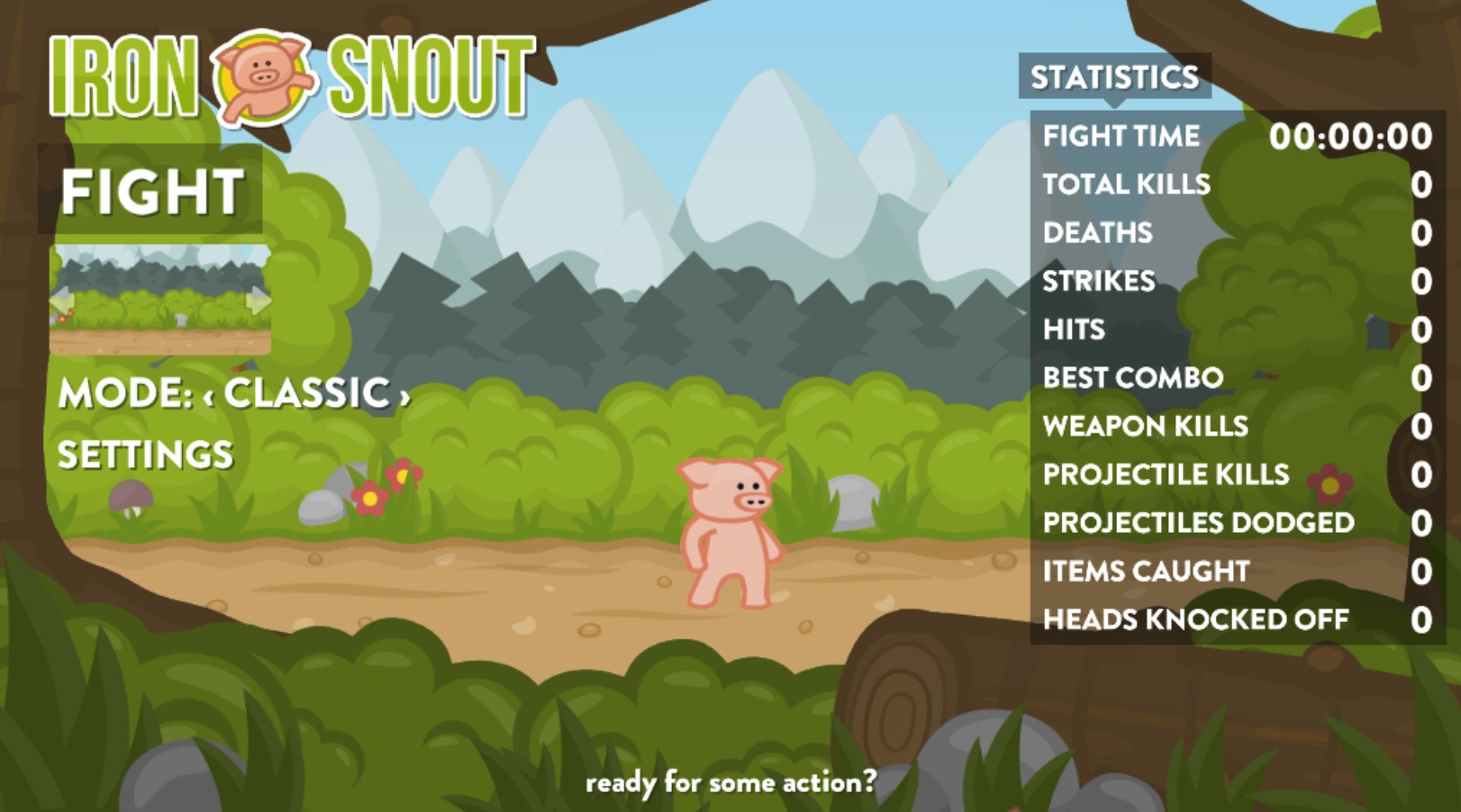 The only criticism we can really muster for Iron Snout is that it's not a particularly substantial game. There are three modes on offer: Classic, in which players battle an endless wave of wolves and see how many points they can score; Sudden Death, which is very similar to Classic only with a vastly reduced health pool; and "Wolfieball", a kind of volleyball-style 2-player minigame which uses the mechanics of the single-player mode in a clever and innovative way, but probably won't overtake the Classic mode in your mind as your go-to stress reliever.
All this is to say that Iron Snout doesn't have a huge amount of what industry bigwigs might term "content". If you're looking for a huge, expansive world or a set of perfectly interlocking minigames and mechanics, then you're better off looking elsewhere. If, however, what you want is a satisfyingly cathartic punch-'em-up brawler with a cute animal protagonist and scores of enemies on which to take out your frustrations, then you've been waiting for Iron Snout for a very, very long time. Excellent combat mechanics, attractive visuals and a nicely varied palette of enemies all make for a roaring good time, so fire up Iron Snout when you've had a particularly bad encounter with some wolves and want to make things right.