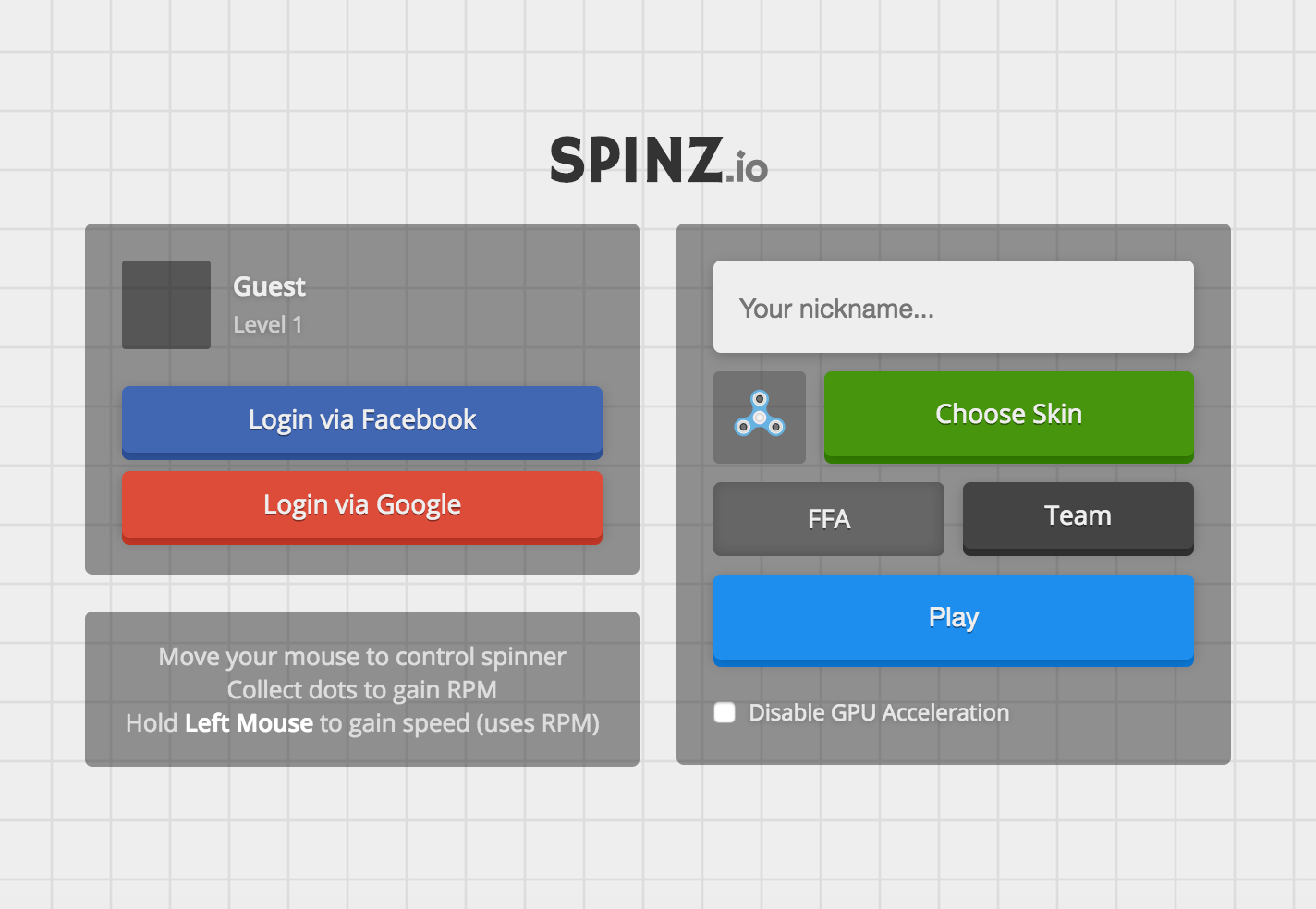 Spinz.io could be the next huge game. It capitalizes upon two phenomena: .io games and fidget spinners. We've covered several titles in the .io genre, all of which have proven to be worthily entertaining. Spinz.io is much like the others, with basic graphics and controls that complement its supremely addictive action.
We haven't seen many games that incorporate biggest toy craze of 2017. Fidget spinners have spread wildly across the globe, and they appear to be here to stay. Let's see if this game on Poki is poised to do the same.
Interface
Those familiar with .io games will feel right at home in Spinz.io. The start screen includes a few boxes. The left box features login buttons for Facebook and Google. Below that, a few simple sentences outline the control scheme and objective: the mouse controls the direction and speed of the spinner, and more dots equal more RPM. On the right side of the start screen, players can enter a nickname, choose a skin, and select a game mode. It's a tried-and-true design, so there's no reason to change it now.
The in-game interface is equally derivative—but again, that's not a bad thing. The bottom-left corner of the screen houses a radar-like map. Above that, an "invite" link lets players share their current game with friends. The bottom-right corner hosts a nifty speed graph. The always-changing bar chart tracks RPM over time, letting players know when they're at peak speed. The leaderboard resides in the top-right corner. It shows the name, RPM, and total number of kills for the top 10 players.
At the end of a round, each player can view their final session stats. These include max RPM, total dots collected, total kills, and time alive. For those once-in-a-lifetime sessions, sharing stats on social media is easy via integrated Twitter and Facebook buttons.
Gameplay
Like earlier .io games, the action in Spinz.io consists of collecting items and battling. The arena is filled with colored dots. When fidget spinners roll over the dots, their RPM increases. RPM is a measurement of speed, which is directly related to strength. In any collision, the faster fidget spinner wins the battle. After crushing another spinner, collect its remains (more colored dots) to gain even more strength.
Spinz.io is a brand-new game, and there is room for growth. It's just too easy to die at the beginning of a round. Advanced, high-level players with many logged hours can still be beaten within two seconds of starting a round. That's because at the beginning, one hit will defeat a newbie. Other than that misstep, Spinz.io is fun to play. Pick up enough dots to survive a collision, and the game becomes great.
Skins
Skins represent different fidget spinner colors and designs. The initial selection includes blue, green, orange, pink, purple, and red toys. Registered players unlock a new skin (i.e. spinner decal) at every fifth level. Gamers with enough coins can purchase the fanciest designs.
Overall
Spinz.io is a fun .io entry with many promising attributes. As it continues to evolve, it could become one of the most popular games on the Web.