There are plenty of things in our world that we love for their age. We appreciate fine wine and whisky when they're aged well, and we love classic cars for their appearance and engineering. We adore classic movies and music, and we're absolute suckers for the beauty of an old oil painting.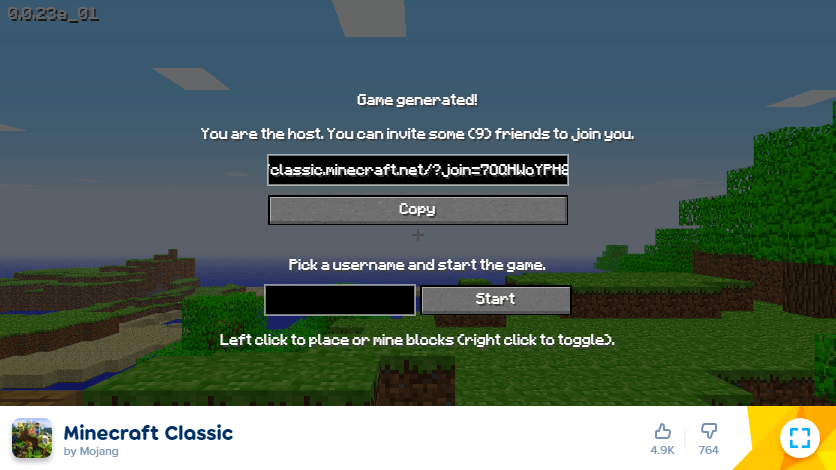 For avid video gamers, this holds doubly true. There are many who would tell you that the pleasures of modern gaming are nothing at all to the retro stylings of old Nintendo, Sega, and Atari games. For many, the pleasures of gaming are in the bleeps and clean lines of old-school titles, not the bells and whistles of the modern era.
Those people are in for a treat today. It's pretty undeniable that Minecraft, developed by Swedish programmer Markus "Notch" Persson and his company Mojang, is a modern classic. It straddles the divide perfectly between retro charm and modern design innovation. It's a marvel of a game, as anyone who loves it can attest.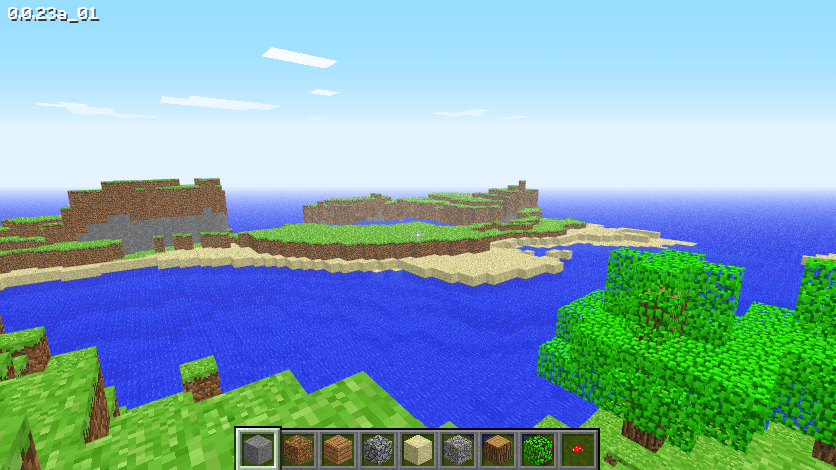 If only we could go back and see where it all began for Notch and Mojang. Well, now there's a way for us to do just that: we can play Minecraft Classic Online . This version of the game looks, plays, and feels exactly as it did back in 2009, right down to the almost non-existent user interface.
The 2009 version of Minecraft is what's known as a "developmental release", which is basically a fancy word for an alpha. Very few actual concrete features are in Minecraft Classic; instead, you're presented with a basic skeleton of the game and very little else besides. This is Minecraft before it was Minecraft.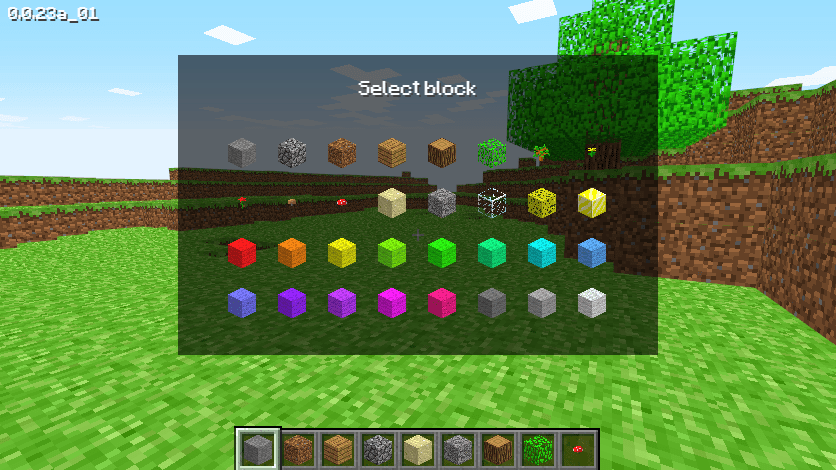 In practice, a lot of people are probably going to go into Minecraft Classic expecting something entirely different to what they will actually get. Since this is the unadulterated 2009 Minecraft Classic, there is plenty of stuff missing here. No mining, no crafting, and certainly no monsters to destroy your painstakingly-assembled house.
This immediately gives Minecraft Classic a contemplative quality that's definitely still there in its successor, but arguably to a lesser degree. It's much harder to step back and appreciate the dubious beauty of nature when you're being mobbed by violent critters, so Minecraft Classic wins brownie points in that area at least.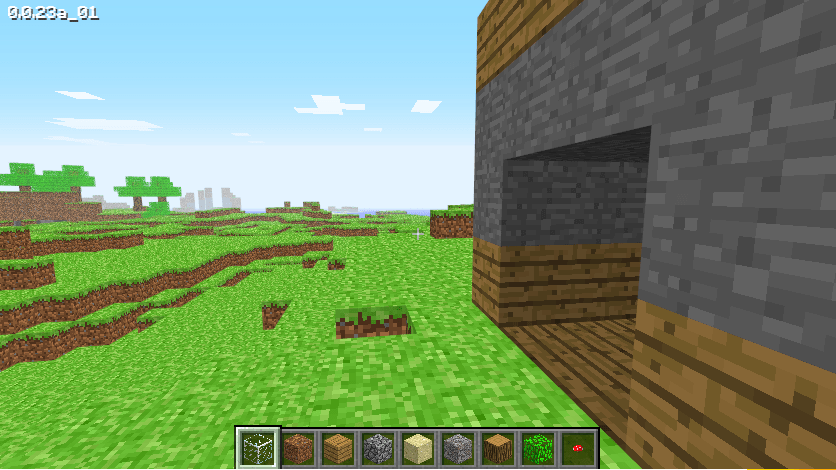 The simplicity and "basic" nature of Minecraft Classic is quite breathtaking in the modern era. There's only one dynamic block here, and that's water. Literally no other block in the entire game will move. They can all be broken up, but nothing will come of it if you do. Still, it's a nice way to satisfy your destructive urge.
The defining feature of Minecraft Classic is its quiet nature. Without music, Minecraft Classic is breathtakingly still. Very little actually happens during an average session, which lasts as long as you and your friends (more on which in a moment) want it to. This means you can explore and craft at your leisure.
We say "craft", but in reality it's more like just building. You can still construct and maintain structures, but once you reach a certain height it becomes difficult to physically work on them since there's no ability to fly here. Only those with the patience of several saints combined will find it an edifying task to build the kind of amazing structures one can effortlessly construct in modern Minecraft.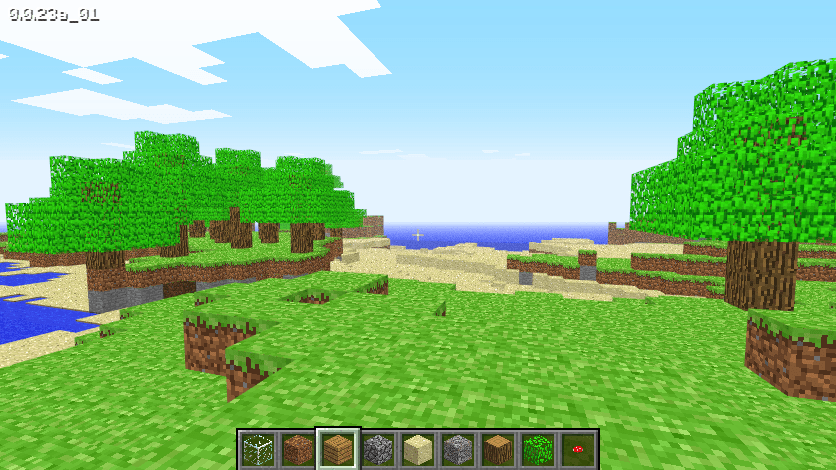 That said, this is very much the beginning of gaming as a creative tool rather than simply an entertainment pastime. Many will point to Minecraft's inspirations – Dwarf Fortress, Infiniminer, and the like – as the real starting point for creation in gaming, as well as games like The Sims and Little Computer People.
That's true, but none of those games quite have the feeling of directionless meandering that Minecraft Classic offers. That isn't a criticism; this is a lovely way to waste a bunch of time with some buddies. You can play Minecraft Classic multiplayer, which, considering the game is free, is a sterling way to kill time with people you love.
Just like any multiplayer game, there's no better way to swiftly discover who's on your side and who's out for your blood. Spent ten minutes painstakingly creating something truly magnificent? Trust one of your friends to callously knock it down. Trying to get to the lowest point possible on the map? Maybe your friends will join you for the ride, or maybe they'll try to submerge you and stop you getting back up.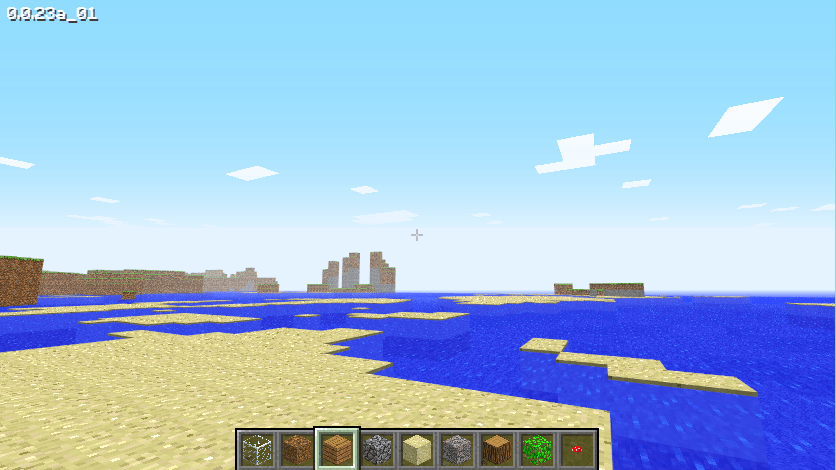 Minecraft Classic is a curious relic of a bygone age. It's hard to imagine a game being allowed to be this simplistic and this quiet in today's gaming landscape. Even Minecraft itself has moved on to relatively more bombastic and (comparatively) violent climes. Minecraft Classic stands as a beautiful museum piece and a perfect way to experience the spark that started the explosion of indie gaming.