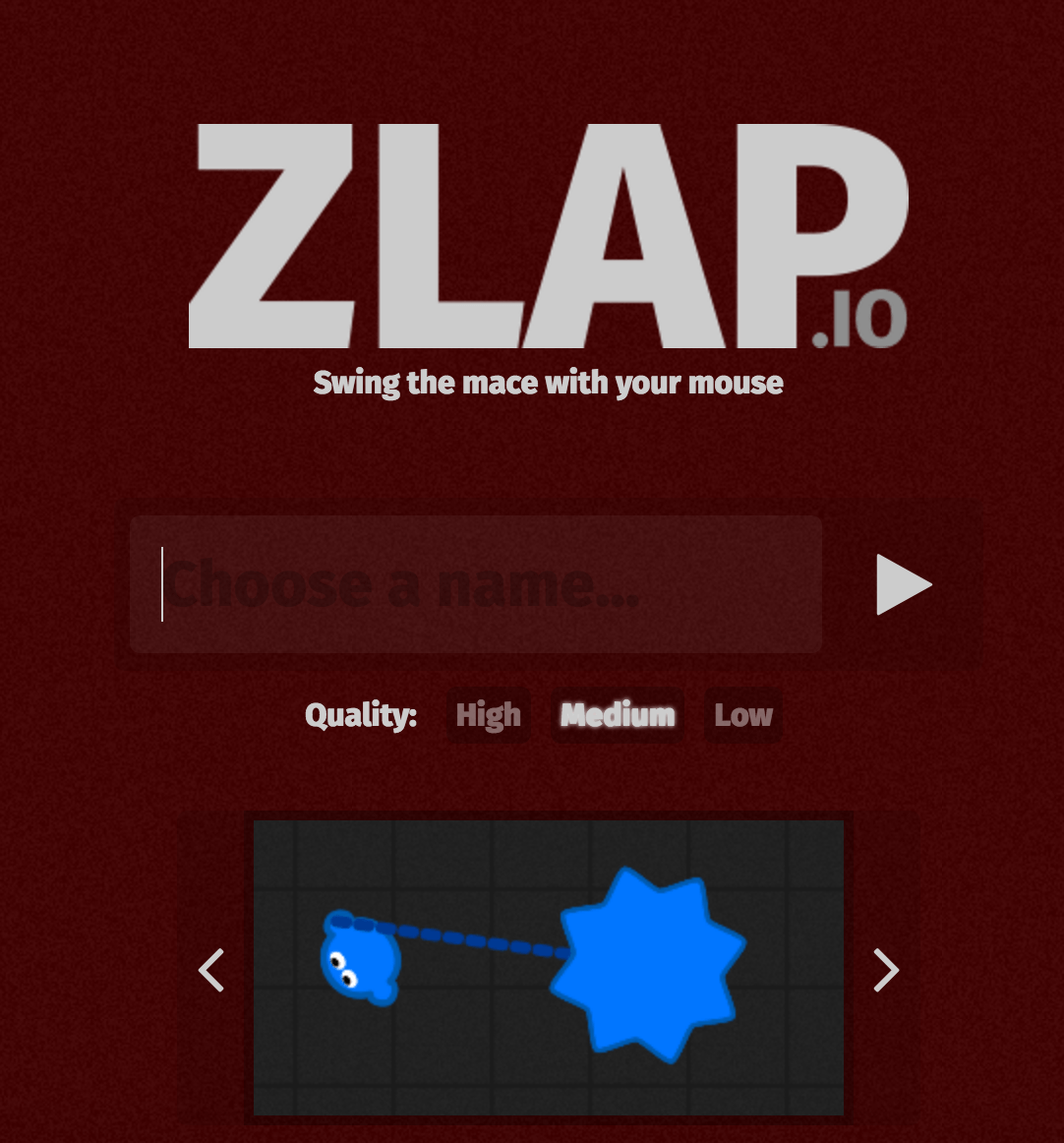 The objective—swing a mace and bash other players—sounds violent. And, rightfully so. But there's no denying that the action in Zlap.io brings pure joy to its competitors. Now available on Poki, Zlap.io is the latest in a growing list of fast-paced multiplayer games. There's no sign up or registration process, and it doesn't cost a penny to play. Zlap.io is quick, difficult to win, and fun for all.
"Easy to learn, hard to master" is an accurate description of the gameplay in Zlap.io. This arcade hit is gaining new players every day, making the action increasingly competitive. During one round, gamers might share an arena with 15 others. During the next round, there could be 75 players. Game rooms are assigned randomly, which means that novices often compete directly against advanced players. This feet-to-the-fire element forces players to learn quickly, as they cannot choose the difficulty level.
There are several factors that gamers can choose, such as their name and character. Much like other games in its class, Zlap.io lets players declare a custom handle. Some gamers choose the anonymous route, while others select a name to taunt opponents. A word to the wise: entering a particularly memorable or offensive name might make oneself a target to the competition.
The other choice to make before playing is which character to be. At the time of this article, there are 9 potential bashers. Each one has a unique color and mace shape. The default character is bold red with a traditional mace. More interesting selections include an aqua yin-yang, peppermint swirl, and yellow smiley face. Different characters look unique but act the same way. Thus, there's no direct benefit of choosing one over another.
The gameplay in Zlap.io is relentless. Each player roams the arena, swinging their mace in every direction to smash opponents. This is an intense arcade game with quick deaths. Even when playing in a fairly empty room, there's hardly any time to relax. The hybrid keyboard-and-mouse control scheme allows for plenty of clever moves. For instance, swinging the mace around while moving in one direction will build strong momentum. That results in extra power to knock aside other maces and clear multiple opponents at once.
As a player racks up kills, their mace grows. Bigger maces are able to gain greater momentum. And that's really the secret to scoring in Zlap.io: keep swinging the biggest mace. It's both a weapon and defense mechanism, as it can strike other players while deflecting their attacks. The player who wields the biggest mace should have the easiest path to the top of the scoreboard.
Zlap.io is a fantastic iteration of the bound-to-become-classic .io game genre. It pits players of all skill levels against each other for quick, violent action. There's no blood in the game, so it feels suitable for gamers of all ages. It has one gameplay mode (free-for-all), which is the standard among its peers. For swinging and bashing excitement, join the chaos in Zlap.io.