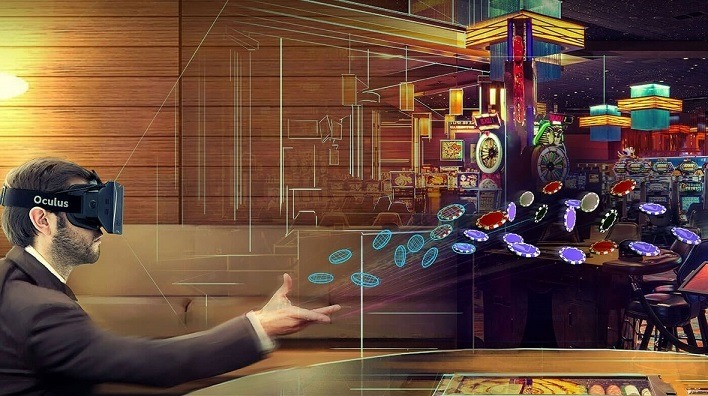 When the Oculus Rift was first demoed at E3 in 2012, the hype was understandably huge – and the response predominantly positive. Four years later, the ground-breaking virtual reality headset was made available to the general public, albeit with a hefty price tag. Barely a week later and HTC Vive debuted a VR competitor, whilst Sony joined the hype with PlayStation VR shortly thereafter. It was clear that virtual reality gaming was perceived as the future of the gaming, with industry leaders desperate to stay ahead. But is virtual reality gaming all it's made up to be? Is there a chance developers will fail to deliver?
It's worth noting that these recent immersive headset designs aren't the first time we've seen virtual reality implemented in games. There was a spate of releases in the 1990s – most notably the 'Virtual Boy' by Nintendo. It was criticized heavily for its high price, uncomfortable design and nausea-inducing gameplay. Nintendo discontinued the product after less than a year. It seemed that the idea was good in theory, but that the necessary technological advancements were lacking to make it a success in practicality. Could this be what we're seeing again in 2016?
Technology has of course come incredibly far since the days of Virtual Boy. The low resolution, flickering screens and cumbersome goggles are a thing of the best in VR gaming, now that  have seamless ergonomics and (depending on the system) staggeringly realistic graphics, have been made possible.
What's more – it just keeps getting better. Facebook recently announced the addition of 'asynchronous spacewarp' to the Oculus Rift. Though this sounds more Musk than Zuckerberg, it simply means that the device will now be able to shift the field of view when the player turns their head without re-rendering the entire image. This lowers the amount of data needed to get VR running smoothly and means that cheaper computers will be able to run them. It also has the handy side effect of reducing motion sickness.
The technology seems to be there, and advancing quickly, but what about the games? Last year Ubisoft unveiled Vaas VR, a virtual experience which put the player face to face with psychotic antagonist Vaas from Far Cry 3. Will VR prompt a rise in intense narrative sequences like these? Or will we see more games like Elite Dangerous, a space simulator in which you can trade and fight with other players whilst exploring the galaxy. "The galaxy is filled with incredible sights" said producer Eddie Symons, speaking to The Guardian,"an immersive virtual reality experience is the closest any of us will ever come to experiencing those real wonders."
Keep Talking and Nobody Explodes is something else entirely. One player (wearing a VR headset) is placed in a room with a rapidly ticking timebomb. This player then has to convey specific information about the bomb to the other players (none of whom are wearing headsets), who then frantically search the manual for instructions on how to defuse this particular bomb. Three mistakes and the bomb will detonate. VR gaming disengages you from the outside world in a way some find unsettling, but if you can get past that there is an incredibly fun time to be had.
Next, online poker looks like it might enjoy a comeback. Get Lucky VR is a game developing company specialized in bringing casinos to life through Oculus Rift. The VR experience is designed to induce the same kind of thrill you'd get gambling in an actual casino, and the vast majority of online poker rooms are already looking at how they can incorporate their brand into VR. In this experience,however, players can feel as if they are sitting across the table with someone playing in a different country. The gameplay can be streamed online on platforms such as Twitch, and the setting can be customized. Players could enjoy a game of poker in a saloon bar, glitzy resort, smoky backroom, or in their own VR home. How gambling legislation will deal with this new form of casino is yet to be seen, however.
Both the Rift and the Vive require reasonably powerful PCs in order to run smoothly, and are not really an option for the casual gamer. PlayStation VR is significantly cheaper – even when you add a PlayStation camera and Move controllers for the full VR experience. PlayStation VR will likely exceed the Rift and the Vive in sales, at least initially. After all, few people have high-end gaming rigs, but plenty of people have PS4s.Those concerned that the cheaper PlayStation VR might deliver a paler virtual experience than that of the Rift or the Vive might be pleasantly surprised, as the vast majority of reviews have been glowing. Trusted Reviewscalls it "the best virtual reality helmet you can buy right now".
In the best-selling novelReady Player One, author Ernest Cline imagines a world in which reality is so rife with crime, overpopulation and poverty that people spend more time glued to their VR headsets as a means of escapism. Whilst the future hopefully doesn't look that gloomy to most of us, there's reason to believe we're closer than we think to a world in which VR headsets are a given household commonality. After all, VR consoled are only going to become more affordable whilst the technology is only going to get better.
The technology is sound, the games are there, and it's affordable. Reviews are positive, industry leaders are optimistic, and it's safe to say the average gamer is excited. What does this mean for gaming? VR technology will no doubt have immense implications to the future of the game development.Going forward, developers will need to optimize their games for VR – not just technically, but through the story as well. We're at the very start what might be described as a revolutionary milestone in the gaming industry. It's feasible to imagine that in a few decades from now, children will be asking our generation what gaming was like before VR.