Quentin Jerome Tarantino was born in Knoxville, Tennessee on March 27, 1963. The American director is known for his violent films and recognized as a Hollywood legend. All of his films have the objective to confuse and question his audience's own morality and self-sense.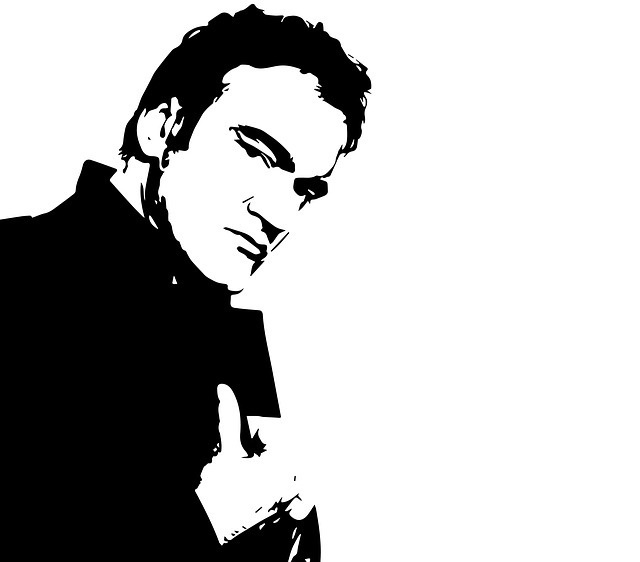 Although his first movie appeared in 1992 at Sundance Film Festival – Reservoir Dogs, his first legendary movie who made him famous was 'Pulp Fiction' and later 'Inglorious Bastards' and 'Django Unchained.
Tarantino believes that making a new film contributes to the development of a new genre – "When I make a film, I am hoping to reinvent the genre a little bit. I just do it my way. I make my own little Quentin versions of them… I consider myself a student of cinema. It's almost like I am going for my professorship in cinema, and the day I die is the day I graduate. It is a lifelong study".
A new upcoming movie is being released later this month, "Once Upon a Time in Hollywood", a tribute to Hollywood's golden age in the 60s, who was shaken after the Charles Manson murders. However, if you are starting just now exploring Tarantino masterpieces, here our top 5 favorite films:
1.Pulp Fiction
November 1994
IMDb rate: 8.9
Tarantino has made a lot of great movies, but his 1994 classic has overstepped them all and became a crucial piece of pop culture.
Vincent Vega (John Travolta) and Jules Winnfield (Samuel L. Jackson) are two professional assassins working with charges for Marsellus Wallace (Ving Rhames), a powerful gangster. Vega is forced to go out with the chief's girl, fearing to cross the border; Meanwhile, boxer Butch Coolidge (Bruce Willis) gets in trouble for a fight he should miss.
All scenes of this movie have their own action, but they are always, in one way or another, interconnected. "Pulp Fiction" is an astonishing thriller, where modernism merges with the bloody atmospheres of the classics of the 30's and 40's.
At the Cannes Film Festival in 1994, the film won the Palme d'Or, the festival's most prestigious award. Later that year, the Boston Film Critics Society gave the film the BSFC Award for Best Picture, Best Director and Best Screenplay.
2.Inglourious Basterds
August 2009
IMDb rate: 8.3
Inglourious Basterds takes place during World War II where a group of American Jews execute a plan to kill the Nazi leaders.
The film goes on to show a number of stories, beginning by showing a family being killed by a "Jewish hunter", Hans Landa (Christoph Waltz), who purposely lets a girl escape. She is Shosanna (Mélanie Laurent) who would later become the owner of a cinema in France, and it is in this cinema that the film unfolds.
This role of Christoph Waltz earned him an Oscar for best supporting actor in 2010. In addition to this Oscar, Inglorious Basterds was nominated for other categories, such as, Best Picture, Best Director, Best Adapted Argument, Best Cinematography, Best Editing, Best Sound Mixing and Best Sound Editing, totaling 7 nominations and 1 Oscar.
3. Kill Bill: Vol 1
October 2003
IMDb rate: 8.1
The Bride (Uma Thurman) is a dangerous assassin who worked in a group, led by Bill (David Carradine), composed mostly of women. Pregnant, she decides to escape this life of violence and decides to marry, but on the day of the ceremony her co-workers turn on her, almost killing her. After five years in a coma, she wakes up without a baby and with only one desire: revenge.
On the 2004 MTV Movie Awards Uma Thurman won the Best Actress Award for Volume 1, Lucy Liu won the best villain award in Volume 1 and even the fight between The Bride and Gogo Yubari won an award.
4. Kill Bill: Vol2
It's not common that sequels can be on pair with their predecessor, but the second part of Kill Bill is a fair exception. This movie is very different from the first one, betting on phenomenal dialogues, script and gratuitously controlled violence, the sequence of the wonderful Kill Bill falls in technical terms but wins in terms of script. It is a film where you can see better the Tarantino trace, containing tons of references, but missing the technical beauty and the exaggerations of the first.
Uma Thurman received a Golden Globe Best Actress in a Motion Picture – Drama nomination in 2005 for her role. David Carradine also received a Best Supporting Actor nomination in the same year.
5. Django Unchained
December 2012
IMDb rate: 8.4
The movie who gave Quentin his second Oscar award, eighteen years after Pulp Fiction, and the second accolade for Best Supporting Actor for Christopher Waltz, Django is another bloody good (pun intended) movie. Jamie Foxx is the protagonist who, along with Waltz character, a bounty hunter, gets revenge on greedy slaveowners. The movie is set in 1858, in Texas and it has Leonardo DiCaprio as its main antagonist.
The film parodies spaghetti westerns, while poking fun at the racist culture on south USA, especially on the XIX century. One fine example of this dark humor, which might be one of its most iconic scenes, happens during the horse raid done by the KKK, when they discuss about the impracticability of the white masks.
Django Unchained was inspired slightly in the 1966 Italian movie with the same name, directed by Sergio Corbucci. It is the most profitable Tarantino movie till date. With a budget of $100 million, the movie earned over $425 million worldwide.