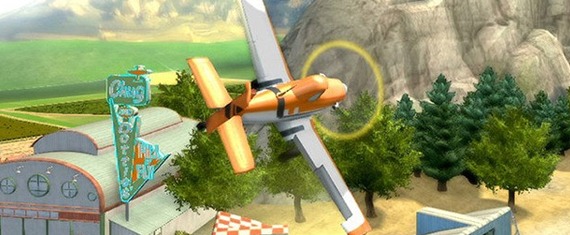 Disney Interactive is hard at work on a game tied to the upcoming feature film "Disney's Planes," with every Nintendo platform slated to get a version. Owners of an Xbox 360 or PlayStation device, however, won't apparently have the same opportunity to take to the skies with characters from the movie.
Disney's Planes
, a flying adventure video game inspired by the upcoming animated comedy adventure film, will be available exclusively for the Wii U, Wii, 3DS and DS. The game will ship on August 6, three days before the film's August 9 debut in theaters.
In the Disney's Planes video game, players will travel through environments from the film as one of 10 characters (on the console versions) or one of six characters (on the handheld versions). The game includes a single-player mode on all platforms, while the console versions include competitive multiplayer racing in two-player drop-in and drop-out gameplay. The single-player mode sees players rolling, turning and looping their way through mission-based objectives in a narrative based Story, while a score-based mini-game called Balloon Pop will challenge players' precision flying skills.
Additional modes are based on the platform of choice. The exploratory Free Flight mode and racing-based Air Rallies mode are exclusive to the Wii U and Wii, while an objective-based Challenge mode is only offered on the 3DS and DS.
Disney's Planes takes players on a high-flying adventure above the skies of the world of "Cars," with the lead character being Dusty, a speed-loving crop duster. Players will take to the skies with Dusty and other characters, including Ishani, Echo and Bravo as they embark on global missions, air races and grand adventures around the world.
You can pre-order Disney's Planes the video game by clicking these links:
Now, how about some more information about the movie? From above the world of "Cars" comes Disney's Planes, an action-packed 3D animated comedy adventure featuring Dusty, a plane with dreams of competing as a high-flying air racer. But Dusty's not exactly built for racing, and he happens to be afraid of heights. So he turns to a seasoned naval aviator who helps Dusty qualify to take on the defending champ of the race circuit. Dusty's courage is put to the ultimate test as he aims to reach heights he never dreamed possible, giving a spellbound world the inspiration to soar. Disney's Planes takes off in theaters on Aug. 9.