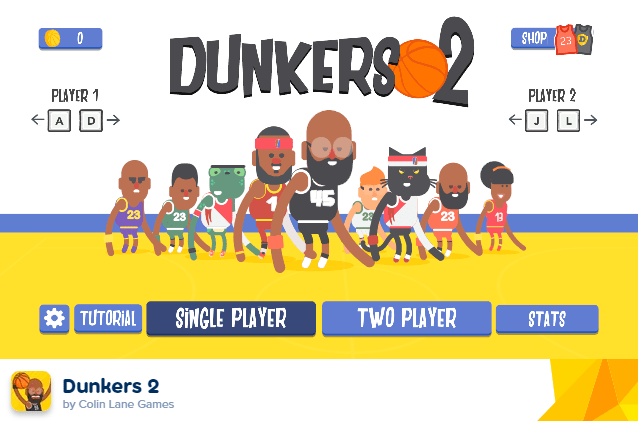 Here's an interesting fact: the term"slam dunk" was originally coined by former LA Lakers announcer Chick Hearn.That same type of shot, in which players launch upwards towards the net with the ball still in their hand and "slam" it into the net, was originally called a dunk shot. It's worth two points instead of the standard one, and contests are regularly held in which players can only slam dunk and can't perform any other kind of shot.
The term "slam dunk" isn't just used in basketball, though. It's also entered US English as a slang term for a sure thing; an absolutely guaranteed hit, or a total success. Appropriately enough,both senses of the phrase can be used in relation to Dunkers 2, a basketball physics game that comes to us from independent powerhouse Colin Lane Games.Colin Lane is responsible for a number of excellent mobile titles, and indeed it is possible to play this one on mobile too. We'd strongly recommend you opt for a web portal like Poki.com instead, though, as the keyboard controls are much more precise than the touch interface.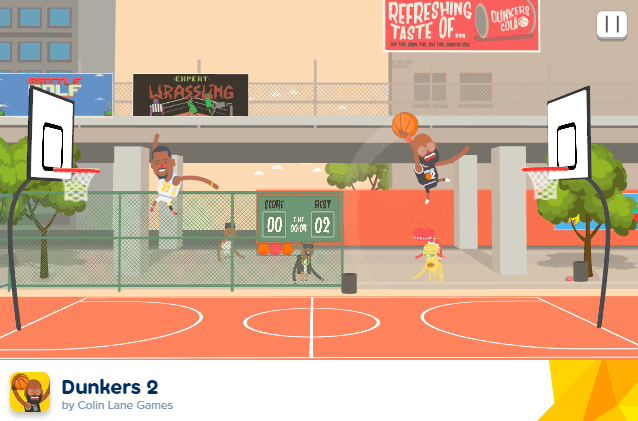 The first Dunkers was an unexpected delight, a treat that combined physics mayhem with a solid, enjoyable multiplayer experience. Will the sequel live up to its pedigree? First, a quick primer on the gameplay of Dunkers for the uninitiated. In Dunkers, as in all basketball games, the objective is to get the ball into the opponent's net.However, unlike regular basketball, that's where the gameplay starts and ends.There's no team backing you up, no special shots to make, no rules muddling things up. Instead, it's just you, the ball, your opponent and a whole host of weird physics between you and scoring. If you're looking for an accurate basketball simulator, you can look elsewhere.
The first Dunkers was a mainstay for us. We've played the game more times than we care to remember on coffee breaks and in quiet moments, so expectations were high for the sequel. The first thing you're likely to notice when you boot up Dunkers 2 if you played the first one is the improved visual style. Where the first Dunkers used a blocky, Crossy Road-style aesthetic with weirdly deformed characters, the second's proportions and visual style are far more well-realized and lovingly rendered. That's notto say Dunkers 2 is no fun; its cartoony, colorful graphics may be simplistic,but they depict the action on screen to great effect.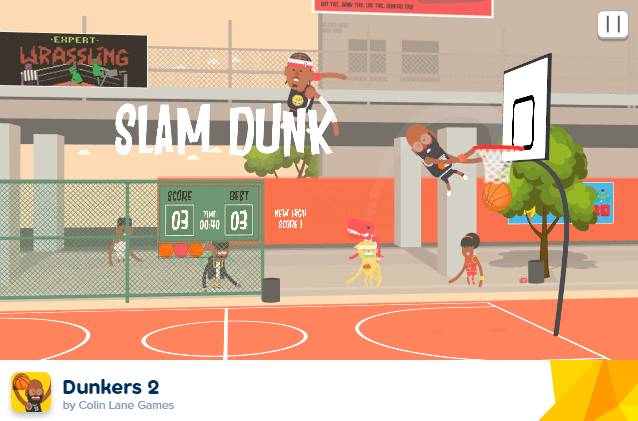 That action is, nominally speaking,somewhat similar to the first Dunkers but with some notable improvements. Dunkers shines in its approach to physics, with its oddball characters swinging their arms wildly in a desperate attempt to dunk the ball before their opponent can steal it from them. There are only two keys available to players in regards to movement in Dunkers: one key jumps left and the other jumps right, with the length and power of the jump determined by how long the key is held in for.
That gameplay makes it pretty much unscathed to Dunkers 2, but there have been some notable improvements in the physics department. Although the first Dunkers was nowhere near unenjoyable, it was perhaps occasionally prone to physics glitches, resulting in some strange moments for players and somewhat undermining the game's core gameplay loop. It was, simply speaking, no fun to line up the perfect shot only to have the physics engine not quite behave as it should at the last minute.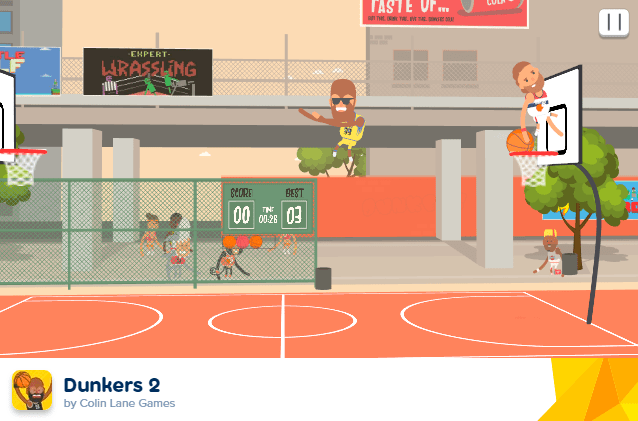 We had no such qualms with Dunkers2, and found a thoroughly enjoyable and polished physics multiplayer game which occupied more than enough of our time to give it a recommendation. The most mileage you'll get from Dunkers 2 is managing to recruit a friend with whom to enjoy it. Dunkers 2 shines when you and a friend are competing neck-and-neck for points, leaping madly over one another and jostling for control of the keyboard.
There are, of course, single-player modes to enjoy if you can't rustle up a companion. The standard Arcade ladder is represented here, and it's a fairly conventional affair, with players facing a series of increasingly tough opponents in a race to score the first point. Somewhat unusually, the games are totally seamless, with the next enemy immediately appearing after the first one loses. This makes for a smooth,uninterrupted Dunkers 2 experience, and for our money this is the best way to experience the game in a single-player capacity.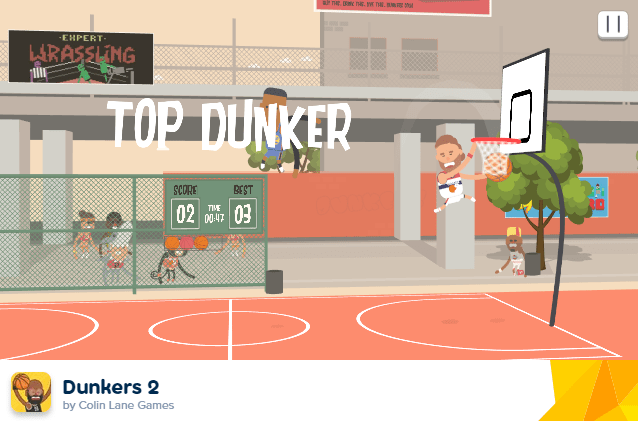 There is also a tournament mode which requires players to cough up in-game currency in return for unlocking tougher and more interesting stages. We're not entirely sure about this method of gating content, but it is worth working hard at unlocking those levels in Dunkers 2 simply to marvel at the level of care and attention that's gone into designing the visuals. Each stage is merely aesthetic; they don't bring anything to the table in gameplay terms, but they're a welcome change from the standard street level.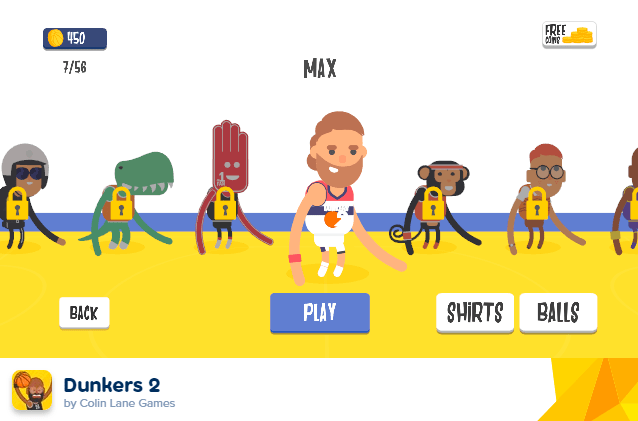 All in all, Dunkers 2 is a compelling, welcoming package that's always fun in short bursts. We wouldn't recommend spending hours at a time with it, since the core gameplay loop is pretty much all Dunkers 2 has to offer. With that said, it's still a huge amount of fun for a couple of sessions, and you and a friend will laugh yourselves silly at its ridiculous physics.