Do you dedicate the majority of your free time to PC gaming? Are you looking for a set up that will make your gaming sessions more comfortable and fun?
If so, then you should follow our tips for creating a gaming desk that fits your needs. Your set up should arrange all of the necessary components so that you can perform better in your games and avoid distractions as much as possible.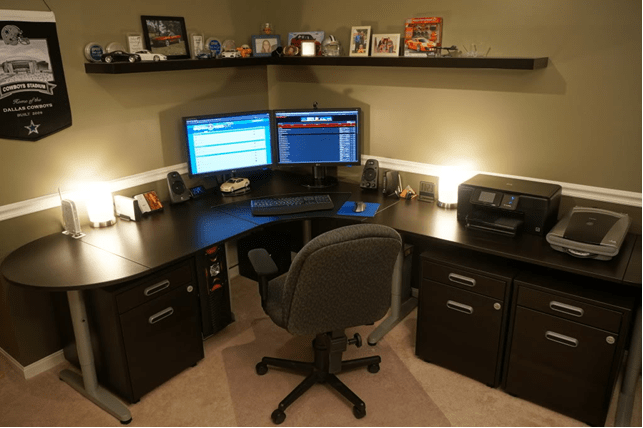 With our knowledge of technology and entertainment, you will give birth to a set up that can help you win your upcoming matchups and tournaments.
Here is a guide on how to create the ultimate gaming desk.
1. Typing
A reliable PC desk will provide a keyboard that not only adjusts to your typing style but improves it, as well. Whether your desk is made before you bring it to your room or you do it yourself, make sure that you have a comfortable typing experience.
Options such as the KT1 Under Desk Keyboard Tray can raise, slide, or tilt so that you can improve your progress. With the keyboard being under your desk, you can focus solely on the screen while you trust your instincts with your hands.
2. Cord Length
One of the distractions that get in the way of PC gaming is how your cords are set up. If the cords connecting the system to the monitors are too short or long, you can run into issues such as tripping over wires or accidentally unplugging your computer.
The best gaming desk will have cords that are designed specifically for your set up. Consider making measures between your desk and outlets, and arrange the cords so that they are out of the way and don't force you to move in your seat.
3. Standing Desks
Do you feel aches in your back or knees after hours spent playing your favorite games? If so, then you might want to consider gaming desks that let you stand so that you can take the pain away and focus on your missions.
In addition to helping you feel less stiff throughout the day, a standing gaming desk can help you reduce your risk of obesity, diabetes, cancer, and other serious health issues. You'll also have more energy to dedicate to winning games.
4. Multiple Monitors
Some of you are multitaskers who know how to keep an eye on several screens and activities at once. If you fall into this group, then you should set up your gaming computer desk with an extra monitor or two.
If you participate in team activities, you can use this setup to look after obstacles while your teammates accomplish other tasks. Multiple monitors also come in handy if you want to keep an eye on your emails or like to listen to the right music to get you into your winning zone.
5. Sitting Set-Ups
Are you more comfortable sitting while you play PC games? If so, then you should set up your gaming table to attach to your seat so that you can be comfortable and focused at the same time.
Some gaming desks can attach to chairs and couches so that you can stay in one place and keep your eyes on the screen. Since it will take more time and effort getting up, you'll feel more inclined to stay for a while and play with little distractions.
Our Take on the Best Gaming Desk
By considering factors such as the need for movement and focus, you can set up the perfect gaming desk.
For more tech expertise, check out our guides to create a fun gaming environment.