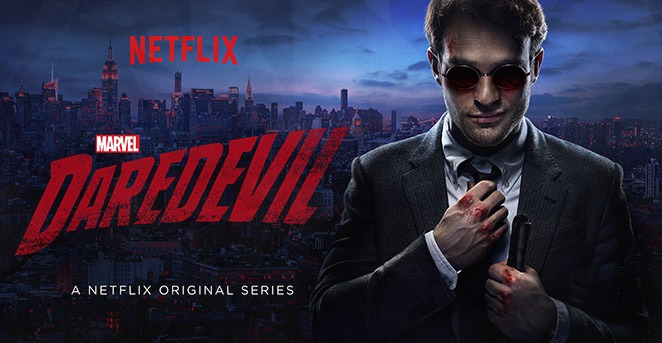 Netflix has taken it upon itself to serve up delicious television adaptations of Marvel's Defenders. These Defenders are superheroes for whom the line between good and evil is a bit more blurred than, say, Captain America or Iron Man. Daredevil  is the first of Netflix's venture into this world and the show makes a perfect opening act for this trend.
The plot is anchored around a blind man who works as a lawyer in the city of Hell's Kitchen, New York where he was born and brought up. This is the story of how the protagonist Matt Murdock became the Daredevil, told in the span of thirteen 50 minutes long episodes. Charlie Cox plays the lead role in this superhero drama and he does so with just the right amount of emotional intensity, catholic fear and compelling seriousness. He carries the perfect traits for a character as complex and different as the Daredevil.
In this season, we see Matt, who has been trained in the art of navigating the dark with his remaining senses, getting fed up with the injustices in Hell's Kitchen and the corruption rampant among the very people who are supposed to help and nurture the society. After years of putting up with the unfairness, he decides to take the matter into his own hands and leaps out into the dark to put the wrongdoers and criminals in their places. One episode has a wonderful scene where Matt narrates why he wanted to become the Daredevil in the first place, and that moment unknowingly sets the tone for the entire Netflix series at once – the Daredevil isn't out there to punish people, he's out there to help the ones who need it. Aside from the beautifully unraveling plot the central relationships established in the first season are as precious as the side characters themselves. The closeness between Matt and his best friend Foggy Nelson is wonderfully heartwarming, as is the romance with Claire Temple who helps Matt in very dire times and makes for a very compelling character all on her own. The subject of organized crime and upper class disconnected are dealt with in the series with poise and respect. Daredevil challenges you to feel bad for the villain, Wilson Fisk, even after all the heinous crimes he is shown to have committed and orchestrated.
The camera-work on the show is near perfect. The noir look and the religious symbolism are what make Daredevil so visually impressive. Matt's transformation into a strong-willed vigilante struggling with his moral boundary is told at a steady pace so that it never feels too rushed or glacial.