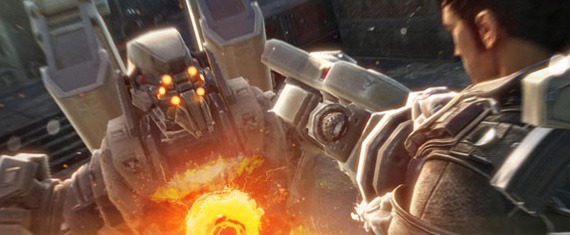 Insomniac Games' founder and grand poobah Ted Price was speaking at PAX Prime last weekend, and amid all the topics he covered a quick image flew by that didn't exactly look like a game from their current library. No Resistance. No Ratchet and Clank. Certainly not the first Spyro. For that matter, the art style didn't even look like the previously announced Overstrike. What on Earth (or off it) could it be?
It sounds like we'll find out in the not-too-distant future. I recently received an email along with a teaser video that sheds a bit more light on the new IP, including either its name or a teaser campaign. As with any video, of course, it also inspires many more questions, many of which will apparently be answered in due time.
The video is below, but here's the body of the email I received as well. It's certainly interesting, if for no other reason than Insomniac isn't a studio with a reputation of disappointing gamers. If they're cooking up a new game, we'd all better sit down promptly at the table and prepare to feast on something grand. Here's the email:
If you paid close attention toward the end of Insomniac founder and CEO Ted Price's keynote at PAX Prime (skip to the 16 min mark) last week, then you may have seen a screenshot of our next new game that has been making headlines. Since then, lots of folks have been trying to decipher the screenshot's meaning. But if waiting for the full reveal at fusegame.com is too much for you, you're in luck. As a loyal Insomniac fan, we've got a special treat here just for you.

While full details will be revealed in due time, we're excited to share with you the game's first mission briefing video. This is not a trailer – it's straight from the game, and teases the opening mission.

We hope this holds you over until we take the wraps off of the game next week.
So, is Fuse the name of the game, or just a teaser campaign or ARG? There's a countdown timer on the homepage mentioned above, so we won't know until then. Now, here's the video: