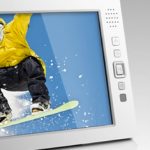 For all the talk of tablets, it's odd to see a device that looks like a tablet, feels like a tablet and has e-reader capabilities like a tablet that actually isn't one. Such is the case with the Cinepal from Aluratek, a digital multimedia device that excels with its high-definition display but feels a bit like a coulda-woulda-shoulda piece of hardware. Where photo, video and music playback is concerned, Aluratek's Cinepal ranks near the top. But with the multimedia so dialed-in, it's hard not to think "oh, man, if you just had a little bit more functionality, you'd be an absolute peach."
Aluratek bills the Cinepal as an HD personal media player, and the claim is spot on. Often you'll see the term "HD" misused, but the Cinepal has full 1080i playback, an HDMI-out port for viewing content on an HDTV, and it supports H.264 video right out of the box. The 8-inch LCD display has a resolution of 1280 x 768, which is higher than most of the digital photo frames we've seen lately, and if you've got a video that exceeds than the Cinepal's on-board 4GB capacity, the device's processor is fast enough that you can stream the flick from an SD or SDHC card with zero stuttering.
Video playback isn't flawless, but it's not due to the quality of the display. Our retail unit never allowed us to remove the "caption" of a time stamp at the bottom of the screen, even after choosing to remove captions from each files' individual option settings. Additionally, the single up-front speaker does an admirable job presenting everything but stereo sound, which isn't a real miss until you try watching something other than a home movie. The HDMI-out jack solves this, but if you're taking true advantage of the Cinepal's portability, you're obviously not lugging around a surround-sound system. A nice set of headphones does do the trick, though.
I must admit some surprise at the Cinepal's lack of support for Quicktime .MOV and Windows Media .WMV, because those are two of the most prevalent formats around. This is particularly true for the latter, which is the native export file for all those PC owners who assemble home videos using Windows Movie Maker. Podcast junkies will be pleased to note that .MP4 is supported, along with DivX and MPEG, but the omission of Windows Media and Quicktime is a total head-scratcher. In fact, trying to play a .MOV file actually caused three consecutive system reboots in a row.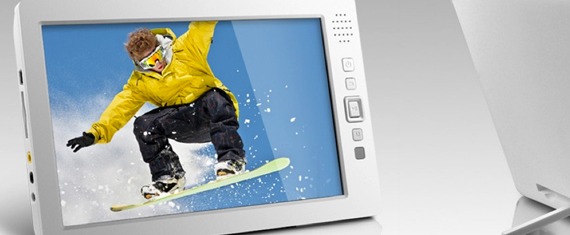 Navigating the Cinepal's interface isn't immediately intuitive, but once you learn what each face button does it's a breeze to flip through the various options. Several aspects still seem cumbersome or awkward, such as the left/right buttons being used for volume control rather than up/down, and the system powering-up to the last file and mode rather than going to the homescreen. Copying files from an SD card, though easy, isn't as intuitive as it could be from the Explorer either, which is a bit disappointing when preparing to take the system on the road.
However, when it comes to the Cinepal's portability, I never experienced the advertised "up to four hours" of video playback on battery power. The HD display is great for watching films on an airplane, but it never played for more than a 2.5 hours before shutting itself down due to lack of power. That length of time is fine for many domestic legs, particularly ones up and down the coast, but the minute a cross-country flight or an extended road trip enters the picture, your Cinepal dreams will falter a bit. Do any semblance of writing to the disk or multitasking, such as flipping to Music or Photo mode, and the battery gets absolutely chewed. For instance, moving 60MB of photos onto the Cinepal in a five-minute period drained 12% of the battery. Suffice it to say, if you're in an extended trip, you should make darn sure you write any on-board files to the system before you leave.
Now, once those photos were there, the experience was solid. I've seen a bunch of digital photo frames, and the Aluratek Cinepal has by far the highest-quality display. If you've got or seen a better one, bring it up in the comments section so I can check it out. The only annoyance with the Cinepal's photo-frame functionality is that there's no way to randomize the order in which photos are displayed. The photo transitions, which are as numerous as PowerPoint animations, can be randomized but the photos themselves are always presented in order based on filename. This is a huge miss for me personally, but if you're OK with JPEGs always showing up in the same order, you'll be incredibly pleased with the Cinepal's performance. And for the record: setting photos to music, as cheesy as it may sound, is actually pretty fun and is easy to do from the Photo mode.
The Cinepal also includes an eBook mode for TXT-format eBooks, but with none available to test, I can't speak to its functionality. One likely misfire with e-reader fans is the Cinepal's lack of a touchscreen display. Navigating photos, movies and music files with the primary square button is a breeze, but I can imagine that flipping through digital pages the same way would get a bit tedious.
And that's where the Cinepal starts to feel like it wants to be tablet but isn't. The omitted touchscreen is the first and most-obvious difference, but more functionally important is the lack of WiFi. Had the Cinepal included a Web browser, it would've gone a long way toward making the device seem more than the sum of its parts. The packaging calls the Cinepal an "all-in-one solution" as well as a "personal media player," but the latter is more accurate due to the missing WiFi. It's a good multimedia device, to be sure, but the lack of WiFi just seems like a missed opportunity.
Still, depending on the SD card you use, the Cinepal by Aluratek can hold 40 hours of video, 10,000 photos, 40,000 eBooks or 10,000 songs. That's a lot of personal content, and the device can handle most of it with ease. The visual media are the most impressive aspect of the Cinepal, and the most telling endorsement I can give is that this will become the next device on which I showcase family photos and HD home videos. It will almost always be plugged-in to an outlet and seldom be used for its portability, but the option's there if the situation arises. In lieu of a tablet or ridiculously expensive digital frame, the Cinepal by Aluratek is a multimedia device worth considering.
If you'd like to order a Cinepal for yourself (or as a gift for Mother's Day, Father's Day or graduation), you can nab one from Amazon.com using this link: Aluratek Cinepal 8-inch HD Personal Media Player
.
Score: 8