Superhero guinea pigs doesn't sound like the most intriguing movie, let alone something readers would want to learn more about, so the first time G-Force released on Blu-ray I skipped it entirely. But there Disney went, releasing G-Force on Blu-ray 3D, and suddenly my review ears perked up. "Hmm, it mustn't be half bad, if it's getting the Blu-ray 3D treatment," I thought. Still…superhero guinea pigs? I wasn't sold. Now that I've watched G-Force in 3D, though, I'm pleased to say that it presents some interesting 3D effects, if not an interesting concept or plot.
Here's the gist: Guinea pigs are working for the government Mission Impossible-style as they struggle to apprehend a criminal who's developed a microchip for possible use in military vehicles. As is always the case, the uber-criminal is closer than they might have liked, but everything comes out roses in the end. Pretty basic, really, and it requires you to remove your brain for 88 minutes, but unique use of 3D makes it worth the effort to sit through the film.
From the opening minutes you get an indication that G-Force is going to do some interesting things with the sense of depth. In classic government-agent form, the film opens with a Ghost Recon-like CG display on which milestones, renderings of the characters faces, etc. swirl around like a videogame HUD. The effect is cool, even if it is only a 20-second scene.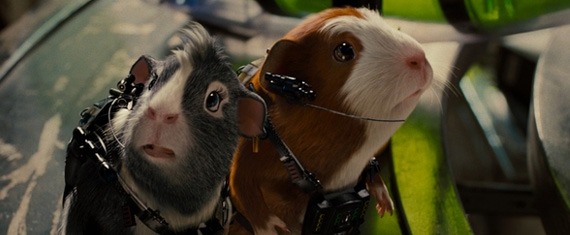 The characters, animals and environments don't generally have much depth, which is both disappointing and noticeable coming off of Disney's other recent animated 3D Blu-ray Disc, Chicken Little (read our Chicken Little Blu-ray 3D review). Instead of those character effects, G-Force puts its 3D eggs in a basket of "gotcha" effects. At the five-minute mark, for instance, there are several fly-cam viewpoints when the flying insect cruises through a dessert buffet table trenchrun-style. The 3D effect is nothing short of vertigo-inducing.
Throughout the film, though, the gotchas are augmented by a visual trick I've literally never seen in any other Blu-ray 3D to date: certain on-screen elements actually breaking through the perimeter of the frame. For instance, normally on a 16:9 3D TV there are black bars at the top and bottom to compensate for the film's native aspect ratio. In the G-Force Blu-ray 3D, those are purely artificial borders, because there are infrequent occasions when parts of a character's body extend beyond the normal frame and into the black bar. It's sort of a layering effect, if you will, where certain parts of the character or effect spill out. The first few times it happened I thought my eyes were playing tricks on me — again, this is an effect I've never seen before. After the fourth or fifth time, however, I paused the movie to see whether I was having a stroke or simply seeing a new use of the technology. Sure enough, one guinea pig's feet extended well into the black bar as he parachuted down from the sky and "off screen" into the foreground.
Not only was this unexpected, but it adds significantly to the 3D effect — an important thing to keep in mind, since the 3D effects on the whole aren't all that impressive in this film. Several more frame-busting effects present the same intrigue: a burst of flame explodes beyond the black bars, gravel splatters onto the bottom bar, a snake strikes at the TV screen and the upper and lower parts of his jaw break the boundaries, and Juarez jumps off a trampoline and her head breaks the top bar's surface. These are nothing short of fantastic effects, and I sincerely hope future 3D Blu-rays don't abuse it and thus wear out its novelty. It's just too bad such innovative 3D effects are wasted on such a horrible movie; G-Force is just a bad movie, even by "kid flick" standards.
So, should you buy G-Force on Blu-ray 3D? There's frankly no reason to, other than seeing Disney's innovative barrier-breaking 3D effect. Although simple, it's easily the most unique use of the Blu-ray 3D technology I've seen in the past year, and it's definitely worth seeing. But if at all possible, either see it at a friend's house or by renting the film, not buying. You'll find zero entertainment value in the movie itself, just the 3D.
Score: 7 — There's hardly any sense of depth throughout the brain-numbing movie, although its frame-breaking 3D effects are unique and are worth experiencing once just to say you did.