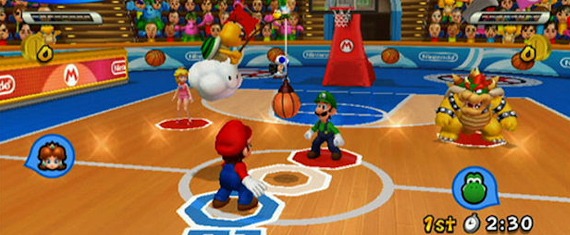 Mario sure likes to get his hands dirty, that guys done it all ranging from painting programs to Kart racing, and now rounds out his resume with four additional sports all on one disc. Mario Sports Mix features the titular character and friends (some new!) in basketball, hockey, dodgeball and a very tedious rendition of volleyball. Unfortunately none of the sports is as fleshed out as one of Mario's standalone sports titles such as the golf or tennis titles. Instead, we get a generic run through a couple of tournaments, each with a different theme but all the same setup – that being a bracket of 8 teams which gets whittled down to two as you beat the living crap out of the computer player, even on hard difficulty levels.
Each sport is slightly different, but for the most part all play the same. You can choose to use different controller setups, but simply using the Wii remote held sideways was by far the most comfortable and easy to deal with. Ice hockey and basketball played very similar to one another, such that one button was used to pass and the other to shoot, not much skill was required to beat the goaltender in hockey as it was painfully obvious that very little AI was programmed into the game. Dodgeball was in my opinion the best of the bunch, but even that isn't saying too much. Controls were limited to pass, throw and catch the ball and almost no skill was needed to try and catch the ball when it was tossed at you. It's as if the window for catching a thrown ball was deliberately made enormous as to allow younger or less skilled gamers the chance to catch balls when thrown. Sadly, there's nothing in terms of skill required when taking out your opponents as well – as they will catch balls when thrown at their backs just as readily as they'll miss ones that are thrown directly at their fronts. Sigh. All this leaves in the volleyball option, and here you are forced to play a game to 15 points and must win two sets to be crowned champion. That doesn't sound too bad though does it? Well it is bad because the games seem to take forever to play thanks again to the shoddy AI – I meant it's one thing to have a close game that takes a while because it's a back and forth affair, but when you're winning 15-0 each game in a tournament, that gets extremely tedious quickly.
Being a Mario based title you are likely already fully aware that there will be changes to the game play in order to help throw a Mushroom Kingdom spin on things right? Whether that be the coins you collect on the beach or even on the ice rink, or the koopa shells that also appear randomly – you definitely know you're not in the simulation realm of sports anymore. The coins actually increase the points you will score, assuming you score after collecting them. I at one point drifted around the ice rink for a good amount of time and collected at least 4 coins before scoring – resulting in a dramatic leap in my lead. I think I ended up winning that game by a margin of around 25 goals.
So obviously playing this game in a single player mode isn't the best way to go, as evidenced by my complaints. So how is the multiplayer component? It does include Wi-Fi play, and local multiplayer support. Of these two options, having someone locally to sit and commiserate with while playing is your best bet as finding online players was extremely difficult, at least when I attempted to do as much. Playing on the couch with a friend is a little bit better, as you can at least commiserate with one another over the time spent trying to get some enjoyment out of the game.
It's tough to actually recommend this title to people who are looking for some new sports titles, but don't want to be bogged down with the simulation minutia that true sports titles contain. It's a little disappointing because this title could have really knocked it out of the park if it had a little more depth, and some more thought put into the presentation of the sports. As it sits though, it barely scratches the surface of what an entertaining sports title could be. With no customizable options for game duration, there's a lot of time spent just going through the motions to unlock some hidden characters. Even the included minigames are essentially a re-imagining of the sport the minigame is based on, which lends to even more disappointment at the lack of quality this game brought forward.
Score:6

Even though four sports are included on this disc, none of them stand out as something that needs to be played.
Platform reviewed: Nintendo Wii