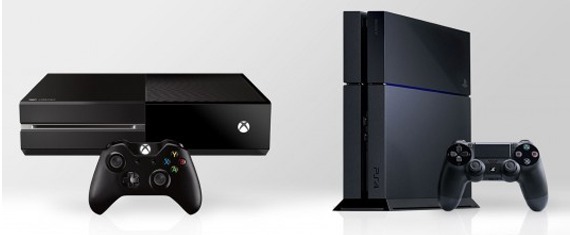 In the PS4 vs Xbox One debate, which has seemingly consumed the Internet since E3, industry veteran John Carmack says the arguments are pointless because the consoles "are essentially the same." Carmack made his argument-defusing comment during his keynote address at QuakeCon, which is going on now in Dallas.
Carmack, technical director at id Software, has been revered for more than a decade for his insight into hardware specs and capabilities. Hearing his take on the great PS4 vs Xbox One battle is therefore quite illuminating. Carmack told QuakeCon attendees that he hasn't yet run enough tests on the next-gen consoles to determine which one he prefers, although he said the PS4 and Xbox One are both "very close, and very good" in their tech specs and functionality.
"It's almost amazing how close they are in capabilities, how common they are," Carmack said in his QuakeCon keynote. "The capabilities they give are essentially the same."
When all is said and done, he said, this next hardware evolution is "obviously going to be a good thing for gamers, developers, and an excellent thing for AMD." The latter reference earned him some knowing laughs, as AMD is poised to run to the bank laughing due to AMD processors running both next-gen systems.
Although he was widely complimentary of both consoles, Carmack said he's still "not really sold on" Kinect for Xbox One. "I think Kinect still has some fundamental limitations with the latency and frame rate on it," he said. "Interacting with it is still … when you interact with Kinect, some of the standard interactions – position and hold, waiting for different things – it's fundamentally a poor interaction. One way that I look at it is – I used to give Apple a lot of grief about the one button mouse. Anybody working with a mouse really wants more buttons – [they're] helpful there. Kinect is sort of like a zero button mouse with a lot of latency on it."
Microsoft has already committed to including Kinect in every Xbox One
box, so even if gamers share Carmack's opinion, they'll still end up with the camera in their living room. However, the Kinect being included isn't likely to determine the winner in the PS4 vs Xbox One battle. That's likely to be more of a function of price and software. And Sony clearly has the lead in the former, with the PS4 priced $100 less than Xbox One
.