It's about time somebody stepped up to challenge the Beats by Dre juggernaut. I love hip-hop music, I love cranking the bass, and I love hearing the nuances of the highs and lows in an audio track, but I've grown tired of people claiming the Beats by Dre lineup as the only viable headphone option. When SMS Audio released the new Street by 50 DJ Pro Performance Headphones
, I was eager to see how the new player on the scene would stack up. Stylish design? Check. Hip-hop endorser? Check. Premium price? Check. Audio quality? That's what I was most interested in.
Before even opening the box for the Street by 50 DJ Pro Performance Headphones, it's quite clear that SMS Audio spared no expense with these over-the-ear, professionally tuned headphones. The packaging alone is a lesson in class, from the spot varnish and embossed foil touches on the outside to the hard carrying case deep inside the box that acts as a transporter from home to the workplace (or club) and back again. SMS Audio wants you to feel good about your $299 purchase, and based on packaging alone you'll feel like headphone royalty.
Open the carrying case, and the headphones uphold the high-class exterior: matte and glossy finishes co-exist on a rigid frame that folds down upon itself to make the headphones collapse for easy transportation. A plush pair of memory-foam ear pads eliminates as much noise as possible without an active noise-canceling feature, while two different audio cords lie nestled to the headphones, one that allows phone calls via an inline mic, and one that's a heavy duty coiled cord compatible with actual mixing stations. SMS Audio knew it was going up against a branding behemoth in the Beats by Dre line, but from the moment you open the Street by 50 DJ Pro Performance box, you know "fitty" was aiming for Dre square in the haute couture nose.
Since fashion is a high priority with audio accessories, these new headphones fit the bill perfectly. Make no mistake: you'll look damn good sporting these headphones, whether you're on the stage or on the freeway. Whether you'll be equally proud of the audio quality, though, is a bit less certain.
That's not to say the quality isn't there, it's just that the audio fidelity doesn't reach the same heights as the visuals. Because of the noise-canceling foam, the Street by 50 DJ Pro Performance headphones
definitely immerse you in the music, and you hear every high and low note in the track. In fact, the headphones kept me so focused on the music that several people had to tap me on the shoulder to get my attention because I couldn't hear them calling my name.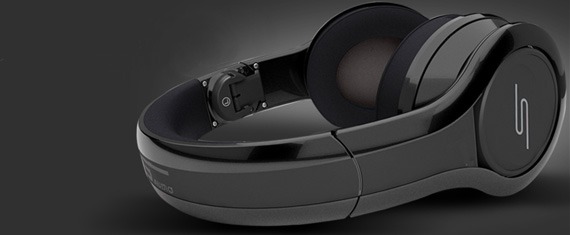 Simply hearing the notes, though, is different than experiencing them, which is what I was hoping to achieve with these headphones. I wanted not only to hear every nuance, but to feel it as if I were actually in the studio. I noticed the differences in highs and lows, but they weren't as distinct as I would've liked. Considering the notes that these are professionally tuned headphones, I was surprised that there wasn't a bit more clarity between treble and bass. Nothing sounded muddled, but any stretch, but it wasn't as crisp or distinct as I'd expected.
Just to be sure, I tested the headphones on several different genres of music: hip-hop (of course), rock, country and classical. The bass tones came through loud and clear on the hip-hop tracks, and the drum solos provided some nice oomph on the rock songs. Switch to country, though, and the vocals weren't quite as nuanced as the notes, and the higher tones from the classical music didn't sound much different than listening to something on FM radio. The result in the latter two cases was quite surprising; these $299 headphones didn't sound all that different from my pair of $80 "kick around" headphones.
There was a certain level of discomfort after about 45 minutes too, which was surprising. Since these are billed as DJ headphones, I expected them to be as comfortable on my head after one hour as they were after one minute. Yet for some reason, after about 45 minutes the back of my head started to grow fatigued, and my neck actually started to ache. The headphones don't seem particularly heavy, so I don't think it was a weight issue. All I could come up with — and this was after two other people told me they experienced the exact same thing — was that the headphones don't adjust well for people with large heads (yes, I've got quite a noggin), which put undue pressure on the neck after wearing them for an extended period.
I could have easily put up with the lower fidelity in country and classical music, if for no other reason than I seldom listen to those genres. But the headache and neck ache were harder to overlook, and they're frankly things I shouldn't try to. I take my head size into account as necessary, because I realize I'm sporting Sputnik. The Street by 50 DJ Pro Performance Headphones, like most other headphones, are adjustable to a certain degree, but even when fully maxed out they still caused me discomfort. And the fact that two other people complained of the same thing gives me serious reason to pause.
In terms of being fashionable, it's frankly hard to top the Street by 50 line; they just look that sweet. In terms of audio quality, they're generally good, although for the $299 price I expected higher fidelity for music with less bass or more-dynamic vocal ranges than hip-hop normally affords. Even still, I would've recommended them to anyone who'd listen. But the discomfort after wearing them for long periods puts me on the fence about recommending the Street by 50 DJ Pro Performance Headphones. If you're fairly confident that you have a smaller-than-average head, or if you can tolerate a slight pinch in the neck, then these are definitely a headphone you'll want to look at this holiday season. But if you've got the chance to see them in a retail store near you, I highly recommend you test them for yourself before ponying up for an online purchase, just to be safe.
Check out pricing at Amazon using this link: Street by 50 DJ Pro Performance Headphones
.
Score: 7.8
– Eric Pitt