I'd heard differing opinions about Sucker Punch when the film hit theaters, although one common thread was that the comic book-inspired film was hard to follow. A narrative junkie, I decided to wait for Sucker Punch to hit Blu-ray Disc in case the story was, in fact, a convoluted mess. Sucker Punch isn't nearly as schizophrenic as I'd been led to believe, and it's not much harder to follow than Inception. With that said, the plotline is less refined, and the cast doesn't have nearly the same acting chops. Fortunately, the Blu-ray Disc's visual presentation is good enough that it will nearly make you overlook the shortcomings. Funny how pretty shiny things have a way of doing that.
The previews for Sucker Punch would have you believe the film's an all-out action fest. That's only part true. At its heart, Sucker Punch tells a story of sacrifice and growth. It's just that it tells it in a really weird way. The main character, in her early 20s, is locked in a sanitarium for trying to kill her stepdad after she sees him abuse her sister. There, she befriends a half dozen other girls who team up to find a variety of tools to escape. To gather the tools, the main character distracts the guards by doing exotic dances while retreating to four mental "happy places." It's those happy places that account for the film's Tarantino-esque action scenes, as well as some of the Sucker Punch's best visuals.
Each action-packed vignette is decidedly different in content, tone, color scheme and visual treatment. In the first sequence, the main character does battle with several 30-foot-tall terra cotta warriors, each of which has a unique mode of attack and appearance. In another sequence, she and her friends engage in trench-based warfare against possessed Nazis, while another "happy place" takes them into an Orc-infested castle to assassinate a baby dragon and steal its magical voicebox while avoiding the much-larger mom (which they of course fail to do).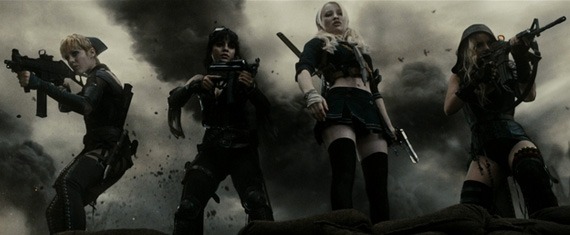 With such disparate settings, the style, palette and cinematography all necessarily vary. In fact, the first terra cotta warrior scene even goes so far as to include an additional visual filter that reproduces an archival-grain appearance (it's not in the other three). The only constant among the scenes, and frankly the one that matters most, is their visual fidelity. Sucker Punch has one of the best 1080p video presentations in recent Blu-ray memory, so good that you'll be near tears when you hear how little the surround-sound track supports it. The balance between dialogue and action is superb, and the high/low range is excellent, but the audio never really envelops you in the outstanding visuals of every scene. Gunfire during the Nazi trench scene does inspire a few rear-channel rumblings behind the camera, but the audio track just isn't quite as strong as the visuals.
Things pick up a bit where the bonus features are concerned, if only for their length and thoroughness. Only three in number, the Sucker Punch Blu-ray bonus features lead-off with four Motion Comics – Feudal Warriors, The Trenches, Dragon and Distant Planet — that are inexplicably labeled Animated Shorts (there's one for each of the main character's four "happy places"). Normally bonus features are something you'd watch after the film, but if you're not familiar with the premise of Sucker Punch these should definitely be watched prior to sitting down to soak in the main feature.
Next up is a brief three-minute Behind the Soundtrack featurete that gives an inside peek at the composers and producers of the film's soundtrack. The meat of Sucker Punch's Blu-ray bonus features, though, is actually contained in a Blu-ray exclusive feature familiar to many Warner Bros. buffs: Extended Cut: Maximum Movie Mode. This two-hour feature is carried along by director Zack Snyder, who expertly walks viewers through a host of behind-the-scenes videos and interviews via a Picture-in-Picture setup. Too often a director commentary track is nothing but self-aggrandizing fluff, but Snyder drills this one and really gives off an aura of wanting to share his work and thoughts with you, his new best friend.
Now, whether you'll be Snyder's best friend after watching the movie is a total crap shoot. I didn't particularly enjoy Sucker Punch, nor did the friend I invited to watch it with me. "Too weird and hard to follow," he said, and I won't disagree with that. But, this is a Blu-ray review, not a movie review, and where its Blu-ray presentation is concerned, Sucker Punch generally delivers an uppercut. The video is stellar, the bonus features (though minimal) are good, and the audio falters in the surround-sound aspects but delivers the goods in terms of balance and range. Would I ultimately recommend you buy it? No. But art is art, and this film had as many theatrical fans as it did detractors, so its Blu-ray release is bound to be the same way. If you're even remotely interested in Sucker Punch lore, check it out.
Click the following link to check Amazon's pricing for the Sucker Punch on Blu-ray (Two-Disc Extended Edition)
.
Score: 8 — The film may get mixed reviews, but the multimedia and bonus-feature aspects are solid enough to warrant giving it a try.