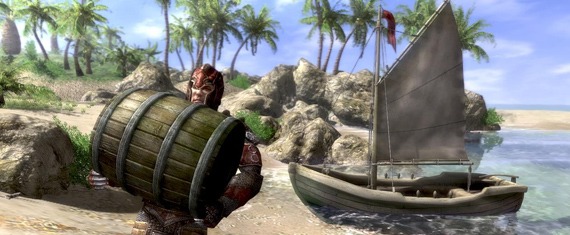 Is it bad to say that I skipped out on Two Worlds when it was originally released? It was panned by almost everyone I know which left me little reason to sit back and play it – given that time is a precious commodity. But when the sequel started garnering some headlines well before release, my interest was piqued enough to take a look and quite honestly I'm glad I did.
Two Worlds II picks up after the events of the first game, but all you really need to know is that you and your sister Kyra were captured and are being held captive in a dank castle by Gandohar. After years of torture, things were looking pretty bleak – but then a group of angry Orcs break in and set you free, while Kyra was swept away. Some fighting ensues, a fantastic cut scene of an Orc captain doing a 'slow clap' for your skills with a blade, and then you're set out on a two hour training session to introduce the game world and the things that make the game so endearing, crafting. Once the extended tutorial is out of the way the world opens up in a big way.
As you work your way through the game, which by the way is a total loot grabbing game not unlike the Diablo series, only this time rather than simply selling off all of your wares you can actually deconstruct them at any time from within your inventory. Taking weapons and armor down to their core elements allows you to then use these pieces to upgrade other equipment. So early on, you can take your low level sword and upgrade it quite heavily, and even open up upgrade slots where you can augment your equipment with spells and other boosts. Not content with being your own blacksmith? Well, you're covered here anyway – you also earn the ability to create your own spells and customize your staff's powers. But wait, there's more! You can also create your own potions and tinctures on the fly, so all of the herbs, meats and random body parts you'll be picking up along the way are worth something when mixed in your portable cauldron. Experimentation is key for this, and thankfully each time you create something new you have the option of saving the recipe for future use rather than have to either rely on memory or actually having to write something down.
Leveling up in the game world grants you both ability and skill points, which can be spent in any fashion you wish. Skills are learned throughout the game via skill books you can either find or buy, and aren't upgradable until you have the skill unlocked. But once you have the skills you can focus your character down a specific path depending on your favorite style of play. If you're rather be a ranged fighter who snipes enemies from a distance simply pour your skill points in these areas, and you'll see noticeable differences immediately. The leveling system is both quick and intuitive to use, and even if you screw up and later realize that spending those points on something you never use you're able to hit the reset button at certain locations in the game, for a price.
Where most games fail to hook me in is with the side quests that parallel the main story line. Too often they are so derivative and obviously not part of the main game that I rarely spend the time to hunt them down, unless of course I have to. I'll go on the record here saying that the side quests in TW2 were so easily integrated into the storyline that it was literally hours after I started out doing a single quest that I realized, and remembered, that I wasn't working on the main story at all. Those four hours flew past and I don't regret a single moment of time I was neglecting to track down my sister. Even later on I kept close track of my log book and map to see which side quests I could perform on the way to the next story based event, after all it meant more loot! Getting around the world was sometimes a little trying, as locations are spread out and traveling by horse is sometimes frustrating – but thankfully teleporters are usually spread out every few hundred meters in the game, so providing you've walked by one at some point you can quickly jump to and from that teleporter. This is essential because the world is quite large, as it opens up you'll quickly be thankful for the various modes of transportation – other than your two feet.
Moving on the how the game looks and sounds, it's a mixed bag here unfortunately. The visuals were actually very refreshing and some would even say quite beautiful. With sites ranging from brown scrub plains to palm tree dotted ocean shores, the game was actually quite pretty to look at – except for the occasional pop up flaw. Characters and enemies are quite nicely detailed and even locations like the typical dank, dark cavern are vibrant thanks to glowing fungi and some additional details that add life to the scenes. The audio for the most part was solid, with a nice sweeping score that matched the style of the game. My biggest issue with the audio is the voice work, especially for the talkative main hero. It seems he was doing his best Christian Bale Batman impression, with a low gravelly whisper that was at times quite humorous. Other characters were decent, but some odd volume mixes were a little off putting.
Yes, the game is very far from perfect and I encountered a fair number of bugs in my time with the game but thankfully nothing was system killing – most just seemed to ass to the crazy appeal that this world had. After loading levels, characters would float, glide, or completely glitch out for up to 5 seconds then resume normal operations – and even sometimes characters would be rendered such that their heads were the only think protruding above ground before a complete redraw was done. Other things that aren't bugs per se, but just inconsistencies and obviously lower tier development – such as voices that ranged from barely a whisper to a loud yell in the same conversation, voice work that didn't match the text onscreen and even improper spellings which I'll attribute to not being an English produced title, as evidenced by the German in the instruction manual. But like I said, it's these little quirks that add to the game and from what I could tell, not many people really let it get them down either as finding online play was always easy with some very high level players around.
If you're looking for something to fill the gap before Torchlight makes it's way to home consoles to get your loot fix, and you're done with Sacred 2 already then by all means you should give Two Worlds 2 a chance. Throw out any preconceived ideas that you had from reading (or playing) the first game and dive in here. Grab a friend and run through the multiplayer mode as well, that's a nice quick way to get into the title as you can learn the ropes of crafting and alchemy without affecting your main storyline, as multiplayer and single player both are unique characters and the story lines do not carry over.
Score:8

Don't let the reputation of the previous game, nor the niggling bugs that permeate the title scare you away. Once those are scratched away a pleasant open action RPG awaits.
Platform reviewed: Xbox 360