As a collector of board games, I find it rather amusing that activities formerly reserved for Family Game Night have gone mobile in a big way. Most notably, there is Zynga's Words with Friends (based on Scrabble), which has gotten so popular that it has spawned its own physical board game. With the existence of mobile versions of Scrabble, Boggle, and Pictionary, I have been wondering when I get to see mobile version of one of my favorite word games, Taboo (Apparently I don't have to wait, thanks to Juxta Labs).
Juxta Labs has tossed their hat in the ring of mobile board games with WordTag. In WordTag, you have a main word or phrase that you are trying to get your partners to guess. The rules to do so are pretty simple:
You cannot say the word/phrase (obviously)
You cannot use any the six designated locked words (unless you pay to unlock them)
Your clue has to be 120 characters or fewer
Correctly guess the word to earn points/coins to buy power ups
A notable difference between Taboo and WordTag is that it is more cooperative than competitive. In order to level up and/or be on a winning streak, you AND your partner have to guess the words correctly. Another interesting twist on the game is the tiered difficulty of the words you can describe/guess. If you attempt the harder words, you level up faster when you get them right, which in turn gives you the option to play even harder words and get even more coins to buy power ups!
Personally, I found that the gameplay is the most fun when you play with people you communicate with on a regular basis and who have the same level of vocabulary that you do. When I played with the 'Random Player', I found that there are some disconnects as far as regional or dated references. Like the popular Zynga games, WordTag is also integrated into Facebook, so ideally you'll get to play with your friends.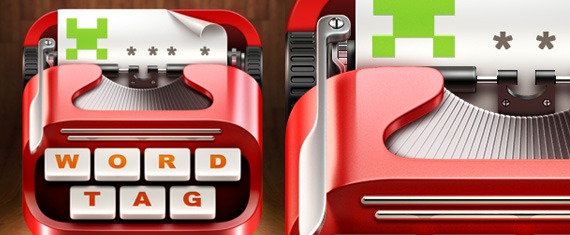 As far as improvements that could be made, I wish it was easier to quit a game with a player you didn't want to play with. As I understood it, you have to wait until you can either 'nudge' (remind them to play) or actually play the game with the player, then hold your finger for exactly the right amount of time for a trash can to show up. If you don't hold it for just the right amount of time, you enter in to another round of gameplay with no way to exit. I also wish that when it is your turn to give the hint, that you could move your cursor back to edit your hint without deleting everything you've typed.
There are also some software issues. I convinced a few of my friends and family members to download the free version of the app, and they had issues with it frequently crashing. Also, when it is your turn to guess, and you swipe the power up menu to the left to access other power ups, the menu will move, but it doesn't quite register that it WAS moved. This results in seeing the option you want to use, but it not responding when you hit the button. This is usually fixed by swiping it a couple of times to 'unstick' it, but it is still a little bit annoying.
Overall, I think this is a good game at a good price ($1.99). Personally, I hope it grows in popularity so more of my Facebook friends will play with me.
Score: 8.8 — This could have easily been a 9 or higher if the flaws I pointed out were addressed. Maybe they will be in an update down the line.
— Amber Taylor