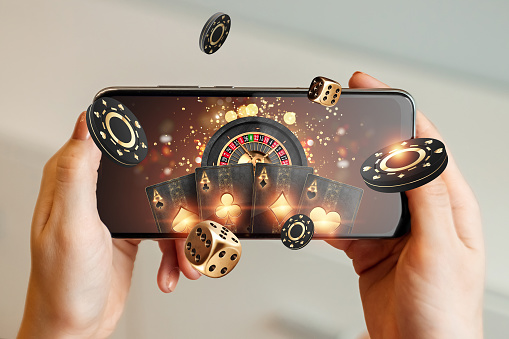 Video games and gambling have been intertwined since the early days of arcade gaming. Today, the relationship between these two practices has become even more complex, with various forms of token wagering and real-money gaming involved. This article will delve into the history of video games and gambling, discussing the key elements that connect them.
A Brief History of the Video Game-Gambling Connection
The first arcade games emerged in the 1970s, offering entertainment through simple electronic gameplay. Many of these games required players to insert coins in exchange for predetermined playtime or lives. Over time, developers began incorporating elements from the gambling industry to make these games more appealing to a wider audience. Some of these elements include:
Token-based rewards systems: Players received tokens upon winning games, which could then be exchanged for prizes or used to continue playing.
Chance-based mechanics: Features like slot machine-style mini-games were integrated into some titles, adding a layer of unpredictability and excitement to the experience.
Competitive gaming: Tournaments allowed players to compete against one another for cash prizes, further blurring the lines between video games and gambling.
The Rise of Online Gaming and Internet Gambling
As technology advanced, both video games and gambling continued to evolve. The introduction of home consoles allowed players to enjoy gaming without needing to visit arcades. At the same time, the internet made it possible for people to place bets without visiting physical casinos or betting shops, thanks to the introduction of the internet casino. These innovations paved the way for new forms of gaming and gambling, including:
Online Casinos and Poker Rooms
By the mid-1990s, internet casinos and poker rooms started to appear, offering players a chance to try their luck at various games of chance without leaving home. These platforms often featured digital versions of traditional casino games like roulette, blackjack, and slots.
Massively Multiplayer Online Games (MMOs)
The late 1990s and early 2000s witnessed the rise of MMOs, which allowed players to interact with each other in virtual worlds. In many cases, these games incorporated real-money transactions for in-game items or currency, creating a market for virtual goods that could be bought, sold, and sometimes even gambled on.
Social Casino Games
In the 2010s, social media platforms became popular gaming hubs, with millions of users enjoying free-to-play titles that simulated the experience of gambling. Often, these games offered purchasable in-game currency or booster packs, giving players the option to spend money for additional chances to win virtual rewards.
Current Trends: Loot Boxes, Esports, and Virtual Currency Gambling
As video games and gambling continue to evolve, new trends have emerged that further connect the two industries. Three notable examples include loot boxes, esports, and virtual currency gambling:
Loot Boxes
Loot boxes are virtual containers filled with randomized in-game items. Players can purchase or earn these boxes, but they never know exactly what they'll receive until they open them. This mechanic has been compared to gambling, as it encourages players to spend money on an uncertain outcome. Several countries have taken steps to regulate loot boxes due to concerns about their potential harm, especially to young players.
Esports
Competitive video gaming, or esports, has become a billion-dollar industry. Professional players compete in tournaments for cash prizes and sponsorships, while fans place bets on the outcomes of matches. This form of gambling is now widely recognized and regulated in several countries, with online sportsbooks offering odds on various esports events.
Virtual Currency Gambling
Some online platforms allow users to bet using virtual currencies like Bitcoin, creating new ways for players to engage with gambling activities. This can include cryptocurrency-based casinos, as well as wagering on the value of virtual goods within video games, such as rare items or skins.
The Future: What's Next for Video Games and Gambling?
As technology continues to advance, it's likely that the relationship between video games and gambling will only grow stronger. Researchers have begun to study the psychological impact of these connections, examining how different types of gameplay can influence a person's willingness to gamble.
Developers and regulators must work together to ensure that emerging technologies are used responsibly, balancing the desire for innovative entertainment with the need to protect vulnerable populations from potential harm. By understanding and addressing the links between video games and gambling, we can better navigate the ever-evolving landscape of digital entertainment.