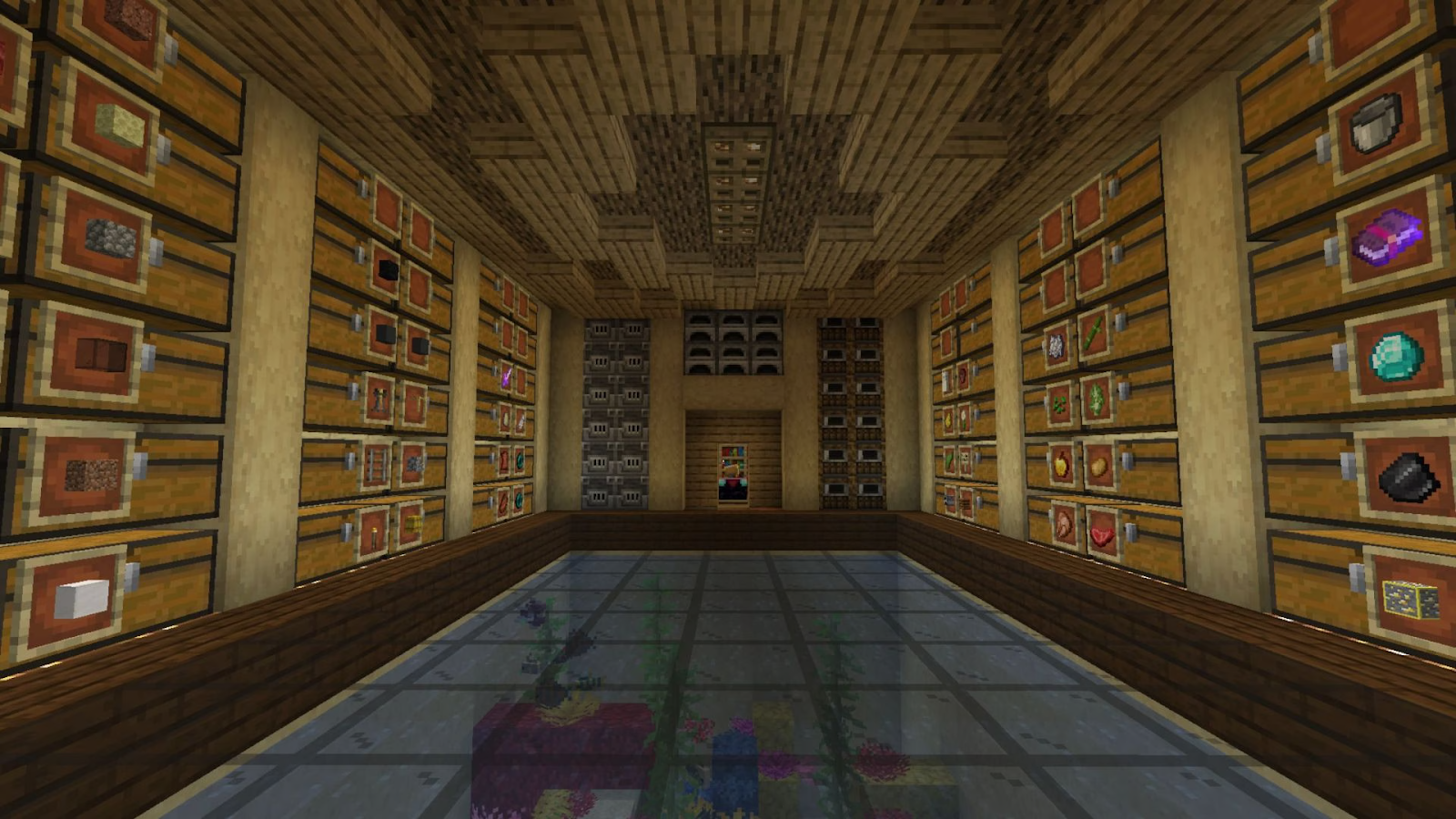 Much like in real life, even people in Minecraft have separate storage rooms to keep their items and elements stacked away for easy finding and retrieval. Given that there are multiple ways you can store your items in numerous ways, it isn't surprising that people are often inclined toward the latest design elements in Minecraft.
Creating a functional, well-organized, and beautiful storage room in Minecraft isn't as simple as it looks. There is a lot that goes into creating the most functional storage room in Minecraft. It requires items and different building techniques, which we will help you with.
This article will explore the best Minecraft storage room ideas and creative design tips you can follow to create them.
Best Minecraft Storage Room Design Ideas
Creating a storage room in your Minecraft world can be a pain, especially if you have no idea where to start. To make that process easier, we have segregated the top 10 storage room ideas to help you plan your next steps in the game.
1. Survival Storage Room
If you know anything about Minecraft, you likely know how dangerous and unexpected things are on the platform. You could be traipsing around one second and then need to go into hiding to protect yourself the next moment.
In times like those, a survival storage room can come in handy. These storage rooms are designed to store and organize items needed in a survival gameplay setting in Minecraft. It can include chests, storage blocks, barrels, etc.
The main goal of having a survival storage room is to ensure that the items you need are within your reach and easy to retrieve. Also, creating separate sections for the items you'd need is easier.
This tutorial from Gorillo explains the process, the items you'd need, and the layout you can opt for.
2. Small Storage Room
If the space in your Minecraft house is limited and you don't have a lot of room to work with, a small storage room works perfectly. During building one, focus on using the minimum available space.
If we had to give some ideas, we'd recommend making the most use of the vertical space, having cabinets, trapdoors, etc. You can also consider adding hidden cabinets that pull out when needed.
This tutorial from Otama the World delves into that further. You can find the step-by-step guide to follow in the video.
3. Food Storage Room
This is a must-have for every Minecraft player. If you want your character to stay upright, energized, and showcase the best version of themselves, you need the fuel, which is food.
The main purpose of a food storage room is to keep perishable items fresh and easily accessible. You can include practical storage solutions like barrels, chests, and even fridges to keep your food fresh. Alternatively, you can use ice blocks or packed ice to keep the meat and veggies fresh.
4. Auto Storage Rooms
Now, next on the list are automatic storage rooms, which are gaining popularity and prominence in Minecraft. These typically utilize redstone contraptions and hoppers to automate the sorting and storage.
What's great about having these kinds of storage rooms is the convenience. You can set up a system where items are automatically collected from input chests or hoppers and sorted into specific storage chests based on their item types.
Players can simplify the process using water streams, item filters, etc. Shulkercraft explains the entire process of making one that you can follow in this video.
5. Underground Storage Room
Like the survival storage rooms, the underground storage rooms in Minecraft offer a hidden and efficient storage solution for the players.
What's great about using an underground storage room is the convenience. You get to utilize the space underground while keeping the surface area clutter-free. Also, to make accessing the storage room easier, you can consider building a stairwell or an elevator system.
Heyiamrobby is a leading Minecraft creator who explains the entire process of creating an underground storage room from start to finish in this video.
6. Future Storage Room
With how everything around us is getting futuristic and technologically driven, it isn't surprising that the same is true with the Minecraft storage rooms.
These kinds of storage rooms involve quartz blocks and blue concrete, making the whole set-up look enticing and pretty unique. The design of this storage room looks like a standard room by itself, which makes it such a popular pick.
There aren't many detailed tutorials online, but by reading, you get the gist of what goes into creating a futuristic-looking storage room on Minecraft, right?
7. Weapon Storage Room
For those who aren't aware, some parts of Minecraft involve survival game strategies, meaning you must be on your best game, especially regarding life or death. This is where you need good access to relevant weaponry.
A weapon storage room is designed to store weapons, armor, and other combat-related items. While creating one, including display cases, weapon racks, and even armor stands for that matter.
Also, since we are discussing weapons, ensure you protect the entire storage room with high-end security or a lock system. Here are some ideas from TresureToad that you can refer to.
8. Ultimate Storage Room
As the name suggests, this is the kind of storage room that has it all. This storage room can hold all your essentials, from your weapons to your food.
Since we are talking about an extensive range of items to be fitted inside the room/house, it goes without saying that the work you'd put into creating one will require a lot of inventory, resources, and elements.
This video from Cryptozoology explains more about the creation process and breaks down every step for better understanding and execution.
9. Modern Storage Room
Another popular storage room idea for Minecraft that's worth exploring is the modern storage room. It's pretty convenient and emphasizes a combination of sleek and aesthetic.
Instead of everything looking congested and overcrowded, a modern storage room features clean lines, glass elements, and strategic lighting for practical space utilization.
Incorporate storage blocks like shulker boxes or chests with sleek designs if you want ideas. Consider using glass panes or transparent blocks to create a sense of openness.
This video from IT-TVGaming is a great starting point to assess your options and get creative ideas on creating a storage room.
10. Farming Items Storage Room
Last but not least is the storage room that will house all your essential farming items. This includes crops, seeds, tools, etc.
We'd recommend creating separate sections for each item you'd keep and store in the room for better organization. Also, include chests, barrels, etc., to keep your harvested crop safe. If possible, include item frames and labels for easy recognition of the items.
This video from JaypeHD explains an auto storage room, which you can also use for storing your farming items in one place on Minecraft.
Creative Storage Solutions
With the top storage room ideas out of the way, let us spark your creativity to streamline the creation process further.
In addition to traditional chests and barrels, you can explore unique storage solutions like using item frames, armor stands, or shulker boxes to store and display items. These take the whole setup to a completely another level.
Hidden storage rooms – These bring a sense of security and mystery simultaneously. Leveraging unique mechanisms like piston doors and secret levels make the whole concept quite hard to reach, making them perfect for moments when you are under threat and are in survival mode.
Use of Redstone for Automated Storage – If you plan to create automated storage systems on Minecraft, don't forget to use red stone for the process. The Redstone circuits help activate the storage systems effectively, making item organization and retrieval much easier.
Mob Grinders for Resource Collection – For those who aren't aware, the main function of mob grinders is to kill the mobs and collect their drops. Using the right resources gives rise to mob forms in Minecraft, which offer many benefits, including a steady supply of resources like gunpowder, bones, etc.
Water Flow for Item Transport – Using water flow to transport items is quite convenient in Minecraft. You can combine it with water streams and utilize them to create an efficient transportation system. Also, they offer a centralized storage area, which is always a benefit.
Conclusion
That covers everything you need to know about the best Minecraft storage room ideas. Remember that it is always ideal to have multiple storage rooms built so you can access them in times of need. If you are a beginner not knowing how to start, we hope the tutorials attached to the article give you a comprehensive understanding of how things work.