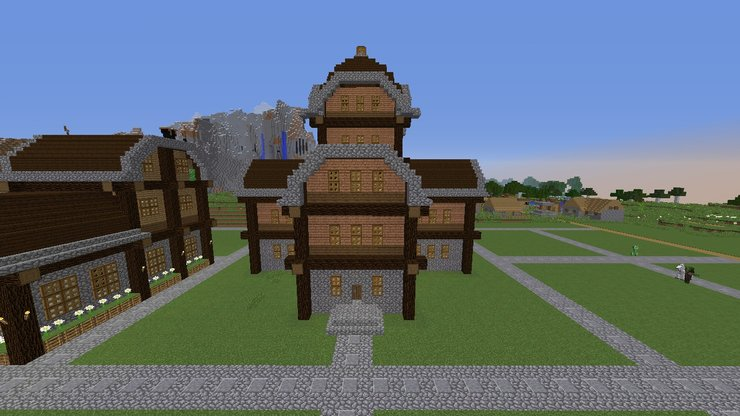 Much in real life, even building a roof in Minecraft is a hassle that many gamers complain about. What's great about Minecraft is that the platform's customization options are pretty diverse.
So, when building a roof from scratch, be assured that the steps leading up to it aren't as complicated as you think. Knowing the height, width, area, and proper placement is enough to get you through the building process of a roof that holds its shape and stands tall.
Even in your Minecraft game, having a sturdy roof poses many benefits, especially in helping you provide shelter and keep the rain and mobs out of your home.
This article will explore the top 10 Minecraft roof designs that are functional, easy to build, and stable on the house's structure.
10 Best Minecraft Roof Designs & Ideas
When shortlisting the best Minecraft roof designs to share with our readers, we intended to include various options that offer variance. We wanted to curate a list with an option ideally suited to every Minecraft player's likes.
Following are the top 10 picks we'd personally recommend you check out:
1. A-Frame
Regarding the most staple and common roof design in Minecraft, the A-Frame is the one everyone swears by. It derives its name from the "A-shaped" appearance of the roof. What's unique about this roof is that the cover goes all the way to the ground, providing optimum stability.
Besides its appearance, the A-frame also resembles the shape of a tent. The only difference is that it uses different colored block pellets for the frame and structure of the roof. If you want inspiration, this roof is generally used atop the Viking buildings.
The steeply-angled roofline in this option is quite easy to build, and it lasts pretty long and can sustain many external hits.
For inspiration and step-by-step instructions laid out, we recommend following this video from Lex the Builder.
2. Gable
If you are a beginner with little idea about building roofs or building anything in Minecraft, we'd recommend starting with Gable.
This type of roof is the easiest to construct, one that anyone can pull off without issues. The concept is to use stairs from either side of the building that meets and merge at the top.
However, you want to ensure that the width of the building is composed of an uneven number of blocks, so the middle of the roof is comprised of a single column on the top. This is the staple Gable roof design, but most players put their spin and twist on it.
One popular reiteration is the Dutch gable, which has solid stairs halfway through the roof on all sides and a hollow space at the top. If we had to explain it in simpler words, think of a pyramid. That's what the shape is mostly like. Mitch Keeler explains the process in detail.
3. Gambrel
If you want to create a more advanced version of the staple A-frame roof, Gambrel is the one you need to look out for. It's often termed the "curved A roof" because it resembles an elevated version of the A-frame roof with a slight appearance of the Gable roof.
Also, it features two-sides slopes on either side of the house. Furthermore, the upper part of the roof's slope is positioned slightly, making things look much steeper than normal.
You can find a detailed demonstration by The Builder H in this video and follow them to create the roof from scratch.
4. Clerestory
If you are one of those people that prioritize good and open lighting in your home, Clerestory is an option that you won't regret indulging in. What's unique about this roof type is that it leaves enough room for the natural light to seep into the room.
Building this kind of roof is hectic because you must build a slope and gradually form it into a wall. The wall area is where the windows will go, so you must start with a proper plan.
Ideally, if your building is big enough, you can turn the extra roof space into a patio to relax and have a great time. It's a pretty interactive design idea, making building this whole roof much more fun. This video from BogWitchSophie gives you a demonstration of the process.
5. Mono-pitched
Building a mono-pitched roof can be a hassle, especially for beginner Minecraft players who don't know how to go around the process.
But the good news is that we have some hacks for you. The mono-pitched roof is the Clerestory roof cut in half but from the top portion. As for the shape of the blocks, you'd need ones with a diagonal direction.
Try it out if you want to build a Minecraft roof slightly different from the generic roof designs.
6. Curved
This type of roof in Minecraft raises a lot of questions. The most common one is, "How does one create a curved roof when the only available inventory includes blocks?"
Surprisingly, combining mesh, slabs, and blocks is the easiest way out. The process starts with building a lead up to the roof of the building using blocks. Once you reach the point where the roof will curve, switch to using stairs but place them upside-down.
Stack up blocks and slabs following that to achieve the naturally curvy look. Do this until you reach the top of the roof of the structure and are good to go.
You can find inspiration and a more practical demonstration in this video by DV Gaming.
7. Mansard
One look at it and the roof resembles a man's hairline; maybe that's where it gets its name. This type of roof combines elements from the gambrel roof and the hip roof.
When explaining the staple design, the Mansard roof consists of two slopes on all four sides of the house. However, the design element is that the upper one has a slightly steeper slope than the lower one.
Not only is the roof pretty fun to look at, but it is also fairly fun and interesting if that's something you are particularly looking forward to doing. Grampy Rick explains the process of building a Mansard roof in this video.
8. Saltbox
Next up on the list is Saltbox Roof, one of the most fun Minecraft roofs you will manage to create. It consists of a Gable roof on one side and a few side slopes on the other.
To make this roof, you'd need access to a full block, stairs, and slab, making the whole process fun and exhilarating. Many advanced Minecraft players say that it mimics the appearance of a mono-pitched roof but has a closed end.
So, if you are tired of creating boring and medieval-looking roofs for your Minecraft home, we'd recommend you give this a go.
9. M-Shaped
As its name suggests, this roof resembles the letter M in the alphabet. If we had to explain the structure or orientation of the roof, the M-Shaped roof is a combination of two A-shaped roofs blended into one.
It's available in almost every Minecraft house, but creating it can be challenging. You do need to have an expansive base for this, so keep that into consideration.
If you have a large mansion-like home on Minecraft, consider opting for this kind of roof. The materials needed for this type of roof are stairs and slabs.
10. Butterfly
Last but not least is Butterfly, which is perfect for every modern house on Minecraft. If your home has inspired by a fairy or magic theme, this kind of roof fits seamlessly into those kinds of build.
Coming to the build and construction, the Butterfly roof is the reverse of the Clerestory roof. Another way to describe it is as the upside-down version of the Saltbox roof, which is so fun. You'd need access to full blocks and slabs to construct this roof.
Designing With Functionality In Mind
Now that you have a clear idea about the best Minecraft roof ideas, you need to focus on the functionality aspect next.
To be fair, the steps aren't as complicated as you make it out to be. However, when it comes to designing the roof, you have to prioritize functionality so it stands stable for long.
Here are a few factors worth considering:
Weatherproofing – Choosing the right material for your roof is crucial, especially if you want the roof to sustain you through different climates. Exotic options like prismarine and terracotta are often considered superior for a weatherproof appearance.
Lighting – Proper lighting will further accentuate the roof's look, so that's something you can't forego. So, when building the roof, include elements like torches, glowstone, lanterns, etc.
Ventilation – Another factor worth considering when building your Minecraft roof is ventilation. You want to ensure that the area offers enough ventilation so it isn't suffocating inside the house.
Decorating – Bland and boring roof is the last thing you need in your Minecraft home. So, focus on detailing the roof to enhance the visual appeal. Include dormer windows or decorative patterns to accentuate the overall look.
Tips And Tricks While Creating Minecraft Roof
Now that you have a good idea about building a Minecraft roof, the next thing you need to focus on is the tips and tricks to streamline the roof's construction.
Following are a few tips we swear by:
Always plan because this gives you an idea of the inventory or resources you'd need to create the roof.
It's ideal for experimenting with different materials while creating the roof. Doing so gives you a better idea of what would work and what wouldn't.
If you are running low on resources and don't have the means to gather more at that point, we suggest you do what's available in your inventory.
Adding natural elements to the roof's design adds a very premium look to the whole house instead of making it look bland and generic.
Conclusion
In conclusion, Minecraft offers a world of creativity and endless possibilities when designing roofs for your structures. Throughout this article, we explored ten of the best Minecraft roof designs that can enhance the aesthetics and functionality of your buildings. Let us know which one of the lots you will be making next.