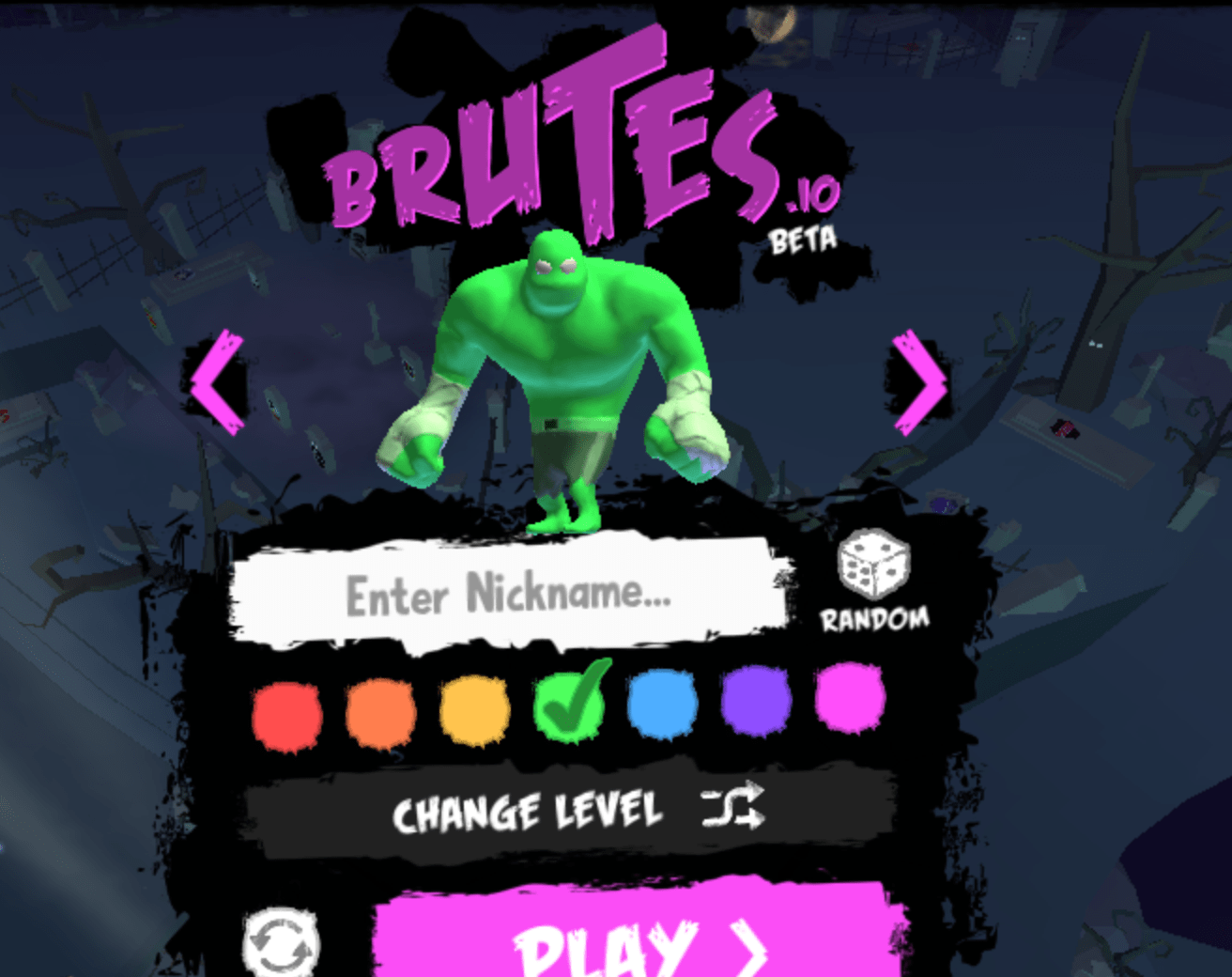 Today, we're talking about something special. It's a game you haven't played before, but it might feel familiar. You already know how to play, despite never having seen this game. It's not a sequel, and it's not a rip-off—it's Brutes.io.
What the Brute?
Brutes are monsters, simply put. They're fighting machines, able to punch and knock out rival beasts in two seconds flat. Brutes come in many colors and costumes. When playing for the first time, you can choose a standard Brute in red, orange, yellow, green, blue, purple, or pink. After gaining enough experience, you will unlock hilarious outfits that make a Brute look like Santa Claus, Frankenstein, or a giant chicken.
Brutes are the most common type of fighter, and they're the least powerful. You must knock out others and collect growth orbs to score. When reaching Level 4, your Brute will transform into a Brawler. These bigger beasts move slower, but they pack a much stronger wallop. Levels 4 to 6 represent the final stages before becoming the ultimate fighter: Behemoth. These top-level beasts are gargantuan, knocking down smaller players with just a couple of deadly blows.
Enriched Worlds
Grimm Graveyard is Brutes.io's flagship world. It's a dark, haunted mountain with plenty of clever twists and turns. The 3D game engine allows for many details and layers simply unavailable in other .io games. There's Stonehenge Slide, which smaller players can climb to escape from Behemoths. Gravetooth Pass is a narrow, dangerous section of the mountainside. Creeper Canyon is home to many brutal battles. The more time you spend at Grimm Graveyard, the more secrets you'll discover.
Cowboy Canyon and Santa's Snowpark are two upcoming arenas in Brutes.io. The Canyon looks to be a bright, vast desert. Visually, it will be the opposite of the dark, spooky Graveyard. Santa's Snowpark is a holiday-themed world. It's bright and full of fluffy snow. When it's released, the Snowpark will be the perfect place for Christmas brawls.
Powering Up
Brutes.io has three main power-ups: Cannon Bombs, Ambush Boxes, and Red Rockets. Cannon Bombs are dangerously powerful explosives. If you don't have full health upon detonation, your own bomb could destroy you. Thus, you should only pick up a Cannon Bomb when you're prepared for the blast. If you're a low-level Brute and just want to inflict pain upon others, the Cannon Bomb is the ideal tool.
Ambush Boxes are rather clever, as they allow you to hide inside a costume. The camouflaging outfits range from tombstones to bones. When you're ready, burst from the outfit and deliver a knockout blow. Red Rockets are even more exciting, letting you fly around and swoop up other players. When the rocket explodes, everyone on-board might, too.
More Fun to Come
Brutes.io is already a spectacular game. Even in beta mode, it has more depth than most of its peers. There's a full leveling system with multiple character classes. AI-controlled baddies litter the environment, which is full of nifty surprises. Are you ready to deliver a beastly knockout?