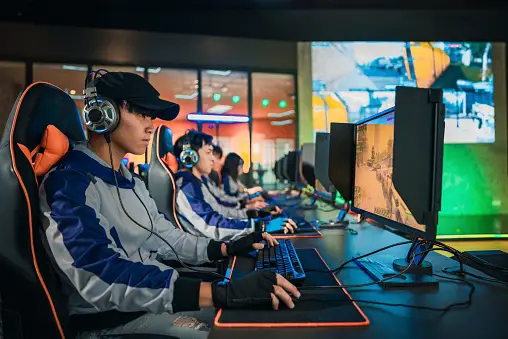 Gaming has undergone significant changes since its initial stages, resulting in the emergence of competitive gaming. Gaming was initially considered a solitary pastime activity. However, tech innovations have helped it become a thriving industry that captures the attention of people around the globe. Esports has led to a worldwide surge in competitive gaming. Professional players, enthusiastic fans, and major corporate investments have all been drawn to this exciting industry.
The Era of Arcades
The Arcade Era marked the birth of competitive gaming, where players flocked to arcades to engage in thrilling gaming experiences. These vibrant establishments were filled with flashy cabinets, captivating graphics, and the contagious excitement of multiplayer gaming. Gamers would gather around these machines, clutching their joysticks and buttons, battling it out for the highest scores and bragging rights.
Arcade gaming's competitive nature fostered a spirit of camaraderie and rivalry among players. Some popular classic games they enjoyed include Pac-Man, Space Invaders, and Street Fighter.
As affordable home consoles became more popular, the arcade scene began to decline. The social aspect of gaming then shifted to online multiplayer platforms, which set the stage for the next phase in the development of competitive gaming.
The transition from arcades to home consoles brought gaming into the living rooms of millions worldwide. For instance, consoles like Sega, Nintendo, and Atari enabled gamers to enjoy games from the comfort of their homes. This shift offered convenience and opened up new possibilities for gaming experiences.
The Role of Online Multiplayer Gaming
Online multiplayer gaming gave rise to the prominence of eSports. Online games enabled players to compete with opponents from all around the world. This trend led to the emergence of a new era in competitive gaming.
Organized eSports tournaments began gaining traction, offering opportunities for skilled gamers to showcase their talents globally. These tournaments attracted not only players but also enthusiastic spectators, drawn to the excitement and skill displayed by the participants.
Esports Goes Mainstream
As we moved into the early 2000s, esports gained immense popularity and started to soar. This surge in interest led to the emergence of tournaments with jaw-dropping prize pools, making esports even more enticing. The World Cyber Games (WCG) emerged in 2002, becoming a notable global esports event.
The WCG organized tournaments for games like StarCraft, WarCraft III, and FIFA, helping spread the excitement of esports to countries like South Korea, China, and Brazil.
In 2006, a major event occurred in the history of esports. The United States saw the establishment of Major League Gaming (MLG). MLG swiftly rose to prominence, becoming one of the largest esports organizations worldwide. Their contribution was pivotal in establishing esports' significant presence in the United States.
During the 2010s, esports gained immense popularity, grabbing the interest of numerous people. A pivotal moment for the industry occurred when esports was integrated as a demonstration event during the 2016 Olympic Games held in the vibrant city of Rio de Janeiro. This remarkable achievement played a pivotal role in cementing the legitimacy of esports as a highly competitive and legitimate form of activity.
The popularity of eSports has also helped online casinos to take casino gaming to the next level. Users can play online casino games competitions such as poker tournaments. If you love playing online pokies, click here to find the best platforms.
Well-known companies like Coca-Cola, Intel, and Nike have smartly acknowledged the huge possibilities in the world of esports. Consequently, they have made substantial investments in this thriving industry. In addition, the regular broadcast of esports competitions on highly regarded networks such as ESPN and TBS confirms its position in the mainstream media scene.
Bottom Line
The eSports industry is set to become increasingly mainstream, captivating even larger audiences worldwide. This upward trajectory will be fueled by several key factors, including global accessibility, the rise of new popular games, higher prize pools, enhanced professionalism, and advancements in technology that will elevate the viewing and playing experience.