Later this year sees the arrival of the long-awaited follow-up to 'Final Fantasy XIV'. It's been 6 long years in the making and marks the longest period that fans of the series have had to wait between instalments. Thankfully 'Final Fantasy XV' will be hitting shelves this coming September which is simply music to many gamers ears. But of course with so much waiting around plans have had to alter slightly and the development of the game has had to go through a few twists and turns along the way. So the big question is what can we now expect from the latest chapter in this long-running franchise?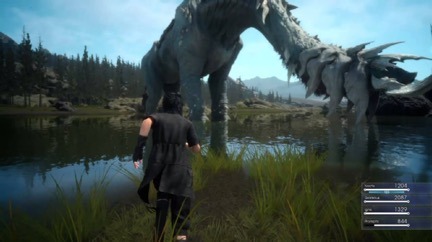 The action in the forthcoming epic 15th instalment takes place on Eos, a world much like a modern day Earth. Thanks to the overly long hiatus in production there has been plenty of thought and detail pumped into the game with developers working overtime on not only reinventing the series somewhat but helping to merge together challenging elements of old and new. The open-world format has evolved and increased significantly to that of 'Final Fantasy XIV' and that's mostly thanks to the decision to switch platforms.
Originally the game was all set for PS3 and Xbox 360 users but of course due to the wait the decision was made to develop the next chapter instead for eighth generation platforms. The PS4 and Xbox One are far more powerful for the likes of Final Fantasy and it has meant that developers have had a lot more freedom piecing together the new game. Not only that but it'll be the first game unleashed using the new Luminous Studio engine making it all the more exciting.
Players will take the role of main protagonist Noctis Lucis Caelum, who as a child faced a near-death experience which left him with the interesting side-effect of being able to sense the imminent death of others. Entertainingly enough Noc will also be able to teleport around on a battlefield and even summon a variety of weapons each of which he'll be able to utilise in order to tackle his enemies. This includes guns, swords, axes, spears and more.
Fantasy has inspired all types of other media including TV shows, online roulette games like Gonzo's Quest roulette game for instance and it's more important than ever for each medium to add as much realism as possible. And the all-round realism in 'Final Fantasy XV' has extensively improved, including the games' rich landscapes, effects and monsters. The game itself, in fact has got a lot darker, more challenging, and it's going to be filled to the brim with exciting stuff for FF fans and newcomers to the franchise alike.