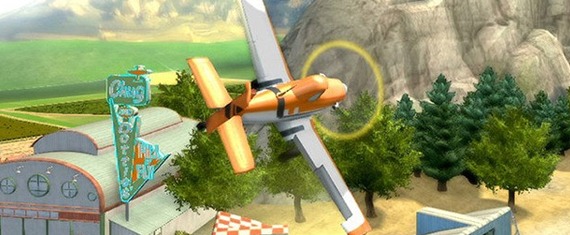 Disney Interactive's Disney Planes video game has taken off at retailers today exclusively for Nintendo platforms. The Nintendo-exclusive title marks Disney's new strategy to publish titles only on systems and with partners that make strategic sense. Naturally, the Disney Planes video game is a logical fit for the family-friendly Wii U and 3DS, as well as the Wii and standard DS.
Inspired by Disney's upcoming animated film based in a world similar to Cars, the Disney Planes video game takes players on a sky-high heroic adventure and expands on the film's storyline by following Dusty, a speed-loving crop duster voiced by comedian Dane Cook. Players can also embark on races and global adventures with other characters from the film including Ishani, voiced by Priyanka Chopra; Echo, voiced by Anthony Edwards; and Bravo, voiced by Val Kilmer.
Players will soar across 10 different environments inspired by the film, from Propwash Junction to China, playing as one of 10 of the film's most memorable characters. Drop-in and drop-out co-op play for two players is available on any console mission.
Gamers who play the Disney Planes video game on 3DS or DS, meanwhile, will have six different film-inspired skies to play in. Rather than 10 characters, they'll be able to take to the skies as any one of six characters from the film.
All told, the game includes mission-based objectives in four gameplay modes: Air Rallies, Story, Free Flight and Balloon Popping. Players will enjoy variety as Story is narrative-focused, while Balloon Pop is a score-based mini-game that challenges the players' precision flying skills. The exploratory Free Flight mode is exclusive to console play, while the handheld has an exclusive objective-achieving Challenge mode.
The Disney Planes video game carries an MSRP of $49.99 on Wii U, $39.99 on the Nintendo 3DS and Wii, and $29.99 for Nintendo DS.