Five new multiplayer maps, three for Anarchy mode and two for Echo mode, are now available for the Windows PC version of Bulletstorm courtesy of the Gun Sonata Pack, which is available starting today. The Bulletstorm Gun Sonata Pack costs $9.99.
Players who download the Bulletstorm Gun Sonata Pack will have access to three maps for the game's Anarchy mode: the calamitous Sewers of Stygia, the abandoned Hotel Elysium and the open spaces of Villa. In Anarchy mode, teams of up to four players fight together to survive waves of blood-thirsty mutants while scoring Skillpoints in order to advance.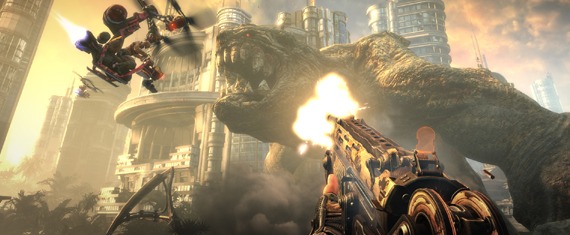 Gun Sonata Pack also includes two new Echo mode maps: Crash Site and Guns of Stygia. In Echo mode, Bulletstorm tracks and compares players' scores through locations typically found in the campaign.
Bulletstorm tells the story of Grayson Hunt and Ishi Sato, ex-members of an elite military force called Dead Echo, now mercenaries on the run across the galaxy. Stranded on Stygia, a paradise lost that has been overrun by rampaging freaks, flesh-eating plants and creatures the size of skyscrapers, their main objective is to survive long enough in order to exact revenge on the one person responsible for their plight.
Click the following link to read our full Bulletstorm review.