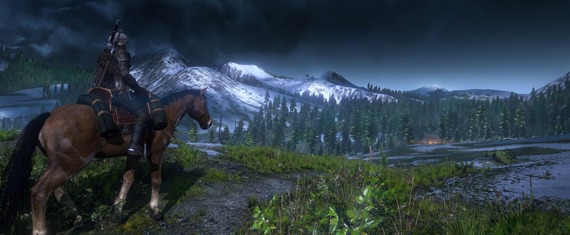 Gamers looking for The Witcher 3 release date in North America now know which publisher will provide the information for a PS4 and Xbox One game that won numerous E3 2013 awards, including tying for Best of Show in our very own roundup. Warner Bros. Interactive Entertainment and CD Projekt, the game's developer, have announced a distribution deal to bring The Witcher 3: Wild Hunt to North America.
The Witcher 3 release date is still under wraps, including its PS4 release date and Xbox One release date, although Warner Bros. did say the game is on track to ship "simultaneously" and "in 2014." According to WBIE's statement, all three versions of The Witcher 3 (PS4, Xbox One and PC) will be developed by CD Projekt RED. Traditionally a lead developer focuses on one or two platforms while a secondary developer or developers work on porting the code to additional SKUs.
Having CD Projekt leading development of The Witcher 3: Wild Hunt on all three platforms will be a boon for the game's final quality, as there's nothing quite like the care a true "owner" puts into the game. The single-source development also underscores the technical similarities between high-end PCs and the two next-gen consoles, which is bound to stir up fanboys of each respective platform but can only be good for the overall gaming community.
Landing The Witcher 3 publishing deal in North America is a serious feather in the cap for Warner Bros., which had an outstanding showing at E3 2013. Dying Light
, a new first-person zombie game, was quite fun to see behind closed doors; Mad Max got people riled up as only that post-apocalyptic franchise can; Batman: Arkham Origins
had plenty of gamers frothing during its next-gen console reveal; and LEGO Marvel Super Heroes
was quite fun to play in co-op mode. To add The Witcher 3 to that already-stellar lineup is quite a coup.
The first installment in the Witcher series was released in 2007 for the PC. The second installment hit the PC in 2011 and then landed on Xbox 360 one year later. The two games received more than 200 awards and have sold more than five million copies to date. The Witcher 3: Wild Hunt will be released simultaneously for the PC, Xbox One and PS4. It will mark the first time a Witcher game will appear on a PlayStation console (the PS4). Now we'll just have to wait for an official The Witcher 3 release date announcement.