The Pokemon franchise has been a staple in the world of gaming for generations, captivating players of all ages. While the official games offer incredible adventures, fan-made games have also garnered significant attention. 
One such gem is Pokemon Infinite Fusion, a fan-made creation that blends elements from various official Pokemon games. The unique feature of Pokemon fusion, where you can combine different species to create new, hybrid creatures, has made it a fan favorite.
In this article, we'll explore how you can play Pokemon Infinite Fusion on Android and PC, ensuring you're well-prepared for your journey through the fusion-filled Pokemon universe.
What is Pokemon Infinite Fusion?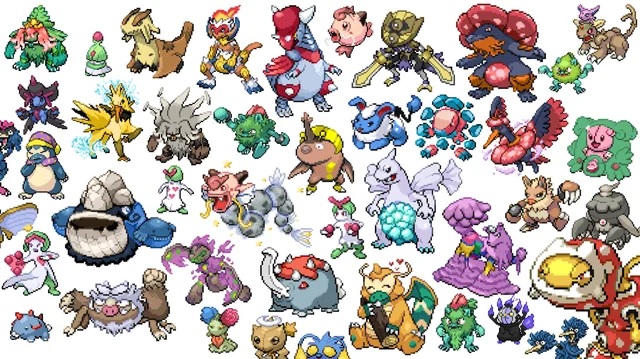 Pokemon Infinite Fusion, crafted by dedicated Pokemon fans, takes the concept of Pokemon fusion to a whole new level. It fuses not only creatures but also aspects from different official Pokemon games.
The result is a game with an expansive Pokedex, an engaging storyline, and a world ripe for exploration. The fusion feature is undoubtedly the centerpiece, allowing players to create unique Pokemon species, each with distinct abilities, types, and appearances.
Here is a good article on how to download Pokemon Infinite Fusion.
Playing Pokemon Infinite Fusion on Android
1. Download an Emulator:
To start your journey through the Infinite Fusion world, you'll first need a Game Boy Advance (GBA) emulator on your Android device. Fortunately, you can easily find GBA emulators on the Google Play Store. Popular choices include My Boy!, John GBA, and GBA.emu.
2. Download the Pokemon Infinite Fusion ROM:
With the emulator in place, the next step is to obtain a Pokemon Infinite Fusion ROM. ROMs can be found on websites dedicated to Pokemon fan games. However, it's crucial to exercise caution and ensure that you download from a reputable source to avoid any issues.
3. Install and Open the Emulator:
After downloading the ROM, open your GBA emulator. Navigate to your device's storage and select the downloaded ROM file.
4. Begin Your Adventure:
Congratulations! You're now ready to embark on your Pokemon Infinite Fusion adventure. The emulator offers various features, including customizable controls and the ability to save your progress, ensuring a seamless gaming experience akin to that of an actual GBA.
Playing Pokemon Infinite Fusion on PC
1. Download a GBA Emulator:
On PC, you'll also need a GBA emulator. There are several options available, with VisualBoyAdvance (VBA) and mGBA being popular choices among Windows users. Download and install your preferred emulator.
2. Download the Pokemon Infinite Fusion ROM:
Much like on Android, you must secure a trusted source to download the Pokemon Infinite Fusion ROM.
3. Launch the Emulator:
Open your GBA emulator and locate the option to load or open a ROM file. Select the downloaded Pokemon Infinite Fusion ROM.
4. Enjoy the Game:
Your journey into the Infinite Fusion world begins on your PC. Emulators on PC generally offer superior graphics and customization options, enhancing your gaming experience.
Also Read: Pokemon Radical Red Cheats 2023: Tried & Tested (Working 100%)
Tips for a Better Experience
Save Regularly:
Ensure you save your progress frequently to safeguard your in-game achievements.
Experiment with Fusion:
Don't be afraid to experiment with Pokemon fusion. It's a key feature that can lead to discovering powerful combinations that can help you on your journey.
Join Online Communities:
Engage with online communities and forums dedicated to Pokemon Infinite Fusion. This is an excellent way to discuss the game, share tips, and stay updated on new releases and updates.
Download ROMs Safely:
Exercise caution when downloading ROMs. Stick to reputable sources to avoid potential issues like malware and legal complications.
Conclusion
Pokemon Infinite Fusion offers a refreshing twist to the Pokemon gaming experience, and by following these detailed steps, you can enjoy it on both your Android device and PC. The fusion mechanic and engaging storyline promise hours of immersive gameplay. Remember to play responsibly and continue to support official Pokemon games when they are released. Now, venture forth into the world of Pokemon fusion and embark on an extraordinary adventure!
FREQUENTLY ASKED QUESTION
1: Is Pokemon Infinite Fusion an official Pokemon game?
No, Pokemon Infinite Fusion is not an official Pokemon game. It is a fan-made game created by devoted Pokemon enthusiasts. It combines elements from various official Pokemon games and introduces unique features like the ability to fuse Pokemon species. While the official Pokemon Company does not endorse it, it has gained popularity among fans for its creative gameplay.
2: Can I play Pokemon Infinite Fusion on iOS devices?
As of now, Pokemon Infinite Fusion is primarily available for Android and PC. While there might be ways to play it on iOS devices through emulator apps or workarounds, it's essential to exercise caution and ensure you're following legal and ethical practices, as unofficial games like this may not be officially supported on iOS.
3: Are there any legal concerns when downloading Pokemon Infinite Fusion ROMs?
Downloading ROMs for fan-made games like Pokemon Infinite Fusion can potentially raise legal concerns. It's crucial to download ROMs from trusted sources and only use them if you already own a copy of the original game, as this can fall within fair use guidelines. Be cautious about downloading from unauthorized or suspicious websites to avoid any legal issues or the risk of downloading malware.
4: What are the system requirements for playing Pokemon Infinite Fusion on PC?
The system requirements for playing Pokemon Infinite Fusion on PC are typically minimal. Most modern PCs should be able to handle GBA emulators and ROMs with ease. A basic Windows PC with a reasonable amount of RAM and a standard graphics card should suffice. Emulators are lightweight and should work on most systems.
5: Can I trade and battle with other players in Pokemon Infinite Fusion?
Pokemon Infinite Fusion is primarily a single-player game. While it offers an expansive Pokedex and engaging gameplay, it doesn't have multiplayer features for trading and battling with other players. The focus of the game is on the unique fusion mechanic and the storyline, providing a distinctive solo experience for Pokemon fans.